Digital Camera Photo Recovery Software
iCare Data Recovery : digital camera photo recovery
If you Mistakenly deleted photos, either on computer or digital camera, OR
Formatted the memory card, either on computer or digital camera, OR
Lost photos when you are transferring them from camera to PC, OR
Found the storage media became inaccessible somehow, OR
Encountered software failure and found some photos lost,
You can use iCare Data Recovery to recover the digital camera photos freely. This software supports easy recovery of files in various formats, such as pictures (jpg, gif, png, bmp, etc), camera raw images (cr2, sr2, nef, dng, etc), audio files (mp3, wav, amr, wma, etc), and video files (mp4, wmv, 3gp, etc). It performs data recovery on all popular hard disks and removable storage media, such as Western Digital hard disk recovery (internal and external), SD memory card recovery after quick format, CF memory card recovery, USB flash drive format recovery, etc. As we know, all digital cameras store data on a memory card. You just need to connect the card to the computer with a card reader, and use iCare to scan the card for lost files. It's so easy to use.

Tutorial with Screenshots for you to follow
Step 1 - There are 3 optins showing after running the software. Please select one.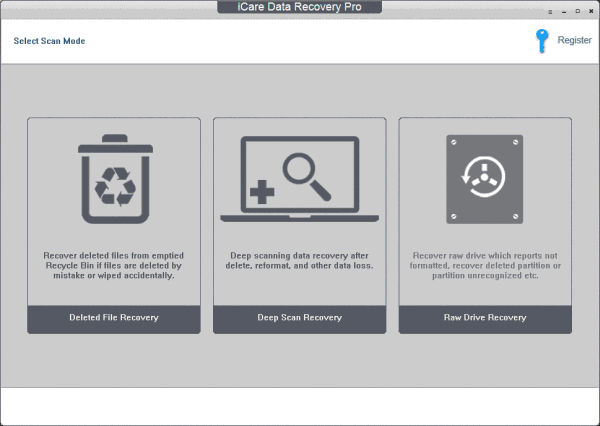 Step 2 - The software would show all drives, among which you can select the camera media where data got erased.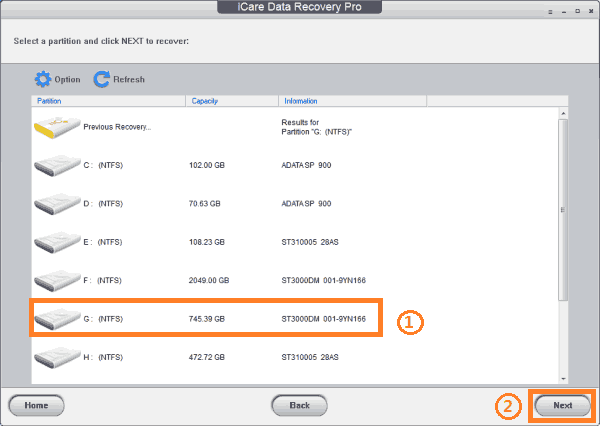 Step 4 - Preview files and then reclaim the data to other drive.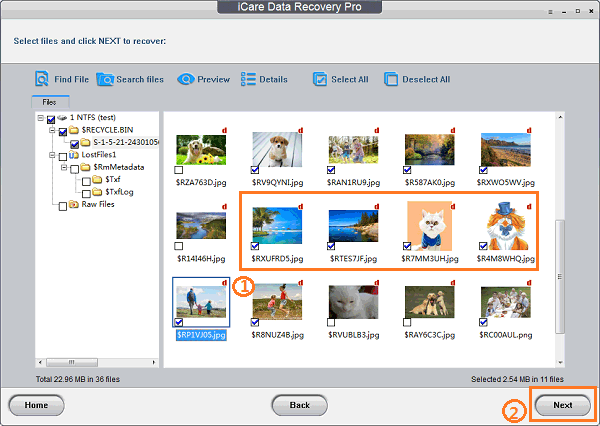 One thing you should pay attention. If you are taking your camera out with you and you lost important photos during the trip, please stop taking more photos because new photos can overwrite the lost ones, whose data still remains on the memory card. You can recover photos from memory card for digital camera before new data overwrites them. Of course if you have another SD card on hand, you can change into this one and take new photos.
Have you ever run into the problem that digital camera cannot recognize memory card when you insert the card? If so, you should avoid overwriting the memory card and use iCare Data Recovery software to get back lost files.
Digital camera recovery software
Digital photos, could be your precious memory with your friends and relatives, could be something you cherish in life, such as scenery, symbol, etc. Unfortunately we lost photos sometimes. Personally I want to find out some photos of beautiful scenery I downloaded on my computer, but I cannot find it. Maybe they got lost with my past Windows re-install. But good news is that I have photo recovery software at hand, and it's free. Although I'm not sure with the results – because it's very long since the last disk wipe-out, and the data may have been overwritten – I have chance to recover them. For you, dear readers, there's much bigger chance if your data loss happened only few days ago. This software is iCare Data Recovery Free, which is unique by its all powerful feature.
How to Prevent Photo Loss on a Digital Camera
Be careful in using the device, never press a button unless you know what it will do.
Protect the memory card nicely, never bend it or soak it in water.
Do not keep the memory card connected to the computer for too long.
Do not shut down your PC without getting your memory card used on digital camera out of it
---
Related Articles