CF Card Repair Guide
Here are some common compactflash card errors and repair guide when cf card is damaged or data on the cf card is inaccessible...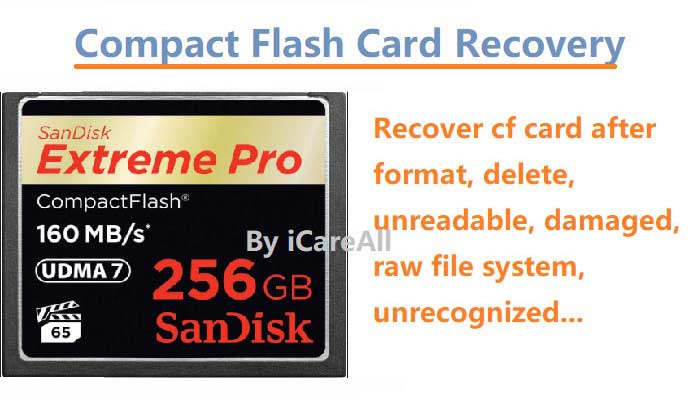 Repair corrupted cf card
1. CF card format error, cf card not formatted in raw file system, unable to format compactflash card
2. Digital camera cannot recognize CF card
3. CF card shows blank and has unsupported file system
4. CF card has write protection
5. CF card was formatted by mistake, files were deleted by mistake
CF Card Format Error
This problem usually occurs when you attempt to open your CF card to read, copy, delete or write some data. You may fail to open your CF memory card and get error message saying the card is not formatted, format it now whether you insert the CF card to a digital camera, PDA or computer.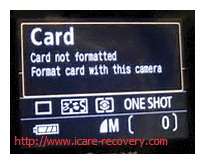 CF card says unformatted on camera
It probably keeps saying the format cannot be completed when you confirm to format the CF card which shows not formatted error. Usually, you may face this problem due to many reasons such as virus infection, improper operation, system corruption, CF card corruption, etc. If you meet this problem, you can follow the guide below to fix the issue:
Video - How to fix raw cf card not formatted
1. The most important thing is to get back all inaccessible data from the CF card. Usually, you often have to rely on a data recovery program for data recovery if you do not have any backup.
CF card recovery software download

Download iCare Data Recovery Pro Free Edition to recover files from cf card after accidentally formatting not formatted error damaged corrupted compact flash card and more that so as to get back everything you need including photos, videos, music...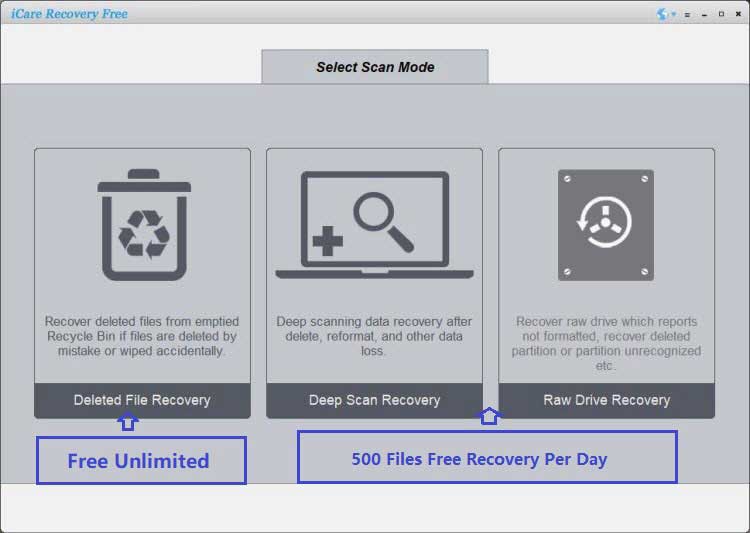 CF Card Recovery by iCare Pro Free
2. After recovering data from unformatted CF card, you can format the CF card to fix the not formatted error on it. If it says cannot complete the format, you can try following methods to resolve the problem:
>> Run antivirus software to check if the CF card is attacked by any virus or Trojan. Sometimes, Windows would fail to complete format an unformatted CF card because it contains virus. You can try to full format the CF card after erasing all possible viruses.
>> Connect the unformatted CF card to Windows computer and run Windows Error-checking tool to check if there are bad sectors on it. Try to format the card after repairing bad sectors on it.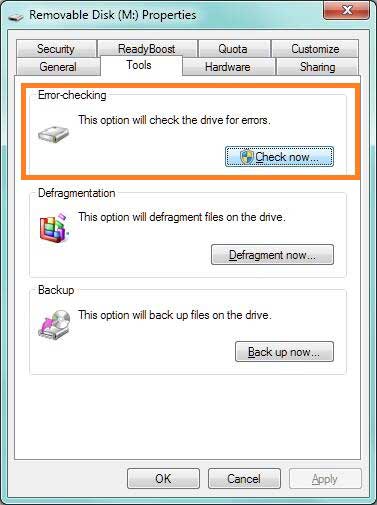 Video - how to fix damaged memory card without formatting
>> If you are unable to finish the format by connecting the CF card to Windows PC, you can reinsert it to the original digital camera and try to format it there.
Failed to format cf card? Read more tips here -> how to fix unable to format memory card
Digital Camera Cannot Detect CF Card
CF card may have file system compatibility issue with the digital camera when the cf card has large capacity over 32GB with exfat file system and the camera is small that only sees FAT32.
Here are some simple quick fixes you may try when CF card is not reading on cameras.
Format the cf card to FAT in computer and see whether it could be detected in camera, if not, try format it FAT32
Update cf card driver in Windows computer under device manager -> how to update sd card driver
CF card not showing up? Fix it here -> how to fix cf card not detected camera Nikon/Canon
Reasons and solutions:
1. CF card is corrupted
If CF card is corrupted due to any reason, it probably stops working in your digital camera or any device. In this situation, you had better make it clear what causes the CF card corruption so that you can take proper measure to fix the problem.
2. Digital camera is corrupted
CF card might be not able to be recognized by digital camera because the camera is broken. In this situation, you have to repair the digital camera instead of the CF card.
CF Card Shows Blank and Has Unsupported File System
Sometimes, CF card would show blank though it contains many files. Its file system probably changed to unsupported file system like RAW or unknown. When encountering such kind of problem, the only chance to retrieve data from CF card is to use data recovery software. Then, you format the CF card to a proper file system. You had better format the card in your digital camera in order to format it to a proper file system that can be compatible with the camera.
Recommend: how to fix memory card is blank with unsupported file system
CF Card Write Protection
Write protection is a function on different types of media, which is able to protect important data from being modifying, moving, copying, formatting or deleting. Therefore, you can set write protection on your CF card to prevent unexpected modification to the card. However, sometimes, CF card gets write protected with unknown reason, in which situation you are not able to edit, delete, copy any file or perform other operations on the card except reading data. If you have never set write-protection on the CF card, probably the card is infected with virus. Therefore, the best way is to run a useful antivirus tool to scan the CF card to check and remove virus. You can also use some format tool to format the card. Before formatting, you can use a data recovery tool to extract all files from the write-protected CF card.
Also read: how to format write protected memory card
---
Related Articles
More Articles That You May Be Interested
External Resource