CF Card Recovery when it is Not Recognized, not show up or stop working

"The 4GB SanDisk Compact Flash card is not working in my digital camera. Camera says that there is no memory card inserted. Then I connect the CF card to my Windows PC, but system cannot recognize the card. After plugging the CF card to my PC, it does not show up in My Computer. Now, I want to know how can I repair the not recognized CF card and get back lost files."
CF card becomes unrecognized by digital camera or PC but it still contains lots of important files? Is the CF card corrupted or damaged? Do you want to repair the problem and recover files from corrupted CF card? Keep reading!
Solution for Unreadable CF Card File Recovery
A compact flash (CF) card will become unrecognized due to many reasons. However, as long as the card is not physically damaged, you have a good chance to get back lost files even if the CF card is not detected by any device. You can use iCare Data Recovery software to perform data recovery on unreadable CF card. This data recovery software is a read-only tool which can help recover images, videos, music, documents, etc from all kinds of CF card like SanDisk, Samsung, Lexar, Transcend, Kingston, etc when it is corrupted and inaccessible. This software for CF card recovery also allows you to preview some types of files like images and office files.
Steps to Recover Files When CF Card Is Not Detected

Step1. Connect the CF card to a computer through card reader or USB cable. Download and install iCare Data Recovery software on the same computer. Launch the software and choose a recovery module.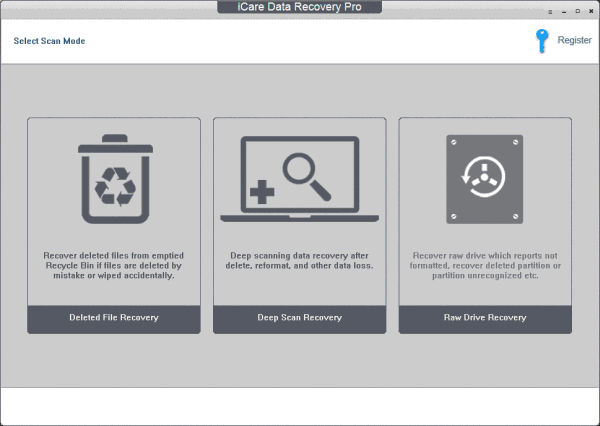 Step2.  Choose the CF card so that the software can scan it. You only need to wait when the software is scanning.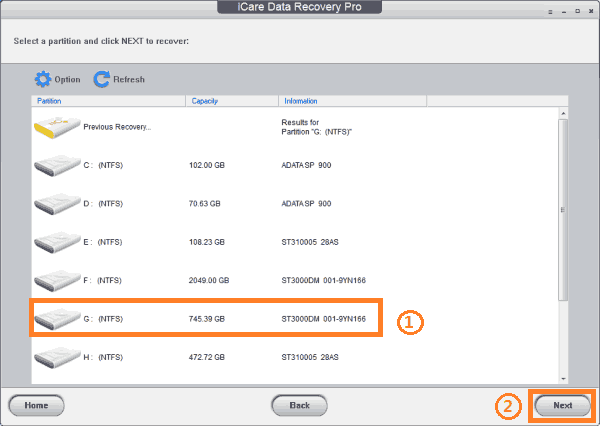 Step3. You can preview the files when the scanning is completed. Then, you can select all files that lost from CF card and recover them.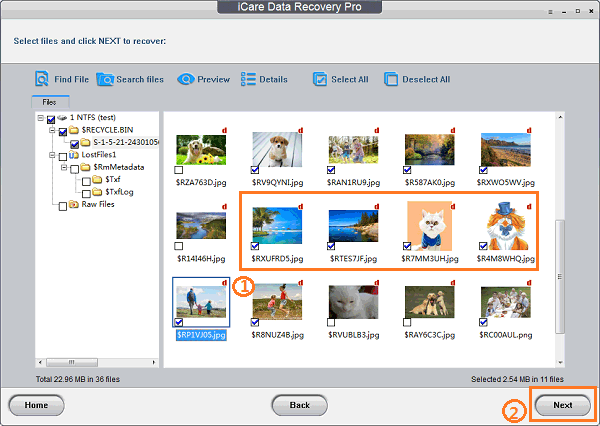 Stop Using Compact Flash Card When Has Unrecognized Format
When CF card is not recognized by digital camera or computer, most people would think that they can get back lost files as long as they can repair the not recognized error. Therefore, they may make every effort to format the compact flash card or perform other operations to fix the problem. As a matter of fact, if you do not want to lose any data from an unrecognized CF card, the most important thing is that you cannot overwrite the data. Therefore, you had better stop using the CF card; especially you cannot write any new data to the card.
Is CF Card Corrupted When It Is Not Readable?
Do you think the CF card is corrupted or damaged when it is not detected in digital camera or PC and becomes unreadable? Well, CF card corruption is a possible reason that leads your card to be unreadable. Usually, a CF card might become corrupted due to virus infection, bad sectors, improper operation and more other unknown reasons. When a CF card is corrupted, it usually has unknown or RAW file system, so it cannot be recognized by system. Although you cannot access a corrupted CF card, data from the CF card is still recoverable by using data recovery software for memory card iCare Data Recovery.
CF Card Repair Not Recognized
After data recovery, you can repair the not recognized CF card. First of all, you can connect the card to your computer properly and open Disk Management to see if the card can be recognized there. If the CF card can show under Disk Management, you can full format or quick format the CF card to fix the error. In addition, you can also run Error-checking tool to fix possible bad sectors on the compact flash card.
Have you ever met the same issue on your pen stick? When you insert your pen stick to your computer, pen drive is not detected in Windows 7/8/10 normally. In this situation, iCare Data Recovery can work as pen drive file recovery software to restore files from undetectable pen stick.

---
Related Articles
Hot Articles