Pendrive No Media - pen drive there is no media, 0 bytes, no partition
Background
What shall we do when pen drive showing no media in disk management or pendrive there is no media in diskpart?
Usually pen drive would show a healthy disk in disk management as one partition, however it did happen that the usb pen drive suddenly showed no media 0 bytes in Windows 11/10/8/7 disk management when the thumb drive was damaged.
From a user
My HP USB Pendrive said there is no media when I tried to format it with hp usb format tool and it could not be formatted due to pendrive not found in the device. It showed no media in disk management when i opened the disk management, no volume came up there but just a blank usb drive telling removable no media. Is my pendrive dead? Is there any tool to fix pen drive no media error when it showed 0 bytes?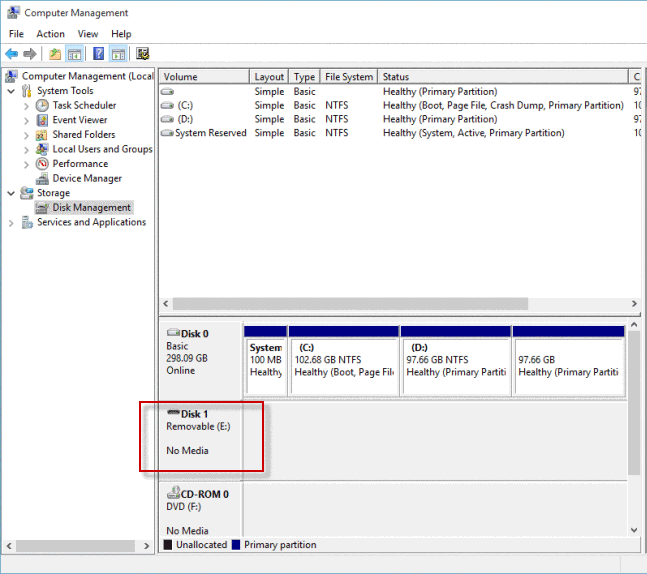 Pen drive shows no media disk management
Pen Drive Showing 0 Bytes
When pen drive shows 0 bytes in its property or under disk management, mostly its filesystem is damaged and would display raw file system format which should be ntfs/exfat/fat32...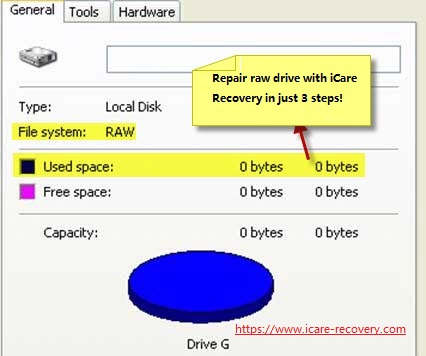 RAW pendrive shows 0 bytes
Also read: flash drive shows raw file system
Video - How to repair pen drive no media error
Also read: 5 efficient ways to repair usb drive no media error
FAQs - My pen drive is not showing up
Pen Drive Shows No Media in Disk Management
When pendrive not showing up in disk management, there are chances that it might be damaged with or without chance of recovery depending on how it was damaged.
Physical damages - no chance of recovery by software utilities
Logical damages - mostly it could be restored by disk repair utilities
Pendrive no media disk management solution: 8 free ways to repair damaged usb drive
Pen Drive Shows No Media Diskpart
When diskpart shows pendrive no media 0 bytes, it could be repaired by diskpart with the command line 'chkdsk /f/r i:' when i is the damaged flash drive that you need to replace this drive letter with the actual drive letter that your pen drive shows in your computer.
Pendrive no media diskpart solution: how to repair pen drive no media with diskpart
Sandisk Flash Drive No Media
Help, my sandisk pen drive is showing no media 0 bytes and its 64gb storage capacity has gone to 0 bytes and could no longer be recognized as a disk or volume under disk management. It asked me to format it when I tried to open it. Is there any repair tool to fix the damaged sandisk cruzer?
HP Pen Drive Showing No Media Error
Hp usb disk no media is kind of same as hp pendrive no media error since these two storage device are encountering the same error on their storage chips.
HP is a well-known manufacturer who made the famous HP pen drive with a capacity ranging from 256MB to 1TB or even more capacities due to the recent updated storage technology. As one of a best selling pen drive, HP flash drive also risks the no media error due to various kinds of damages no matter that was brought by manual operations or physical damages.
Hp no media present in disk management windows 10/7 could be fixed by this guide: Fix usb drive no media error
Or here is another case that users may see when they use HP USB Format Tool, an error message 'There is no media in the specified device' occurred while using the hp disk format tool to create bootable usb or format usb drive with utility HP USB Disk Storage Format Tool.
Hot Articles