Flash Drive Shows No Media 0 Bytes - What's Wrong
Background
When I did diskpart in command prompt trying to format the usb thumb stick, however the thumb drive shows 0 bytes no media with the exact words disk 1 no media 0b 0b and it could not be selected inside of the diskpart. The drive also shows blank in my computer as if it would never show up again. I guess there must be something wrong with my memory stick. Can I format it to get it repaired or is there any disk no media repair tool for repairing this damaged usb stick? Using attrib command to fix no media usb error is an advantage but not user friendly?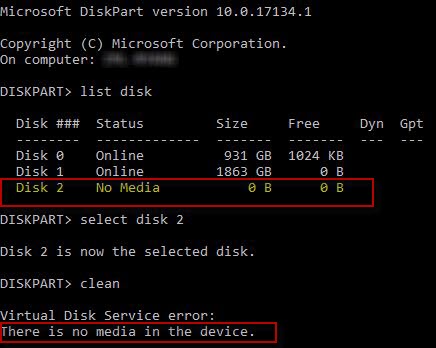 Disk 2 no media 0 b 0 b Diskpart reported No Media in the Device
Quick fixes: Fix usb there is no media found in device with 5 free ways
What is 0 Bytes
Flash drive 0 bytes? Usually usb 0 byte means there is no data detected on your device which is empty as a brand new one.
Usually 1megatbyte = 1024 kilobyte
Mostly exe or zip are measured as * mb
Flash drive capacities are measured from mostly 256 mb to 1 GB in late 1990s and its capacity expanded to 16GB, 32GB, 128GB in the early 2000s and now there are 1TB flash drive or even bigger capacities.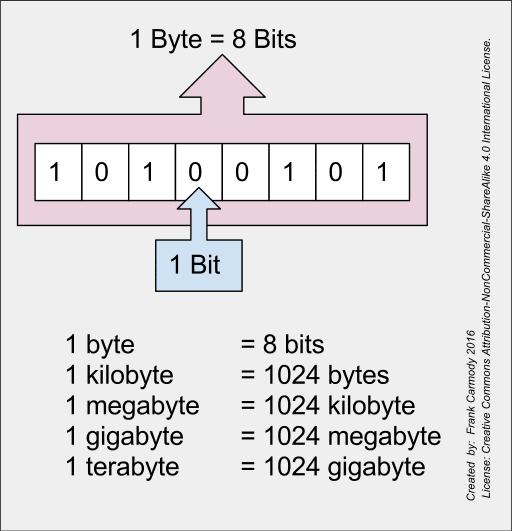 0 Bytes and 1 Byte
However it is embarrassing that mostly when the usb flash drive said 0 bytes, there were tons of data inside but just got invisible.
Can you recover files from 0 bytes? Download usb drive 0 bytes data recovery tool to retrieve files from 0 byte error.
Flash Drive Displayed 0 Bytes or RAW Format
There is another situation that your memory stick may show 0 bytes in raw file system format. A photo below may represent the story for a flash drive that has turned raw format in 0 bytes.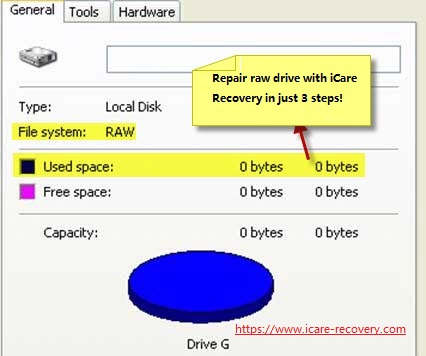 RAW usb drive is 0 bytes for used space, free space and capacity
File system: RAW (Which was supposed to be ntfs/fat32/exfat/hfs+...)
Used space: 0 bytes 0 bytes
Free space: 0 bytes 0 bytes
Capacity: 0 bytes 0 bytes
Video - fix usb drive raw 0 bytes
See more information: usb flash drive 0 bytes, or raw drive fix
Is it possible to use attrib command to repair usb no media? -> THE ANSWER IS NO! YOU MAY USE DISKPART COMMAND INSTEAD. HERE IS WHY.
Show hidden files on usb disk or flash drive using attrib? See tutorial here: how to show files on usb flash drive using attrib cmd [attrib -h -r -s /s /d g:\*.* --> Press Enter]
Attrib - property, what it is?
The attrib command is used to modify the attributes of a file that would not repair the no media error for usb disks or flash drives.
The common attributes of a file are read-only, archive, hide, and system.
Read only attribute refers to the file can only do read operations. It would make users unable to write to the file operation. That is the file write protection.
The archive attribute is used to mark the change of the file. That is, the file has changed after the last backup. Some backup software will only back up the file with the archive attribute when backing up
The hidden property is the hidden file as the name suggests. In general, the file with hidden property will not be displayed in Explorer
System attribute refers to the file labeled as system file. It is the file that the system needs to call
The format and common parameters of the attrib instruction are
ATTRIB [+R | -R] [+A | -A ] [+S | -S] [+H | -H] [[drive:] [path] filename] [/S [/D]]
Why USB Flash Drive Says 0 Bytes - the Causes
Damaged chips inside of the flash drive
Logical damages caused by software failure, manual improper operations...
Power surge
Unsafe removal from computer
Format failure by computer or software...
How to Fix USB Drive No Media 0 Byte Error
Usually this 0 bytes could be fixed by the tool provided by Windows called 'Error checking' under Tools inside of the perperties of your drive that you may get access by the following route when the 0 bytes is only caused by logical damages.
'This PC' -> Right click usb drive -> Property -> Tools -> Error Checking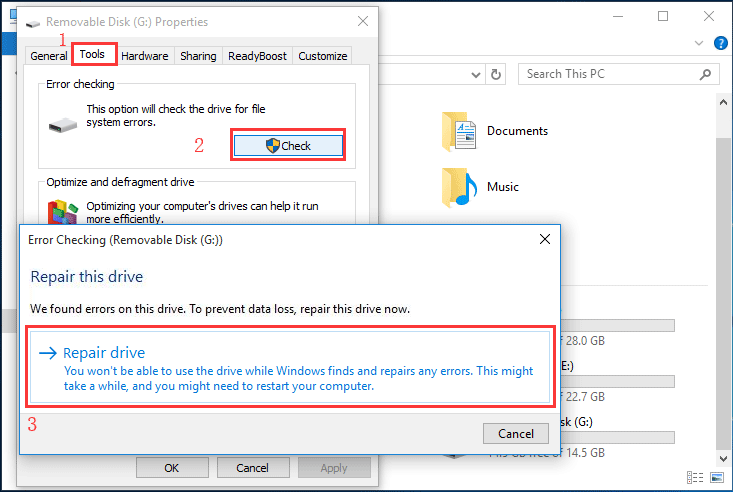 Repair no media usb by error checking in Windows 10
Video - how to repair usb drive with error-checking
Also read: 7 usb repair tools free
You may recover your data from the damaged usb flash drive before all fixings: free data recovery software download
Last updated on Nov 28, 2023