Fix a 16GB Micro SD Card That Is Not Readable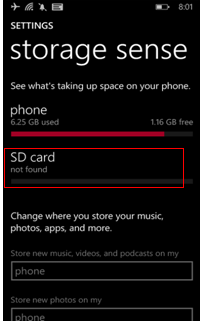 "I have a 16GB micro SD card, but it is unreadable on my smartphone and computer. This micro SD card still worked fine on my smartphone just now. But I wanted to download some music to the micro SD card, so I removed the micro SD card from my smartphone and connected it to my computer via a card reader. When I was downloading music to the micro SD card, Windows pops up a message to say memory card is write-protected. Then, I unplugged the micro SD card to my computer and reconnected it again. This time, when I wanted to open the micro SD card, Windows reported another message memory card is not readable. I don't know what is wrong, so I reinserted it to my smartphone but I still received the same message. I want to know why the 16GB micro SD card get corrupted. And how can I fix the problem and get back all files stored on the micro SD card?"
Quick fix -> 5 Ways to fix sd card not working in phone
Solution - Data Recovery from Unreadable 16GB Micro SD Card Not Recognized
When a micro SD card is not readable on both smartphone and computer, the first thing you need to do is not to troubleshoot the problem. Instead, you need to recover all important files from the micro SD card first of all. In order to recover files from an unreadable micro SD card, you need to rely on iCare Data Recovery Pro, the read-only data recovery utility.
Steps to Recover Unreadable Micro SD Card Data When Not Accessible
Free Memory Card Recovery

Download iCare Data Recovery Pro Free to recover files from mobile phone camera memory card including photos, videos, music...
Step1. Connect the 16GB micro SD card to your computer. Download and install the data recovery software on your computer. Launch the software and choose a recovery module.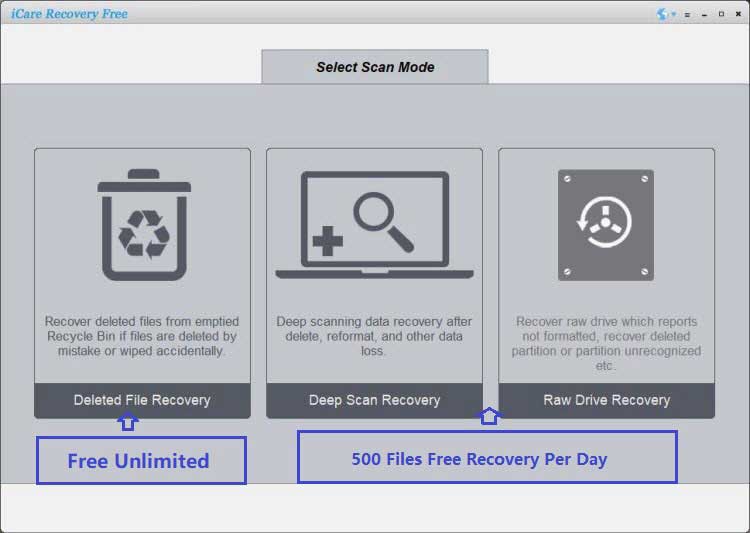 Step2. Choose the micro SD card as scanning drive, and then you just need to wait when the software is scanning.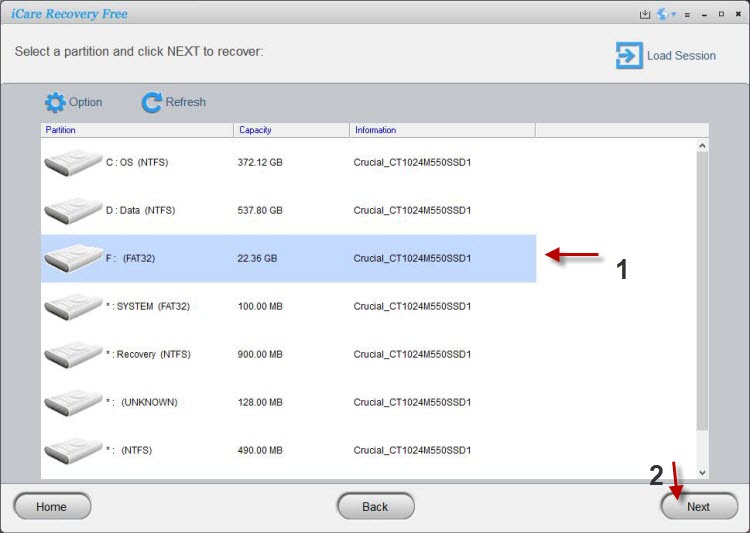 Step3. You can preview the found files after scanning. Then, you can choose the files you need and recover them.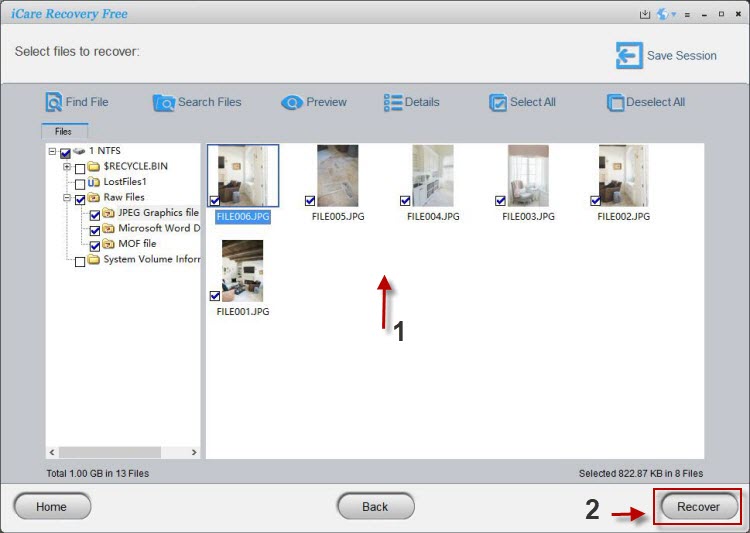 Format Micro SD Card 16GB That Is Unreadable After Data Rescued
One possible way to fix the unreadable problem on a micro SD card is to format the card. After formatting the micro SD card successfully, you can reuse the micro SD card for data storage. This is one of reason why you should recover data first before formatting the card.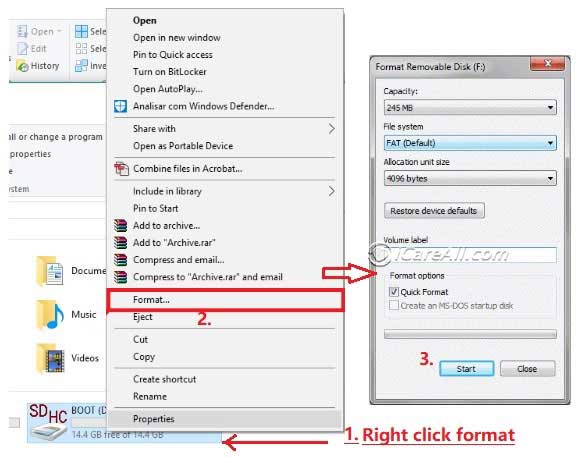 Also read: 5 sd card format tools
If you format the unreadable micro SD card first, you may overwrite the original data by writing new data. In addition, it may cause unexpected disaster and make data recovery difficult if you meet any problem during formatting. As long as the original data is not overwritten or corrupted after formatting, you still have chance to get it back by relying on data recovery software.
In order to avoid causing unnecessary trouble to data recovery, you can format the unreadable micro SD card when all important data has been restored successfully. Simply, you can format your micro SD card on your smartphone or computer.
Here is what the format was done by Diskpart in computer.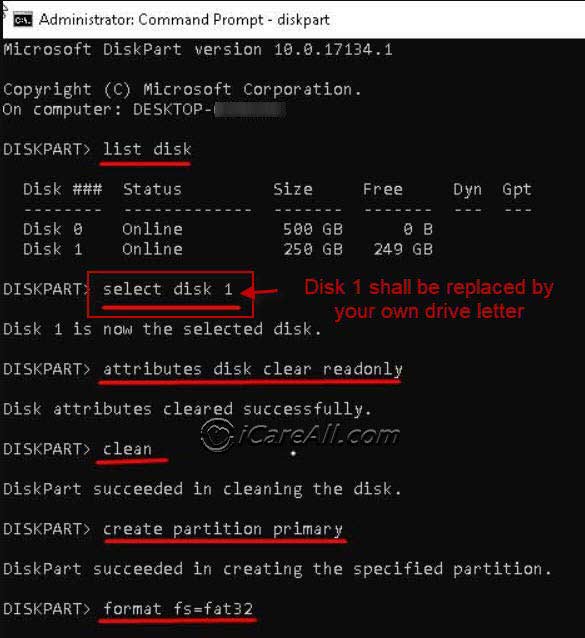 Format sd card in CMD to repair the damaged memory card
Video - how to fix micro sd card
Also read: 7 ways to repair damaged sd card
Micro SD Card Is Not Readable due to Unformatted Error
Apart from the case above, you may receive many other kinds of error messages when your micro SD card is not readable, while one of the most common error message you may receive is memory card is not formatted do you want to format it now. You just need to follow the Windows pop-up message to format the micro SD card so as to fix the not formatted error. However, as what mentioned above, if you have important data stored on the unformatted micro SD card, the first thing you should do is to restore the data. The data recovery software allows you to restore any kind files such as videos, music, pictures, etc from an unformatted micro SD card.

Quick fix -> sd card not formatting solution
Micro SD Card Requires a Password
Have you ever encountered the situation that it asks you to type a password in order to access your micro SD card? But the problem is that you have never set any password to your memory card. If you meet such kind of problem, probably your micro SD card is infected with virus. Therefore, you need to run professional anti-virus software to scan the micro SD card and remove the virus. However, what you should know is that even if you can remove all virus on the micro SD card, it doesn't mean that you can get back the files on your micro SD card. Therefore, you still need to run data recovery software to perform data recovery first of all before running anti-virus software. Virus may corrupt the files on your micro SD card. If so, you may be unable to recover some files that are corrupted.
Last updated on Sept 14, 2023
Related Articles
Related External Resource