Samsung Digital Camera Photo Recovery
Quick Navi
Samsung Camera Photo Recovery Software
How to recover photos from Samsung digital camera after deleting or formatting? Is there any way to recover lost data when it becomes inaccessible on Samsung digital camera? Usually, you can use a data recovery tool (iCare Data Recovery) to resolve data loss problem on Samsung digital camera in following situations:
For all data loss problems on Samsung digital camera, you can use iCare Data Recovery to get back all lost files including images, videos, audio files, etc from the Samsung camera.
Note: Please pull out the camera memory card and insert it to a Windows PC with a memory card reader for the recovery.
Mistaken deletion: If you use a digital camera to take photos, you can preview the photos immediately after capturing images. When previewing the photos on Samsung digital camera, you probably delete those photos that you are not satisfied with. However, you may mistakenly delete some precious pictures when previewing. Besides, you may also accidentally delete photos from memory card for Samsung Digital camera when you connect the card to your computer to share those photos to your friends.
Accidental formatting: Usually, users will not perform format on Samsung digital camera because they know that formatting will erase all data. However, it is possible that you may accidentally press the wrong button on your Samsung digital camera and format memory card by mistake. You can also format Samsung digital camera memory card on your computer since you select the wrong drive.
Samsung digital camera memory card raw: It is not a good experience when the memory card for Samsung digital camera turns to RAW file system, because all data will become inaccessible in a RAW drive. When memory card turns to RAW file system, you will be asked to format the memory card whether you want to access it on your Samsung digital camera or computer. The problem is that you will not get any data whether you format the memory card or not.
Other reasons for Samsung camera data loss: You probably lose data from Samsung digital camera due to some other reasons like, memory card says not accessible, Samsung digital camera reports memory card is invalid, Samsung camera shows data error, Samsung camera memory card is corrupted, etc.
Unable to open Samsung camera fixes
Video: unable to open phone camera fixes
If you're experiencing issues with opening the camera on your Samsung device, here are a few troubleshooting steps you can try:
Restart your device: Sometimes, a simple restart can resolve temporary software glitches. Press and hold the power button, then select the "Restart" option from the menu that appears.

Clear camera app cache and data: Go to your device's "Settings" and find the "Apps" or "Applications" section. Locate the camera app in the list and tap on it. From there, you can clear the cache and data for the camera app. This action will not delete your photos or videos.

Check for software updates: Outdated software can sometimes cause compatibility issues with the camera. Go to "Settings," then "Software Update" to check for any available updates for your Samsung device. If updates are available, install them and restart your device.

Remove third-party camera apps: If you have any third-party camera apps installed, try uninstalling them temporarily. Sometimes, conflicts between different camera apps can cause issues with the default camera app.

Disable camera permissions for other apps: Some apps may access the camera in the background, causing conflicts. Go to "Settings," then "Apps" or "Applications." Look for apps that have camera permissions enabled and disable the permissions temporarily.

Safe mode: Booting your device into safe mode can help determine if the issue is caused by a third-party app. To enter safe mode, press and hold the power button, then press and hold the "Power off" option until you see the safe mode prompt. Once in safe mode, try opening the camera app to see if it works. If it does, a third-party app may be the culprit. Restart your device to exit safe mode.

Factory reset (last resort): If none of the above steps resolve the issue, you can consider performing a factory reset. Note that this will erase all data on your device, so make sure to back up any important files beforehand. Go to "Settings," then "General Management," and look for "Reset" or "Factory Data Reset" to initiate the process.
If the problem persists after trying these steps, it may be a hardware issue. In that case, it's recommended to contact Samsung support or visit an authorized service center for further assistance.
How to transfer photos from Samsung camera to phone

To transfer photos from your Samsung camera to your phone, follow these steps:
Check if your camera has Wi-Fi or NFC capabilities.
Install the camera's companion app on your phone.
Enable Wi-Fi or NFC on both devices.
Open the companion app on your phone and establish a wireless connection with the camera.
Select the photos you want to transfer and initiate the transfer process.
Wait for the transfer to complete.
Check your phone's gallery to ensure the transferred photos are saved. If your camera lacks wireless features, transfer the photos to your computer first, then connect your phone to copy the photos.
Or an OTG cable is needed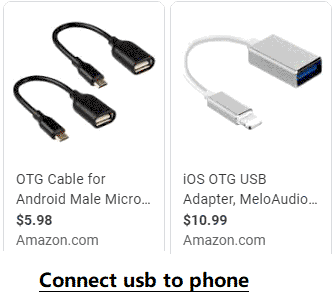 Method: Connect your camera to Phone with an OTG cable will help resolve the problem.
Samsung Digital Camera Overview
Samsung digital camera is manufactured by Samsung Electronic. When referring to digital camera, many people know Samsung digital camera because it is world famous. Today, you can find different kinds of Samsung digital cameras, including Samsung Galaxy digital camera, Samsung NX digital camera, Samsung Digimax digital camera and more. Usually, Samsung digital camera is compatible with all types of SD card including SDHC, SDXC, etc. If your new Samsung digital camera cannot read a memory card normally, you had better check if the memory card is compatible with the digital camera.
Last updated on Nov 28, 2023
Related Articles