Samsung Digital Camera Photo Recovery
How do you recover photos from Samsung digital camera after deleting or formatting? Is there any way to recover lost data when it becomes inaccessible on Samsung digital camera? Usually, you can use a data recovery tool (iCare Data Recovery) to resolve data loss problem on Samsung digital camera in following situations:
Samsung Camera Photo Recovery Software
For all data loss problems on Samsung digital camera, you can use iCare Data Recovery to get back all lost files including images, videos, audio files, etc from the Samsung camera.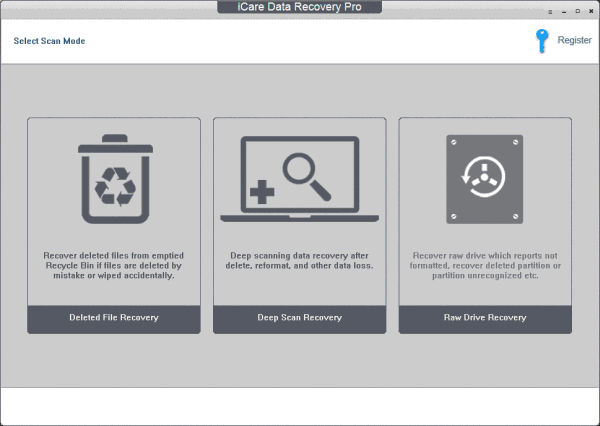 Mistaken deletion: If you use a digital camera to take photos, you can preview the photos immediately after capturing images. When previewing the photos on Samsung digital camera, you probably delete those photos that you are not satisfied with. However, you may mistakenly delete some precious pictures when previewing. Besides, you may also accidentally delete photos from memory card for Samsung Digital camera when you connect the card to your computer to share those photos to your friends.
Accidental formatting: Usually, users will not perform format on Samsung digital camera because they know that formatting will erase all data. However, it is possible that you may accidentally press the wrong button on your Samsung digital camera and format memory card by mistake. You can also format Samsung digital camera memory card on your computer since you select the wrong drive.
Samsung digital camera memory card raw: It is not a good experience when the memory card for Samsung digital camera turns to RAW file system, because all data will become inaccessible in a RAW drive. When memory card turns to RAW file system, you will be asked to format the memory card whether you want to access it on your Samsung digital camera or computer. The problem is that you will not get any data whether you format the memory card or not.
Other reasons for Samsung camera data loss: You probably lose data from Samsung digital camera due to some other reasons like, memory card says not accessible, Samsung digital camera reports memory card is invalid, Samsung camera shows data error, Samsung camera memory card is corrupted, etc.
Samsung Photo Deleted after Anti-virus Scanning
What will you do if your computer is infected with virus? Probably, the first thing you will do is to run antivirus software to scan and remove all viruses. If Samsung digital camera memory card is attacked by virus, you probably connect it to a computer and run anti-virus software to scan the memory card to erase virus. However, the anti-virus software might mistakenly delete some important data because it considers it as virus. If photos or any other types of files are deleted after anti-virus scanning, you can also use iCare Data Recovery to restore all data from the memory card.
How to Repair Corrupted Samsung Digital Camera?
Sometimes, you may find that you are unable to take photos by using your Samsung digital camera. Do you think that the Samsung digital camera is corrupted or damaged? Probably, it is a possible reason that leads you unable to take photos when Samsung digital camera is damaged. However, it is likely that the memory card inserted to the Samsung digital camera is corrupted, which leads you not able to take pictures. For example, your Samsung digital camera reports there is no memory card inserted in when you use it to take photos. If the memory card stops working, you can use photo recovery software free to recover data. If the Samsung digital camera is damaged, you had better remove the memory card out of the camera and check if it causes any hurt to the data. Then, you had better send the Samsung digital camera to its manufacture and ask professional person to repair the camera.
Today, digital camera has almost taken place of traditional film camera. Samsung digital camera is a popular brand among various brands of digital cameras. Different from traditional film camera, photos are stored to a memory card instead of film when you use a Samsung digital camera to take photos. Although you do not need to worry about film corruption or loss when using a Samsung digital camera, data stored to Samsung camera memory card will get lost due to other reasons.
Samsung Digital Camera Overview
Samsung digital camera is manufactured by Samsung Electronic. When referring to digital camera, many people know Samsung digital camera because it is world famous. Today, you can find different kinds of Samsung digital cameras, including Samsung Galaxy digital camera, Samsung NX digital camera, Samsung Digimax digital camera and more. Usually, Samsung digital camera is compatible with all types of SD card including SDHC, SDXC, etc. If your new Samsung digital camera cannot read a memory card normally, you had better check if the memory card is compatible with the digital camera.
---
Last updated on Nov 01, 2022
Related Articles