Unsupported/Blank SD Fix for Phones/devices like Samsung Galaxy Note
Background - the blank sd, unsupported sd may happen on Samsung galaxy, note, tab, other Samsung devices or Samsung memory card, or other phones/cameras.
Samsung galaxy phone may suddenly shows blank sd card on samsung s7 s8 s9 s10 j3 a50 s9 plus j5 s7 edge?
Samsung sd card, samsung microSD card, Samsung sdhc/sdxc turns blank or unsupported in Android mobile phones or digital devices not only limited to mobile phones
Samsung galaxy note, tab, or other types of Samsung media says unsupported sd card or blank sd card on their devices
The Scenarios
What does blank sd card mean? What does unsupported sd card mean? See how it looks like in the following photos.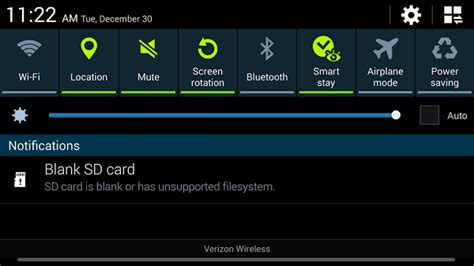 Scenario one - Blank sd card error in Samsung galaxy mobile phones, tablets, notes... saying sd card is blank or has unsupported filesystem.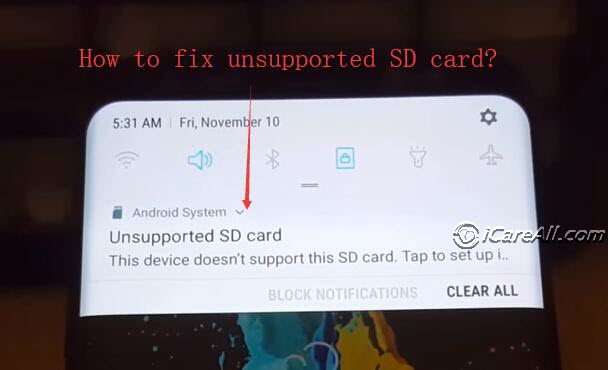 Scenario two - Samsung galaxy shows unsupported sd card: This device does not support this SD card. Tab to set up its...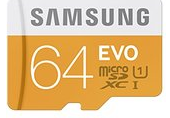 Scenario three - Samsung Evo microSDXC card became blank or unsupported in mobile phones or devices
Quick fix - Blank sd card fix in 8 free ways, or how to fix blank unsupported sd card on android
SD card Not Supported Android how to fix
Video - Fix unsupported sd card in Samsung Galaxy when sd card not supported android
Video - How to fix blank sd card in mobile without computer
Fix #1 - Take out sd, clean it and reinsert it back to the device
Note: the first fix method includes the ways to fix unsupported sd card without formatting android by pulling out the sd card, insert it back, or clean sd card with swab, unmount sd card etc.
Firstly, power off your sd card, and then take the sd out of your phone, insert it back to see whether it could be detected, if not, take it out again and then clean it with a cotton or something that could be used to clean the sd card chips.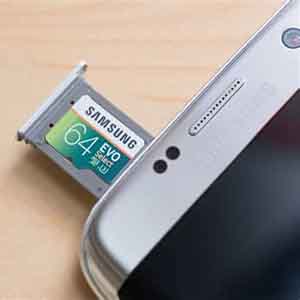 Take out and insert sd again
If it does not work, unplug the sd card and then clean its chip with a cotton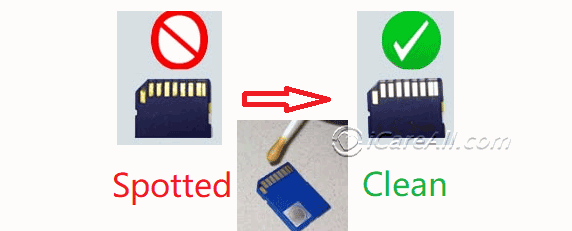 Take out and insert sd again
Also read: how to fix blank sd card on android without computer
Fix #2 - How to Format Blank/Unsupported sd card with Android phone
Reformatting the sd card to fix blank error or unsupported sd card error and make it work on your device again.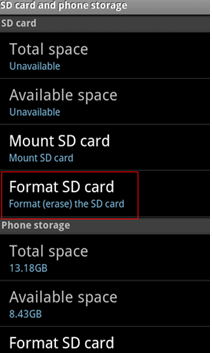 Format blank/unsupported sd card with phone
And then confirm the formatting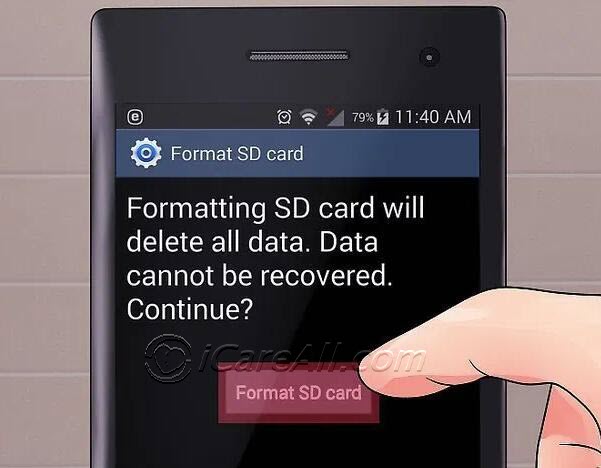 Format blank sd card with phone
Do not want to format sd? This guide -> how to fix damaged sd card without formatting
Fix #3 - Repair blank/unsupported sd card with chkdsk without formatting
If you want to fix unsupported sd card without formatting, you may recover data from the unsupported sd card on a computer, and then do the safe repairing, or you may repair the unsupported sd card on a computer using chkdsk.
#1 Recover data from unsupported sd card with free tool
iCare Data Recovery Free is a 100% free tool that can help restore files from unsupported sd card or damaged sd card on a Windows computer that you need to insert the sd card to pc for a recovery, better with a card reader connected.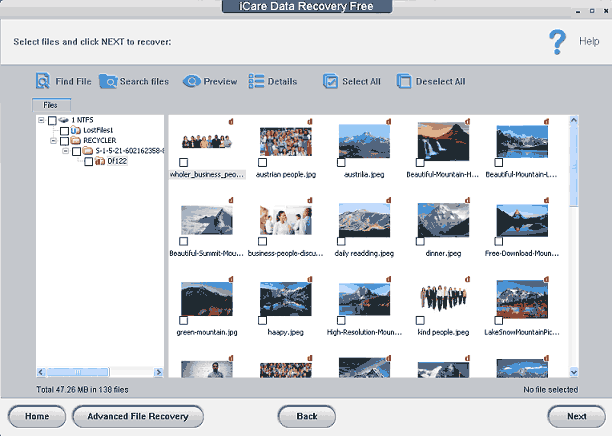 #2 Repair damaged sd card with chkdsk
chkdsk E: /f is the command for the repairing and E must be replaced by your sd card drive letter on your own computer.
You may connect the sd card to a computer and then run the following chkdsk cmd to repair damaged sd memory card.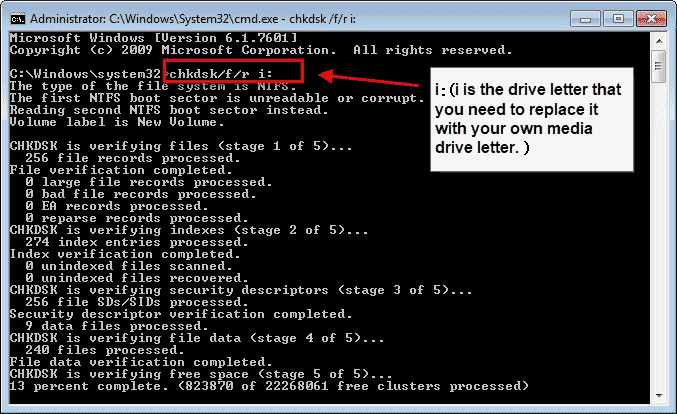 Repair blank or unsupported sd card with pc
Also read: 8 ways to fix blank sd card or 10 ways to repair damged sd card
No Way to Fix SD/Samsung Galaxy/Tab?
You may turn to Samsung support center or the nearby digital storage repair shops and ask the experienced official support to take a closer look at your phone/memory card, or turn to some local repair shops for help.
https://www.samsung.com/levant/support/service-center/
FAQs
Question: Unsupported sd card xiaomi
Solution: When sd card is unsupported in phone xiaomi, you may try the above methods to fix unsupported sd card without formatting android. Please restore data from unsupported sd card at first if images/files matters.
???My Samsung S9 plus showing blank sd card and unable to format it
When memory card cannot be formatted in your samsung galaxy phone, you may connect it to a computer with a card reader or turn on the usb debugging mode to get it formatted on a computer by right click formatting or disk management format function.
The above method applies to any Samsung galaxy mobile not only limited to S9 plus only, but also useful to other galaxy types including s4 s6 s7 s8 s9 s10 including plus, Samsung galaxy note, tab...
???What if the formatting still did not work in Windows after enabling the usb debugging or usb massive storage
Here are some other tricks that worth trying ie removing the write protection, fixing the io device error... on this page: how to format memory card that cannot be formatted
???My sd card cannot be fixed by neither ways...
It's probably dying; you may consider moving all data from the sd to somewhere else and then buy a new memory card as a replacement.
Also read: how to fix unsupported sd card with 8 free ways
Hot Articles