Disk 1 Unknown, Not Initialized Western Digital Hard Drive
Western digital shows Disk 1 Unknown not initialized in disk management
It would be a sad story when your western digital hard drive no matter internal disk or portable hard drive became unknown not initialized probably with question mark in device manager. Here is a photo that shows the error in disk management when your western digital hard drive cannot be detected in your computer.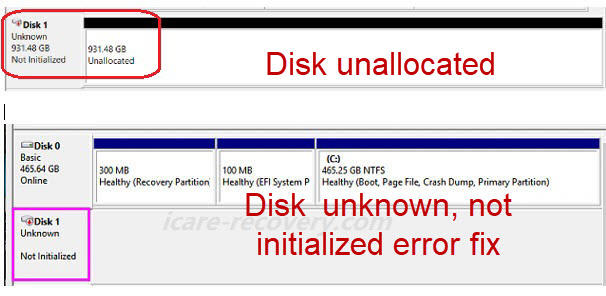 Disk 1 unknown not initialized
Which is worse, Disk 1 unknown not initialized with unallocated storage size or NO SIZE AT ALL
When western digital shows 'Disk 1 unknown not initialized Unallocated', it means the disk can still be detected with its storage capacity while when the disk shows no size at all stated a more worse damage on this western digital hd.
How to fix western digital disk 1 unknown not initialized error
Note: we would strongly recommend you retrieve files from unknown not initialized disk before the repairing since when it starts to repair the disk, potential damages/changes would be made to the disk, which is kind of writing data to the damaged disk. It's kind of losing old files by the process of repairing.
Download the following wd disk recovery tool to recover files from uninitialized wd external hard drive to ensure the data safety.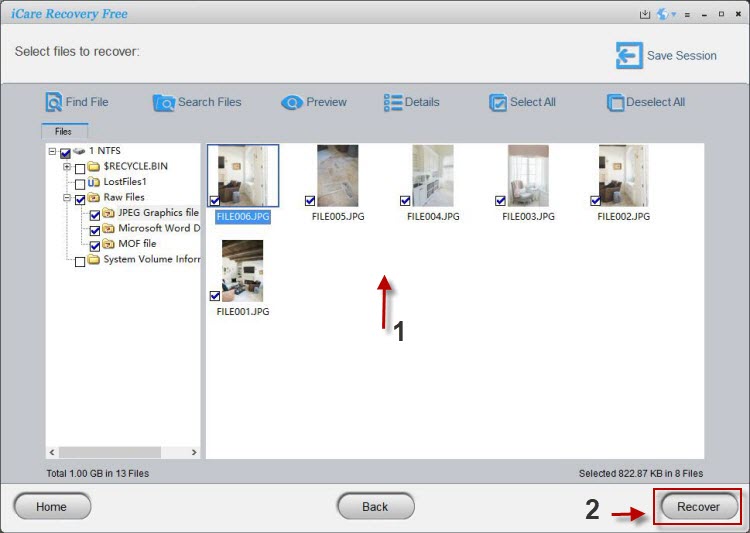 Video - 5 ways to fix disk unknown not initialized
Failed by the above methods? Try 8 free tools to fix disk unknown not initialized error
When the disk shows unknown
When disk shows unknown, which means the western digital could not be recognized normally as a healthy disk, usually a healthy disk would display the following information in disk management.
Disk number (Disk 0, Disk 1, Disk 2...)
Basic, or dynamic (the property given by the Windows OS according to how your disk is set.)
Storage capacity (250GB, or 931GB for 1TB which is usually a few gb less than the capacity it is named...)
Online(healthy); Offline/Unknown(damaged)...
Not initialized - it's a special status for a brand new drive and as for an old used hd that means the disk is damaged
Partition map on the right column which shows each partition with its properties (primary, extended, storage capacities...), if it shows unallocated, or no size, the disk is damaged for some reason
The best way to fix Western Digital Disk 1 Unknown Not Initialized
Initialize disk in disk management
Once you have restored the data from the wd external disk or internal hd you built in your computer, you may start initializing it in disk management by right click the disk, and then it would pop up a box telling you to initialize it.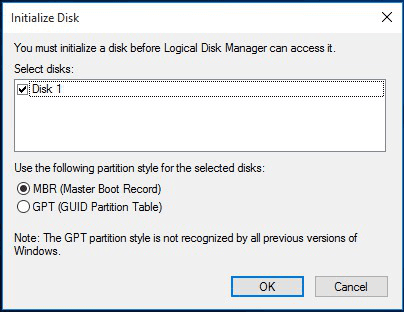 Initialize disk in disk management
MBR OR GPT
We would recommend you try MBR at first and then you can convert it to GPT later, or you may select GPT as you wish in the first step when usually GPT is more popular with more abilities for holding data and with better performances.
MBR is more accepted by third party software while GPT is less supported in the market since the later one was not all supported by software developers due to technology update delay.
Last updated on Sept 14, 2023
Related Articles