How to recover files deleted by Antivirus (Avg/Mcafee/Defender...)
File Folders Removed by Antivirus Software
If your files were removed due to antivirus software scan, stop using your drive and here are three ways to undelete antivirus removed files for free.
Quick Navi
Solution 1 - Recover antivirus deleted files by cmd attrib
Here are the steps to undelete files using cmd when files were removed by antivirus software like AVG, Windows defender, MCAFEE, AVAST etc.
Start cmd from Windows menu and right click cmd, go with admin mode
Type list volume
type 'select volume H' when your data were deleted on drive H
type 'attrib -h -r -s /s /d' and enter; or you may try "H:attrib -h -r -s /s/d" and click Enter
Or you may try the following route.
Click "Start" Menu > "Run" > type "cmd" > type "attrib -h -r -s /s /d h:\*.* "
Video - How to recover antivirus deleted files from pen drive
Solution #2 - Undelete files from quarantine from antivirus
Usually antivirus software would ask you how to deal with your files, to delete it directly or put it to quarantine. You may open your antivirus and then find its quarantine to undelete files easily.
Step 1:Open your Antivirus program
Step 2:Click on "Menu"
Step 3:Click on "Quarantine" or "Virus Chest". Find your desired file and select it.
Source: https://docs.microsoft.com/en-us/microsoft-365/security/defender-endpoint/restore-quarantined-files-microsoft-defender-antivirus
IMAGE: Restore files from Comodo quarantine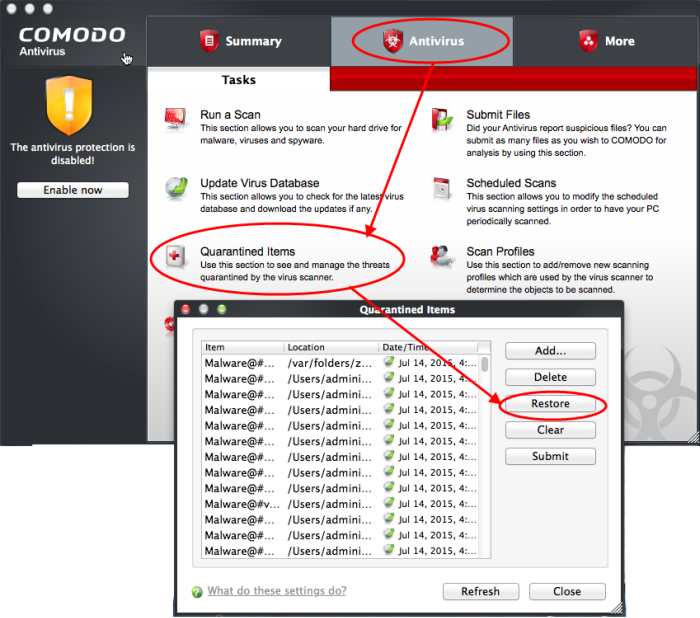 Free to Restore antivirus Removed File Folders

Step1. Download and install the iCare Data Recovery software on your computer. Then, run the software and choose Deep Scan module.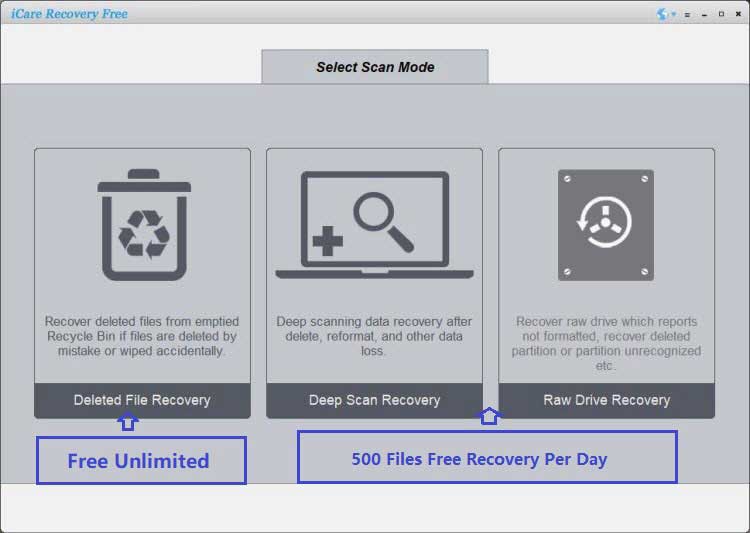 Step2.  Choose the scanning device so that the software can scan it for lost files. Then, you just need to wait when the software is scanning.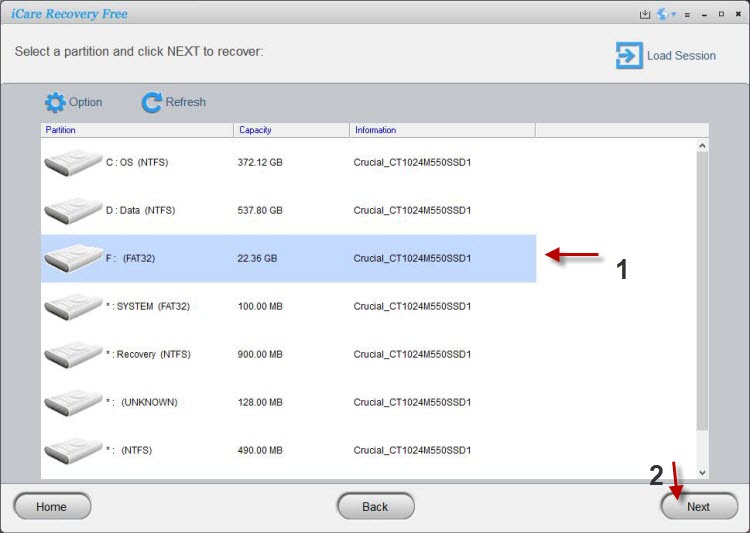 Step3. You are allowed to preview some files after scanning. Then, you can choose the files you need and recover them.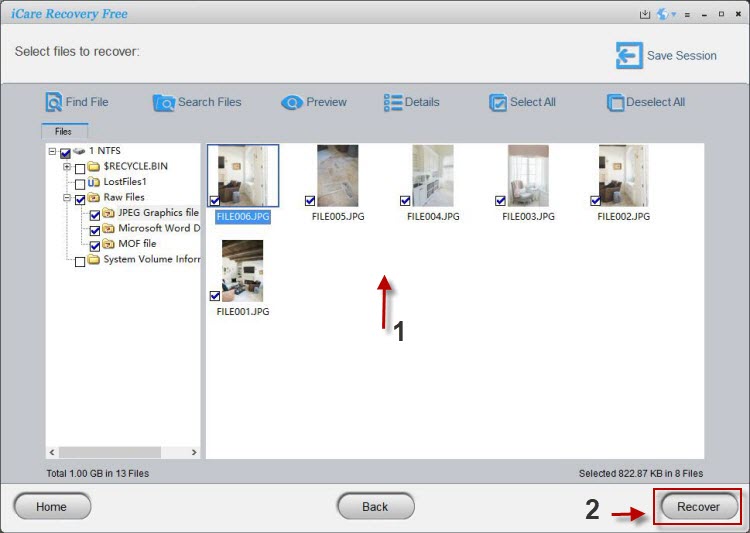 This is a story from user whose files folder were deleted by antivirus.
"The antivirus software on my PC was expired several months ago. Today, I update the antivirus software in order to protect my PC from being infected with virus or Trojan. After updating the antivirus software, I run it and sweep the whole hard disk to check if it contains any virus. During the course of sweeping, the software finds some viruses and deletes them. However, after antivirus sweeping, I find that one important folder stored on D drive got deleted. I think the antivirus software considers this folder as malicious, so it removed the folder. As a matter of fact, all files stored in this folder are secure and they are important to me. Now, how can I get back the deleted folder removed by antivirus software?"
Anti-virus software protects your PC from being attacked by Trojan or virus, but it is not 100% intelligent and perfect. Sometimes, when you run anti-virus software like AVG, Mcafee, Windows Defender or other security programs to scan a disk, it may occasionally remove some file folder when it suspects the folder contains malicious or unsafe data.
AntiVirus Deleted Data on Portable Hard Drive, flash drive or sd card
Sometimes, anti-virus software installed on your computer may mistakenly wipe some data on your removable hard disk, usb drive, sd card because it suspects the data is not safe.
Be Careful When Running Antivirus Software
Antivirus software may wrongly delete some important data on your hard disk or portable hard drive.
Usually, the anti-virus software will prompt you how to deal with the problems when there is virus infection, you should check to see if the folder really contains virus.
Files deleted by virus? Try this guide: how to recover files deleted by virus
FAQs
How can I recover my deleted photos from antivirus?
Answer: Firstly check the quarantine area, if it's not there, then use iCare recovery to undelete photos free.
How do I recover deleted files from Mcafee?
Answer: Go check the quarantine in Mcafee and see whether files could be restored, if not, undelete it by free recovery tool like iCare Recovery.
Can't restore quarantined files Windows defender?
Solution: when files could not be restored, recover the files with free recovery tools.
Also read: how to recover hidden files by virus
---
Last updated on Nov 28, 2023
Related Articles