Lexar Flash Drive Data Recovery - 2 free ways
#1 Undelete files from lexar usb flash drive using cmd
This following cmd would efficiently help restore files deleted from lexar usb by unknown causes or when your lexar usb suddenly stoppend working.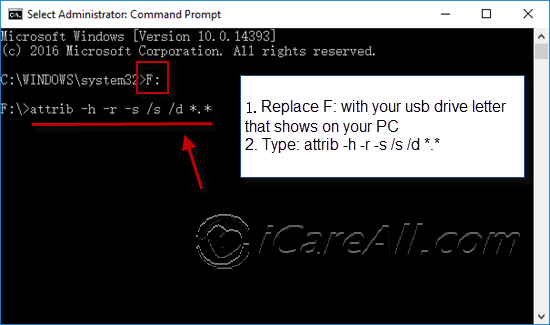 Insert your lexar usb to pc, open it in MY COMPUTER or THIS PC, and see which drive letter it has
Run cmd with admin privilege (Start cmd from left Start -> Run -> And type 'cmd' in the run, right click the cmd when it shows up, and run with admin privilege)
Type "F:" and press enter key (Please replace F with your own lexar usb drive letter that appears in your pc, for example, if your lexar usb shows drive E, here you need to type E: and press enter key on your keyboard)
Type "attrib -h -r -s /s /d *.*" and press enter
#2 Recover Deleted Photos/Videos from Lexar Jump Drive with Professional Tools
iCare Pro Free can restore deleted files from lexar jump drive when the usb is damaged, inaccessible, formatted lexar usb by mistake, lexar usb raw file system error, io device error, cannot delete nor save data...
Step1. Download this tool and run it from computer, insert your usb to pc and select recovery mode 'Deep Scan Recovery' in the software.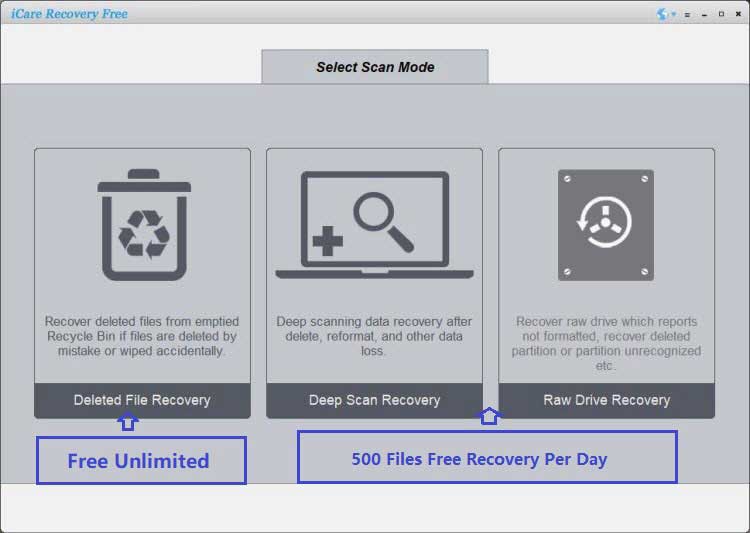 Step2.  Select the lexar usb as target to scan its files.
Step3. Save data onto another digital storage device(Required, to avoid data overwritten).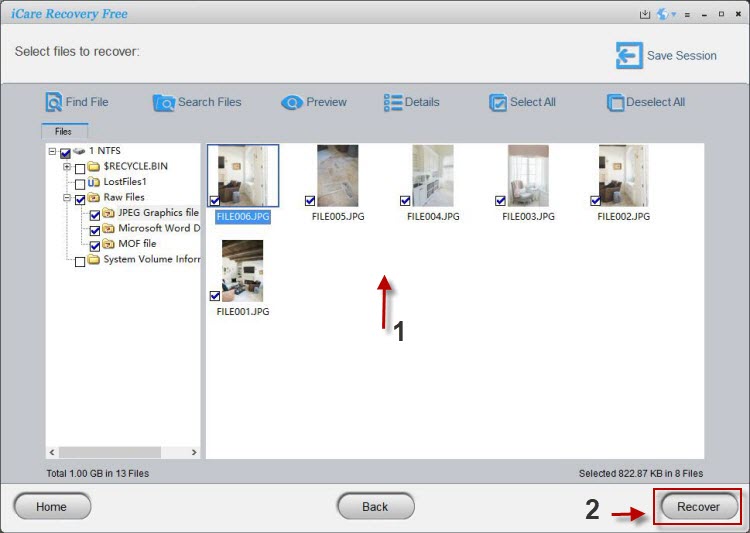 Also read: free usb drive data recovery software
Note: This program offers 1GB free recovery and you need to contact the support for a free code. Or you may buy a license when it shows your files.
#3 iCare Recovery Free
iCare Recovery Free is able to bring deleted files from lexar flash drive especially when the files were permanently removed. It could scan the lexar usb in a few seconds for the deleted files.
More information about this freeware is on this page: https://www.icare-recovery.com/data-recovery-free.html
FAQs
Question: Can I retrieve deleted files from lexar flash drive?
It's free to undelete files from lexar flash drive when the removed files were not overwritten by new files. Here are some examples for the recovery.
If you removed files from lexar usb by mistake, it's possible to undelete files from lexar when you have not saved new data to the lexar usb after the deletion.
If you saved new files to the lexar usb after the previous file deletion, it's true that some of the deleted old files would be corrupted, not opening after recovery no matter what tools you use for the recovery.
If the files were removed due to a reformatting, there is still chance to undelete lexar usb files when there were no new files saved to the lexar usb after the formatting
Also read: free usb drive data recovery software
Question: Lexar jump drive file recovery software free
It's free to restore files from lexar flash drive with cmd or icare recovery free without any liability. The pro edition of iCare Recovery offers 1gb free recovery and it also offers free license to users who can make a review for the program or a video on social media.
Question: Lexar flash drive data recovery cost
It's free to use the tools introduced on this to recover files from lexar usb. However due to the lack of UI or software developement, some free tools or the cmd provided by Windows may perform weak recovery than professional tools.
The professional tools can find more files and it usually take about 50 to 100USD for a license.
PS: The lexar flash drive data recovery service from your local data recovery centers may ask for $200-$2000 for professional data recovery especially when your lexar usb is no longer detected or dead.
Also read: online recovery guide for usb
Last updated on Sept 14, 2023
Related Articles
Hot Articles