Online repair/fix/recover for SD card/USB flash/external hard drive/ internal memory
Last updated on 27/04/2017
Is there online service/shop that is able to repair/fix/recover damaged/corrupted/destroyed USB drive/internal memory/SD memory card/micro SD on android without formatting using CMD?
Yes! There is online shop, which provides online service for users to fix/repair corrupted/destroyed USB/memory card/external HDD/phone.
Online repair sites:
https://www.phonerepaircompare.co.uk/ – Repair different brands of smartphone including Blackberry, HTC, Samsung, iPhone, etc.
https://datarecoveryhospital.com/ – You can give them a call and tell about your problem and they will help you resolve problem online.
Disadvantage: Expensive!
Thos online shops usually offer remote service to help fix corrupted device on your computer using some repair software. They often charge you a lot!
Solution: Use online repair software/tool/
Corrupted memory card/micro SD card/flash drive/external hdd repair software/tool/ online free download to fix corrupted/damaged flash memory card/USB disk drive errors all by yourself rather than relying on any online shop.
Phone/Memory Card/USB Is Physically Damaged
Is your mobile phone/memory card/USB disk physically damaged?
No online repair software/service is able to fix/recover a physically damaged media.
Solution: Send your USB/memory card/android phone to local repair shop
For a physically damaged USB disk/memory card/mobile phone, only professional repair person know how to fix it and get back the data inside. Therefore, send the USB/card/phone to local repair shop and ask them for help to get back lost files inside the damaged media and repair it.
Tip: Search "online repair shop + your location" on Google to find a repair shop online.
Online Recovery for Phone Internal Memory/SD Card/USB External
How do you save data inside your phone internal memory/micro SD card/USB stick/portable hard disk which is corrupted/damaged?
Answer: Use online recovery software iCare Data Recovery Pro Free Edition for file recovery.
iCare Data Recovery Pro Free Edition supports to restore files free from phone internal memory, memory card, flash drive, hard disk, external HDD, etc when it is corrupted.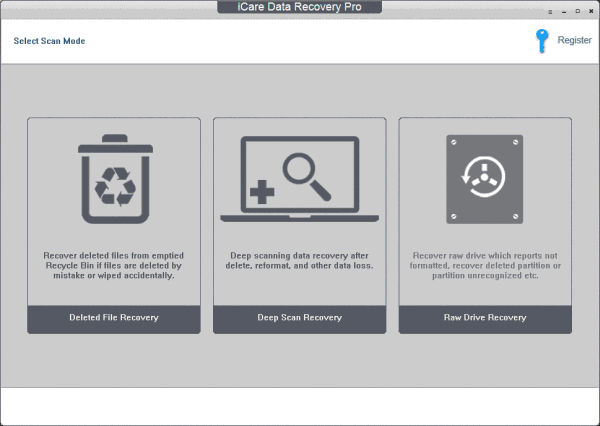 Free download iCare Data Recovery Pro
Online Repair for Corrupted Phone SD USB Flash HDD
Are you looking for online service/software/shop, which can fix corrupted/damaged android phone/SD memory card/USB flash/ HDD external?
Solution1: Phone/flash drive/memory card repair shop online
You can send the corrupted card/disk drive to repair shop that you find online. Searching "online repair shop + your location" on Google, you can find many repair shops online that offers help for corrupted digital device repairing in different situations.
Solution2: USB disk/SD card/mobile phone fix software online
You can also look for a cellphone/memory card/USB repair tool/software online, which is able to fix corrupted disk/card.
How to Fix Phone/USB/Memory Card without Formatting?
Can you fix/repair a corrupted phone/USB flash memory/flash media card/hard disk without formatting?
NO! Repair software/shop helps fix a corrupted media by formatting it!
Solution:
Step1. Use iCare Data Recovery Pro Free Edition to free recover inaccessible files from the corrupted disk/card/phone internal memory.
Step2. Format the corrupted card/drive to fix errors.
How to Repair Damaged Phone/Thumb Drive/HDD/Flash Card Using CMD?
It is able to run CMD to check and repair some errors in a corrupted phone/thumb drive/hard disk drive external/memory card or perform format on any disk.
How:
1. Check & fix errors
Run CMD > and type "chkdsk/x/f/drive letter of corrupted media (e.g. chkdsk/x/f/h:)
2. CMD to format
Run CMD to format the corrupted flash drive/memory card/USB hdd

Recommend: Diskpart CMD to format>>
---
Hot Articles
Related Articles