How to Recover Deleted Photos/Videos from Sony Camera - 2 Free
Summary
Deleted/formatted photos on Sony Cyber-shot camera by mistake? Lost images or videos on Sony a6000 or what ever Sony digital camera? Sony Camera Recovery Tool can help retrieve pictures from Sony memory stick or sd card with a few clicks.
Background
As Sony camera powershot uses memory stick or memory stick pro, this page introduces methods to undelete photos from Sony cyber-shot memory stick or Sony camera that uses cf card. The first method is to undelete Sony camera memory stick free with cmd and the second method is to undelete sony memory stick with professional sony camera recovery tool....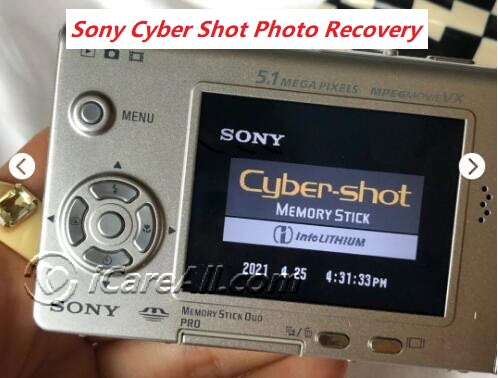 Tips to Increase Sony Camera Data Recovery
Accidentally deleted photos from Sony camera - can I retrieve deleted photos from Sony cybershot camera memory stick? Here are some tips to increase the recovery no matter the images were deleted by accident or lost duo to other memory stick errors/damages.
Never take new photo captures with the Sony camera once the images were deleted or lost. It's best that you power off the Sony camera immediately once you knew the images were deleted by mistake since the new image would involve some kind of data overwriting to the deleted photos.
Take the cf card or memory stick out of the Sony camera safely, and then recover data from Sony camera with a computer.
Never use the Sony camera when the battery is low.
Do not try to repair the cf/sd card or change it before the data recovery if the images or videos were lost due to sd card errors
Do not save the data to the same memory stick or sd card from recovery since it would result in data permanently overwriting
Materials Required
A computer since all the free Sony cybershot camera sd card recovery are based computers
A memory card reader that can help a computer read the memory card as a drive for further operations when the sd card is listed as an external drive under the computer
#1 Sony cybershot Memory Stick or SD Card Recovery using CMD Free
How to recover deleted photos from sony cybershot memory card? CMD is the first option however it requires some computing command knowledge. Don't worry, there are photo tutorial together with video guide that show how to use the cmd for a recovery.
Step 1: Insert sd card to the computer with a memory card reader, remember its drive letter that is displayed in THIS PC where a memory card shows as drive E or F or other drive letters in a computer.
Step 2: Run cmd from the Start -> Run window by typing CMD in the window and press OK to enter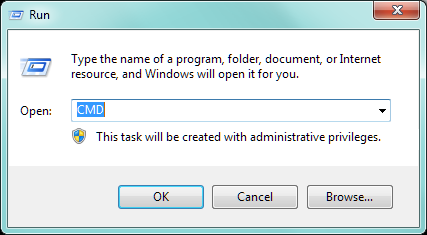 Step 3: Type "E:" and press enter key in the cmd window and then the command prompt will choose the drive E, the sd card as the target.
Step 4: Type "attrib -h -r -s /s /d *.*" (you may copy the code in the quotation marks and paste to your cmd and then press enter key)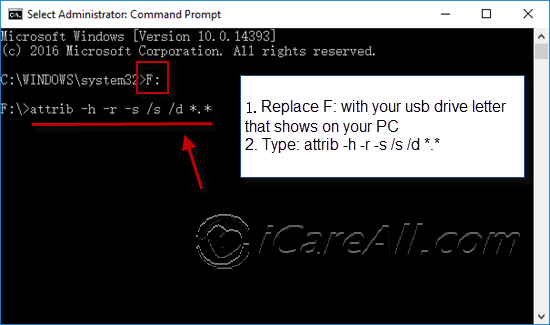 Note: The above cmd is useful for those whoes sd card has been infected or damaged by virus or unknown causes that made the images videos all gone from the Sony camera sd card.
#2 Undelete CMD
If the attrib cmd does not work, you may try the undelete cmd to see any luck. This can be operated by the following steps.
Step 1 - Insert sd card or memory stick to pc with a card reader, and remember its drive letter
Step 2 - Run cmd from your computer (almost the same steps as the previous cmd for recovery)
Step 3 - Type "E:" when your sd card or memory stick shows e drive that you need to replace it with your sd card true drive letter
Step 4 - Type

undelete /dt

and press enter key
Resource: SD Card recovery using cmd
Not working? The following third party tool will mostly help since it is made especially for sd card recovery no matter it's the error from the camera user or logical errors on the memory card.
#3 Third Party Sony Camera SD Card Recovery Tool
Preparation: Please power off the Sony camera at first, and then remove the sd card out of the camera, insert it to pc with a memory carder, or to the laptop sd card slot if it's available to get the pc and tools see it as a drive volume for recovery.
Note: The mac version will help retrieve deleted photos from Sony cybershot camera sd card on MAC computers.
Step1. Download Sony Camera Recovery Tool. Install it on computer and select a recovery mode to get quick scanning of lost data on the camera sd card.
The Deep Scan Recovery is the best option for you since it provides deep in search algorithm that can find as many photos as possible on a memory stick or card.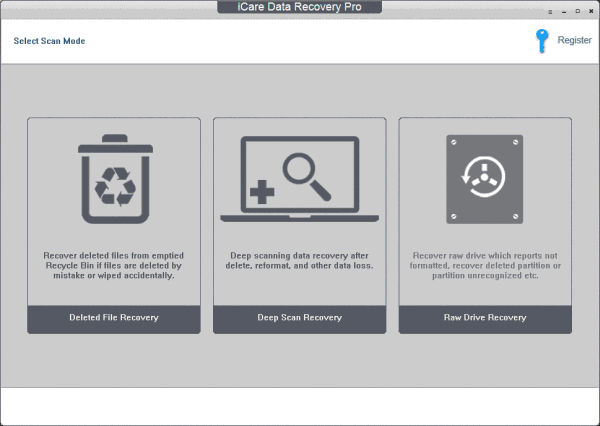 Step2. Insert your sd card with a card reader if you have forgot to insert the sd card, and then select it as the target to start the recovery. It may take a few minutes for a 16GB memory stick to get finished scanning. As to a 128GB memory stick, it may need 10-20 minutes.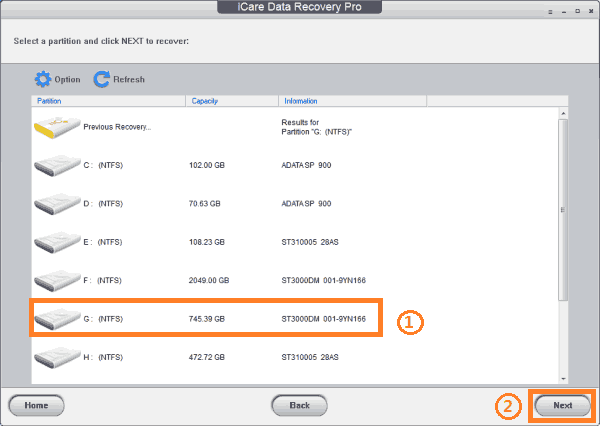 Step3. Save images or videos from the recovery list to another computer hard drive to avoid data overwriting.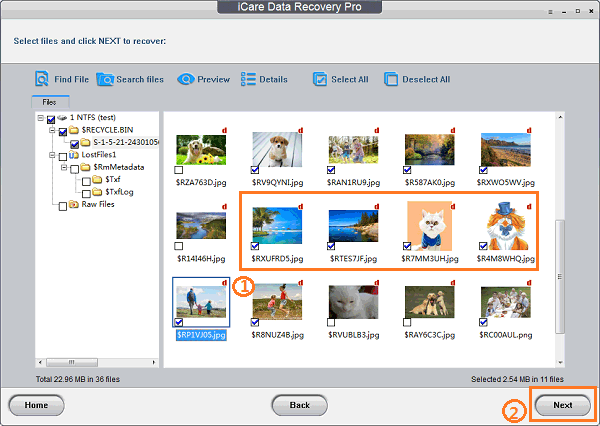 Rescue deleted images from Sony memory stick
Supported Sony Camera Types
Sony Cyber-shot line has released many models and series, including Sony H and HX, QX series, Sony DSC, R, and RX series, Sony WX, T series, W series, etc. The recovery tools support all types of Sony cameras including the cybershot lines.
Supported Sony Camera Memory Card
All Sony Cyber-shot cameras support a variety of memory sticks, such as CF card, SD card, SDHC card, SDXC card, and so on.
Sony Camera Video Recovery
If videos were deleted by accident from Sony cybershot camera memory stick or sd card, it's possible to undelete videos from Sony camera sd card if you insert it to pc and run the recovery tool for a recovery.
FAQs About Sony Camera Recovery
Question: Can I retrieve deleted pictures from Sony a6300?
Answer: It's possible to restore deleted images from Sony a6300 when the deleted images were not overwritten by new data. You may use free tool such as iCare Data Recovery Free to undelete photos from Sony camera.
Also read: Sony memory stick recovery or recover deleted photos sony a6000
Hot Articles