Olympus RAW ORF Image Recovery
Have you ever lost previous RAW ORF images on your Olympus digital camera?
How do you rescue ORF photos store on memory card for Olympus camera?
You may want to rescue deleted RAW ORF images from Olympus digital camera. You may need to unformat memory card for Olympus digital camera to restore Olympus RAW ORF pictures after formatting by mistake. You may be looking for a solution to access a RAW ORF image when your Olympus digital camera does not recognize the XD card inserted in it.
In all data loss situations, you just need a RAW image recovery program – iCare Data Recovery.
About ORF Image Format
ORF is an unprocessed and uncompressed RAW image format that is used in Olympus digital camera, so Olympus digital camera RAW images are usually stored with .orf as filename extension. You can modify a RAW ORF image including its white balance, saturation values, exposure, etc later after taking photos.
Olympus RAW ORF Photo Recovery after Formatting
How to recover Olympus RAW ORF photos after formatting? The software is available for ORF file recovery when you perform format in all situations such as:
Rescue Deleted Olympus ORF Files
A RAW image usually occupies more space than JPEG or PNG file, so you may delete some unimportant or old ORF files when there is not enough free space on the memory card for your Olympus digital camera. You can rescue deleted Olympus ORF files after deleting by mistake or intentionally.
Restore Corrupted ORF Images from Memory Card for Olympus
Do you think that the ORF images are corrupted when they become inaccessible or unreadable on memory card for Olympus camera? Here are two possible situations:
Olympus Camera Memory Card Corruption
If you receive message like memory card is invalid, there is no memory card inserted, memory card needs to be formatted, etc, it means the memory card is corrupted which disables you to access the ORF images stored on it. When receiving such kind of error message, you can restore inaccessible ORF images from corrupted Olympus memory card with the data recovery software.
ORF Files Get Corrupted
An ORF file usually gets corrupted due to virus infection after installing spyware or visiting some unsafe links. Some improper operation also results in ORF file corruption, such as shooting when Olympus says low battery or removal memory card in data transferring process and more.
Guide to Retrieve RAW ORF Photos for Free
You should connect the media that contains the lost RAW ORF photos to a Windows computer. Free download and install iCare Data Recovery on this computer and then follow guide below:
Step1. Run the software and select a proper scan mode.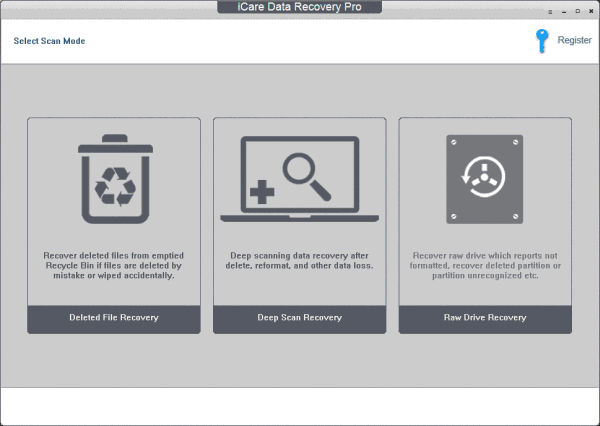 Step2. Choose the drive to scan and you only need to wait patiently.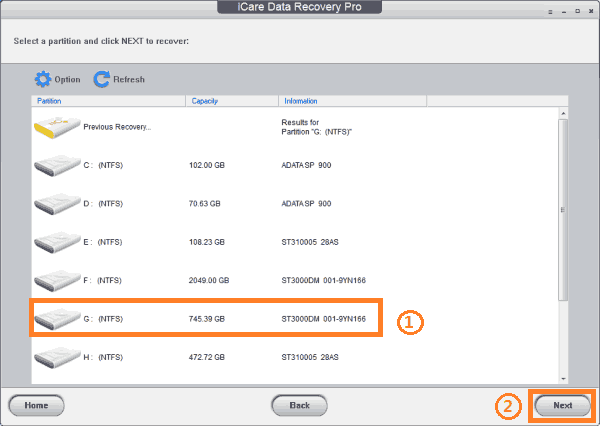 Stpe3. Preview files after scanning and save ORF images to another media.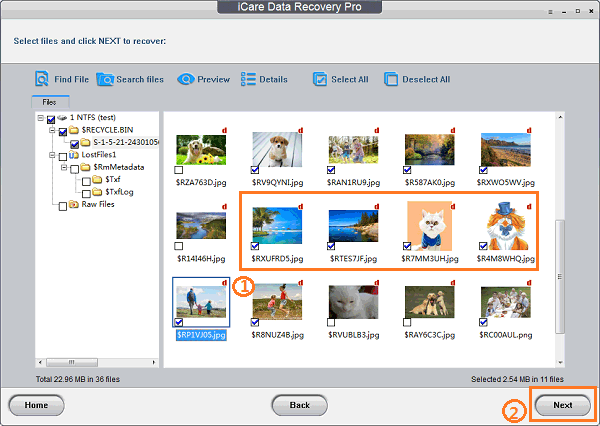 Cannot Open an ORF Image
ORF is a RAW image format that is only used in Olympus digital camera. If you want to open an ORF image, you have to install image viewer or editor that supports this type of image format. The most common used programs that support ORF image format are Olympus Viewer and Adobe Photoshop, so you can install either of them if you have not installed any photo viewer that is compatible with ORF image format.
Convert Olympus ORF Pictures to JPG
A photo viewer or editor does not only support a type of image format, so you can open the Olympus ORF pictures on the photo viewer such as Olympus Viewer or Adobe Photoshop and then save it as JPG format if you want to convert ORF image to JPG format.
---
Last updated on Nov 01, 2022
Related Articles