How to Format RAW Pen Drive FAT32/NTFS Using CMD
This is a simple guide that would show you the detailed steps that you may follow for formattting raw usb fat32/ntfs with cmd in Windows 11/10/8/7 or other Windows OS if you have.

Note: formatting would erase all files on the pen stick, we strongly recommend recover data from raw usb before using cmd to get raw usb formatted.
Free pen drive recovery software would help if data needs rescuing. No important files on the raw usb? Then follow this video to get your raw usb formatted using cmd.
Also read: how to recover raw usb flash drive
#1 Video guide - How to start cmd in Windows 10
There are many ways to start cmd in Windows, if you are using different Windows os, you may simply start it from Windows icon -> run; or a Windows icon+r on your keyboard would get it launched too.
#2 Video Guide - formatting raw pendrive fat32
Option, instead of fat32, you may also format the raw usb to ntfs using cmd, the following guide would show you the detailed steps.
#3 Formatting RAW USB NTFS Using CMD
Here are the steps for formatting raw usb ntfs using cmd.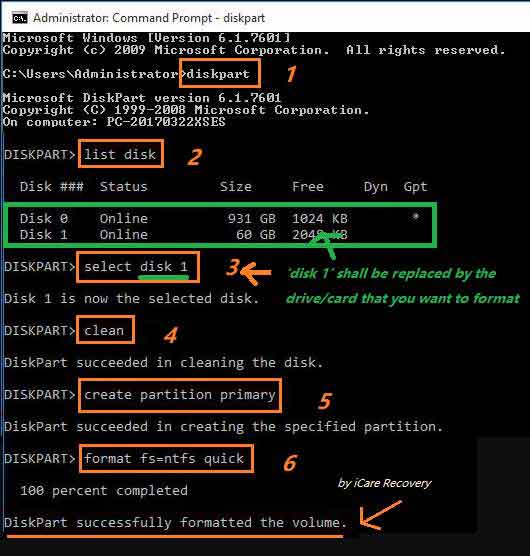 Launch cmd and type 'diskpart'
Type 'list disk'
Type 'select disk *'
Type 'clean'
Type 'create partition primary'
Type 'format fs=ntfs quick'
What's the difference between fat32&ntfs
Simply say, fat32 is the ealier file system of Windows while ntfs was developed later and better since ntfs can hold one file larger than 4GB.
Fat32 -> It is the most compatible file system to all devices, that could be used on Mac os or other devices too.
NTFS -> It can hold a file more than 4GB while fat32 won't.
Better than cmd, here are 8 free format tools to format raw usb and get its file system changed.
USB corrupted, cannot be formatted? Here are its solutions. ->Fix pen drive cannot format with free tools
Last updated on Nov 28, 2023
Related Articles
Hot Articles