Removable Hard Drive No Media Fixing - External drive 0 Bytes No Partition in Disk Management
Background
There are many external hard disk reported no media in disk management or hard drive no media by diskpart and it may even show disk 1 0 bytes or sometimes you may call it disk 1 0 mb error that could be found in disk management when you try to manage your storage device under disk management.
Some of the external disk no media errors may happen like the following,
Seagate external hard drive no media 0 bytes
WD external hard drive no media 0 bytes
Samsung external disk no media 0 bytes
External hard drive partition not showing up in Disk Management in Windows 11/10/8/7
Internal hard drive no partition showing up or not detected
Quick fixes: how to fix hard drive no media with 5 free ways
When you connect the external hard disk to your computer, the removable drive would reported no media in disk management without a partition showing up in disk management. This error happened to many digital devices such as Seagate backup plus removable disk, wd external hard drive, samsung disk, and toshiba external hard drive no media too.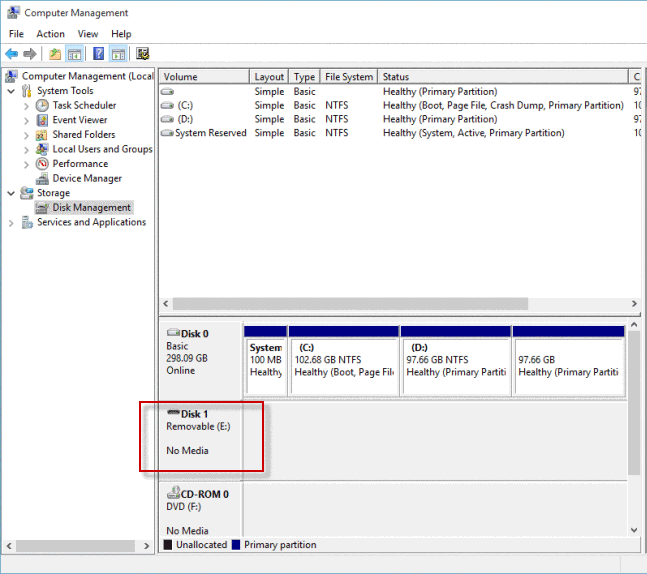 Hard drive no media disk management
In the column of disk information under disk management, it should have displayed information like 'Disk 1 Removable 500GB Online', or 'Disk 1 Removable 1024GB Healthy', however the error 'No Media' just showed up on the disk column and there is nothing coming up on the right column which should have displayed disk partition volumes but no partition showed up in the disk management.
Recommend: how to fix disk partition not showing up error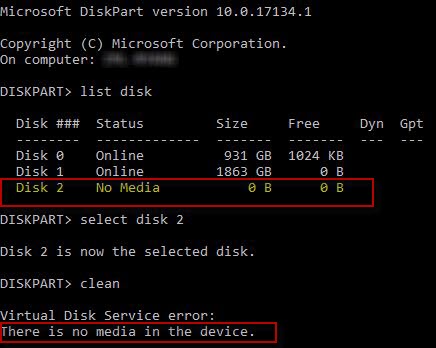 Diskpart reported external hard drive No Media: There is no media in the device
Quick fixes: Fix usb drive no media in 5 free ways
Hard Disk 0 Bytes File Systsem RAW
When you check the hard disk property, mostly it may display file system raw, disk used/free space 0 bytes, disk capacity 0 bytes.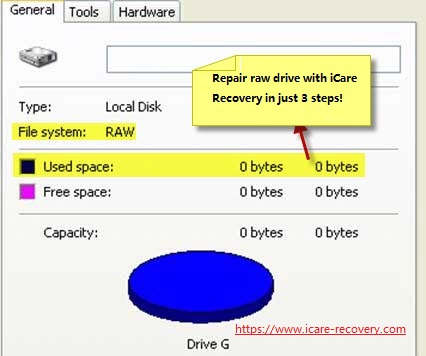 RAW hard disk is 0 bytes for used space, free space and capacity
See more information: usb flash drive 0 bytes
How to Fix External/Internal Hard Drive No Media Error
When the hd is damaged that cannot be recognized or hard drive is not showing up partition in disk management, you should stop using it if it contains important files which shall be restored for the first time of all.
Recommend: recover the data from disk no media (best no media data recovery tool download)
When you have confirmed that all files on the hard disk have been rescued, then you may do the following disk no media repairing by the following route.
'This PC' -> Right click usb drive -> Property -> Tools -> Error Checking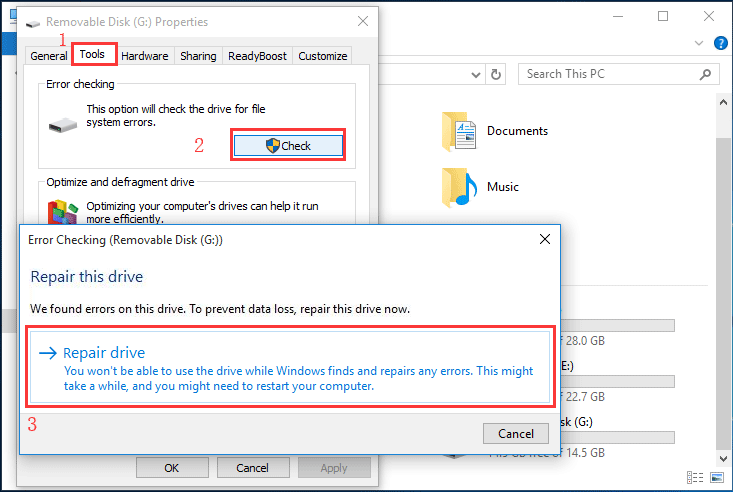 Repair hard disk no media error in Windows 10
Last updated on May 27, 2020