Home > Products > iCare Data Recovery Pro > Howto >File Recovery from formatted memory card or memory card asks you to format it
File Recovery from formatted memory card or memory card asks you to format it

Memory Card Format Recovery is Made Easy With iCare Data Recovery Standard
Finding yourself in a position where you need a memory card format recovery is never fun.  Fortunately, there is software like iCare Data Recovery that can help.  If you have experienced an untimely format of your memory card and stand to lose all of your beloved photos, take a look at how iCare can help!

---
Recover files after format memory card
Before you make a move...Do not make the mistake that many people make when their memory card was formatted before pictures could be backed up:  Adding more pictures.  While adding data to your memory card may not erase all of the previous contents, it will undoubtedly replace some of it.  Before you do anything, download iCare Data Recovery Standard to help you with your memory card format recovery. 
What types of memory cards can iCare Data Recovery Standard help me with?
All types!  There is a wide variety of memory cards that work best for different things such as digital cameras, game consoles, iPhones, Smartphone and more.  Basically any memory card that you are able to use in conjunction with any version of Windows can be read and have images retrieved by iCare Data Recovery Standard.
What if I get an error message saying I have corrupt data?
Fine!  Don't keep going in circles trying to retrieve your data without help.  Once your computer starts to try to take over, it will have you reformatting, downloading, and doing everything besides actually getting your photos returned to a safe, retrievable condition.  Download iCare Data Recovery Standard, and let it guide you through your photo retrieval process.  Even if you have data on your memory card that has become corrupt, you will still be able to salvage your pictures.
Protect yourself from technology failure!
As we move into a more intelligent millennium, we are being afforded more sophisticated hardware on which we can store multiple data images and file types.  We take full advantage of different types of media storage devices, and we rely on them heavily.  When they short out or experience other types of malfunctioning, we are at risk of losing everything on which we had invested our hard work and time.  Don't stay unprotected from potential hardware failure and human error.  Anything can happen, and there are all types of issues that occur when you are transferring pictures or formatting a memory card.  If you need to recover lost files or a memory card format, don't wait...Download iCare Data Recovery Standard and find out why thousands of consumers are completing a lot more tasks with a lot less stress.
Here is how data recovery was performed to restore files.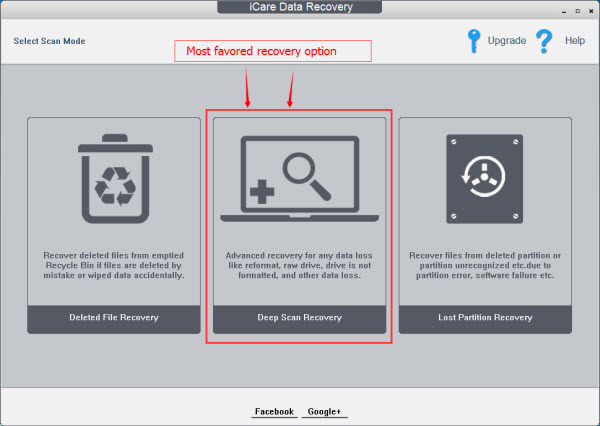 Select a possible drive that contains your files and let it build file structures for recovery.
Preview lost files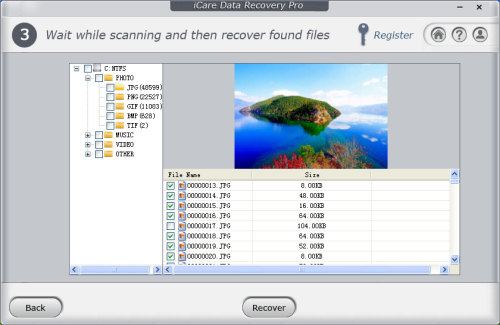 ---
Related Articles