Recover Files from Formatted Flash Drive

Recover formatted flash drive - iCare Data Recovery Standard
iCare Data Recovery Standard can recover files from the formatted flash drive on the condition that the files were not overwritten by new data.
Besides USB flash drive format recovery, iCare Data Recovery Standard can also recover deleted files from flash drive, flash drive was recognised as RAW file system, quick formatted drive, unreadable flash drive, recover files from inaccessable USB drive etc.

Tutorial: How to Recover Files from Formatted Flash Drive?
This is a tutorial guiding you how to recover formatted files with step by step instructions. When recovering formatted flash drive, you need to download iCare Data Recovery Standard; plugin flash drive onto your PC as an external drive. Run iCare recovery program to search files. You can preview lost files before register this program.
Step One: Download a demo of iCare Data Recovery Standard which can let you save 10 files for free.
Step Two: Connect your formatted flash drive on your computer. It will be recognize as an external drive in your PC. Install and run iCare Data Recovery Standard. And you will see a screen with many options of recovery. Go to Format Recovery.
Step Three: Select the flash drive which was recognised as external drive and then click "Recover" to search files.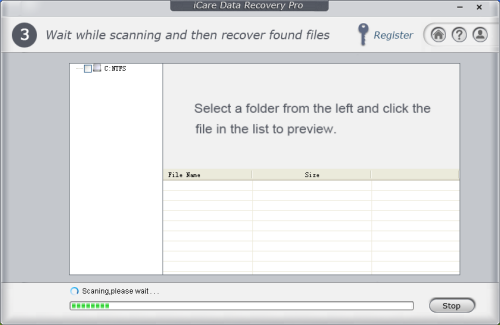 Step Four: Be free to click "Show Files" which would list your lost files from your flash drive.

Step Five: After clicking "show files", there will be a list of lost formatted files.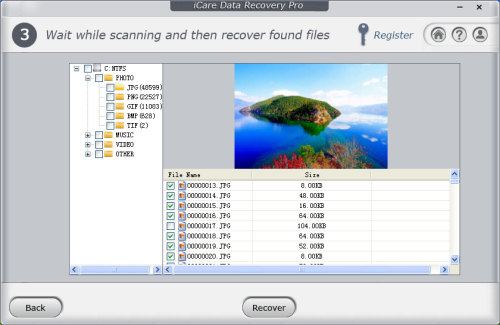 You can save 10 files for free.

---
Related Resource
Formatted Flash Drive Recovery
It is safe and quick to recover files from formatted flash drive. But before performing the recovery, there are somethings you need to understand. Once you formatted your flash drive, you write new data onto the flash drive again. Then no recovery experts would be able to get the data back. Why? You probably never heard the saying in data recovery world - once the data is over written, you suffer permanent data loss.
Why can iCare Data Recovery Standard recover formatted flash drive?
Formatting a drive does not mean the data was removed, but only to mark the drive as new and empty room to accept new files. iCare Data Recovery Standard is speciallized in format recovery and has helped thousands of customers suffering format drive from data loss. With affordable price, we guarentee your recovery with 30 days money back. Why not have a try?

---
Related Articles