FAQ: CF Card Accidentally Formatted

Question: Can you help you to recover my files from accidentally formatted CF card?
Solution: Recover data from accidentally formatted CF card with recovery tool - iCare Data Recovery.
"Format Recovery" module is a built-in recovery wizard that is to help users to retrieve formatted drive, formatted memory card like cf card, formatted ipod etc.

This is a FAQ about CF card formatted recovery.
CF data recovery : What happended to my CF card?
When inquiring "CF card accidentally formatted", you probably perfomed FORMAT (no matter quick format or regular format) and you lost your files. Or you might encountered the error "cf card is not formatted, do you want to format it now?" Is there any chance of cf card formatted recovery? The answer is yes. But you need some special tool to perform the unformat, like iCare Data Recovery Pro which has a recovery module named "Format Recovery". We need to tell you the truth that there is no freeware for unformat available on the recovery software market. iCare Data Recovery Standard is quite price competitive but also with powerful unformat file recovery ability.
All you have do to is to download it on the website, run it on a Windows based plantform and then connet your device which CF card is in and then to search files with iCare Data Recovery Standard "Format Recovery".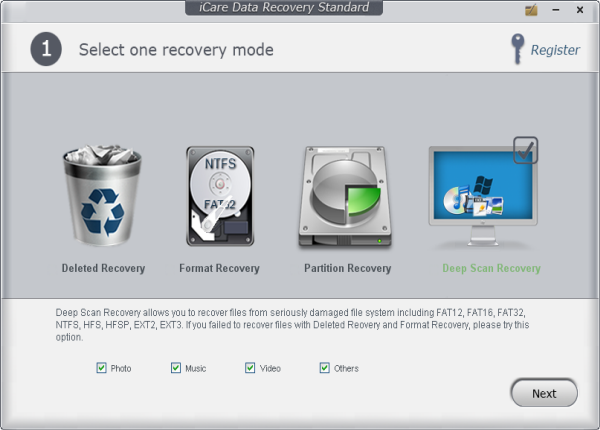 Tips for CF card recovery: if your PC ever noticed you "the dirve is not formatted" and you did not perform the format, be free to try another module "Advanced Recovery".
CF card (Compact Flash) was originally a kind of portable electronic devices used for data storage devices. As a storage device, which revolutionized the use of a flash memory, the first time in 1994, produced by SanDisk Corporation and developed a related specifications. At present, it is the physical format has been used in a variety of devices. From the appearance on the CF card can be divided into two types: CF I-type card and later some of CF II-type cards. From the speed it can be divided into CF card, high-speed CF card (CF + / CF 2.0 specifications), a faster CF 3.0 standard has also been adopted in 2005. CF II slot-type is mainly used for mini hard drives and some other equipment.
All CF card devices like camera, cellphone etc. are supported when running format recovery. All you have to do is to connet CF card to a Windows PC and run recovery.
Download Free | Read More about iCare Data Recovery Standard
---
Related Articles