Recover Deleted Photos/Videos from SD Card/Micro SD Android Phone Camera
Last updated on 26/12/2017
How to recover photos/images/pictures/data/videos from memory card sd microsd off Android mobile or digital camera for free? If you ever run into the following cases and wonder how to perform a recovery? Try iCare Data Recovery Pro Free Edition to start sd flash memory card recovery.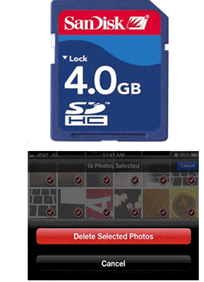 Human operation errors

: mistakenly/accidentally deleted photos/videos from SD/microsd card in camera/mobile phone,

formatted sd

by mistake/accident, permanently deleted images/videos from memory sd,



Other problems

: virus infected sd card, data lost/disappeared/gone during transferring/copying/moving from sd to PC/other places, corrupted/damaged sd, memory card wont show, cannot be recognized/readable/detected, sd changed/converted/turned to RAW filesystem, SD card is not readable



Unknow errors

: I/O device Error on SD, SD says/reports/

asks formatting

when there are important data inside, SD shows raw file system,

SD is blank

and has unsupported file system, Windows was unable to complete the format sd

If you happen to delete files in your mobile/camera sd memory card by mistake, or when your sd memory card won't work, or has problems and you won't be able to open the inside data, don't worry, iCare Data Recovery helps you recover files/photos/videos off SD card together with all kinds of SD types like SDHC/SDXC/MicroSD AND all types of brands like samsung, sandisk... or even from camera Sony, Samsung, Canon, Nikon, etc. Calm down if you need to recover images video from SD card in Android phone like Samsung Galaxy, Blackberry, HTC!
Note: TAKE SD CARD OUT OF CAMERA/PHONE AND CONNECT IT WITH A CARD READER(Required) TO PC FOR RECOVERY! STOP USING THE FLASH MEMORY CARD ONCE IT HAS PROBLEM TO AVOID DATA OVERWRITTEN.
>> Free SD Memory Card Recovery -100% Safe

Download iCare Data Recovery Pro Free Edition to rescue files from any kind of memory card. It is 100% free of charge if the data you want to recover is within 1GB.
Why iCare Recovery Pro - by SD Card Recovery User Feedback

More feedback from real users...
Video Tutorial: how to use iCare Data Recovery for sd card rescue
Three Steps to Recover Deleted Photo Video from Android Phone Camera SD Micro SD Card
Step1. Connect the SD card to a computer via card reader (required). Then, download, install and run the software. The following photo displays three recovery mode available for sd card recovery, you may try one by one for the best and most chance of recovery.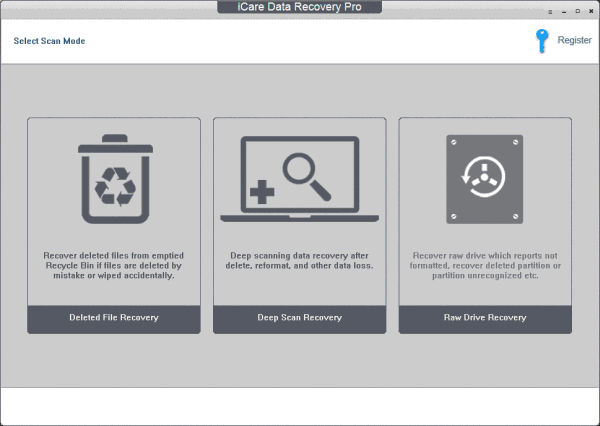 Step2. Select the SD card so that the software can scan it for lost files. You just need to wait when the software is scanning.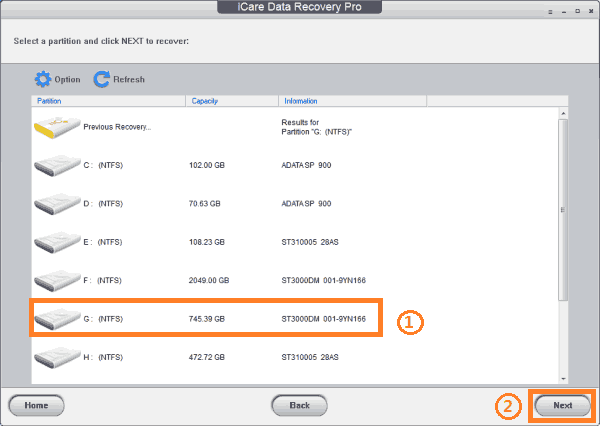 Step3. You can preview the found photos after scanning. Then, you only need to choose the files you need and recover them.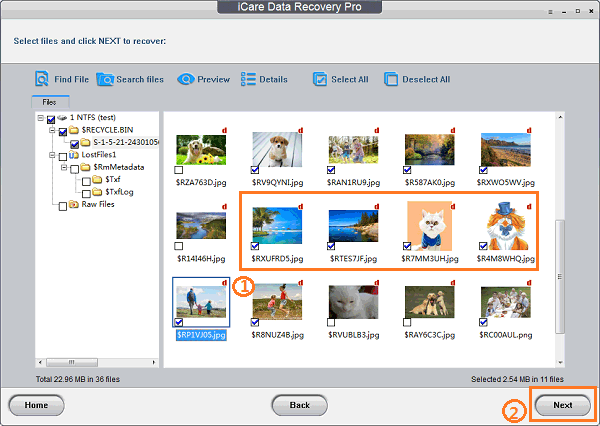 Note: please do not do any operation to the sd card before the deleted photo video files were restored successfully to avoid data overwritten.
If iCare cannot recognize your sd card, please get your sd out of phone/camera and connect the sd via a card reader to PC and then run iCare.
Tips for sd card recovery: if you continue using the memory card on your cellphone/camera/video recorder after files deleted, some of lost photo/video would be recovered as corrupted and not openable. So please stop using the phone/camera and get the sd memory card out of device immediately right after you realize there was somthing wrong.

Download free sd card recovery software now!
SD Reports RAW Not Formatted or SD Card Was Formatted by Mistake
There are some frequent problems related with the memory card, like sd card says not formatted, sd card is reformatted, photo is invisible on SD card, sd card is not detected by PC, sd card photos were deleted by accident, etc.
Not only sd card encountered some similar problems but also other memory card like people are calling for help like recovering photos off xd card , cf card formatted recovery, recover files formatted flash drive, deleted photo video from microsd by mistake etc.
What we can do is to rely on some reliable program like iCare Data Recovery, which uses its photo recovery power to get your photos, files back and save you from a file loss disaster. The data recovery software allows to recover photos from SD card like Kingston, SanDisk, Samsung, Lexar, Toshiba, PNY, etc.
Corrupted SD Card
When an SD card is corrupted, you cannot read or write any data to the card. However, iCare Data Recovery, a read-only SD card recovery software, is able to recover deleted files from corrupted SD card even if it is not recognized by your computer.
SD Card Recovery for Android
Android mobile phone users should not be unfamiliar with SD card because SD is a common device for different cellphone. You can see SD card device opening the My Files App on your phone, where you can view, delete, copy, or move any file on the SD memory card. You also have the permission to format SD card on Android device to wipe everything on it.
For any smartphone SD card, the most awkward thing is SD card stops function in the device but turns to unrecognized format. For this problem, you may uninstall SD card from the Android phone and connect it to computer for file recovery.
Note:
Due to the complication of data recovery, when your sd memory card is damaged or you have deleted photos on the sd by mistake, or the sd cannot be recognized, you should never use the sd again and please keep it untouched from any further operations to keep the best chance of recovery.
When your data are rescued by iCare Data Recover Pro, some temp files or very old deleted files would be recovered by iCare too and those very old deleted files would be unreadable. So we would recommend you just pick up the good files among the recovered data.

---
Related Articles
Hot Articles