3 Steps to Restore Data from SD Card
How to recover photos/videos from memory card sd card, sdhc, sdxc, microsd that was used on Android mobile or digital camera?

Step1. Connect the SD card to a computer via card reader (required). Then, download, install and run iCare Pro, the software to rescue sd card data. The following photo displays three recovery mode available for sd card recovery, download the trial version to get the best performance out of our product.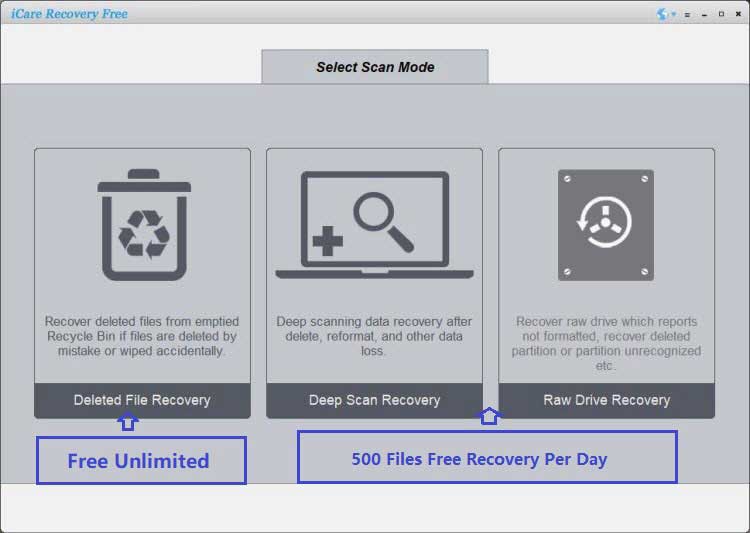 Select a recovery
Step2. Select the SD card and run a scan using our software. Wait patiently while scanning.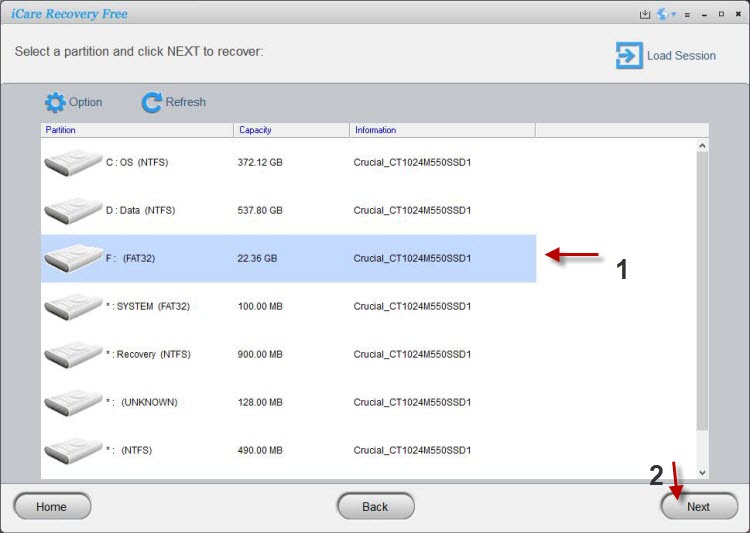 choose drive
Step3. You can preview the photos found, simply select the files and recover them.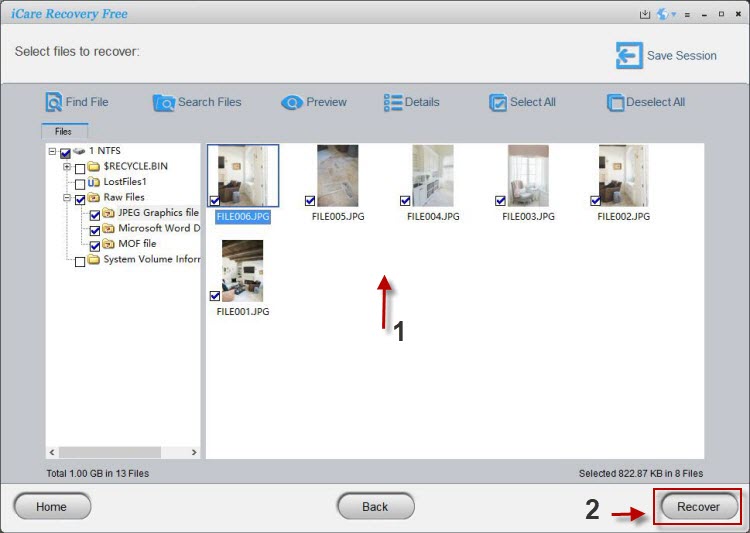 found data
Note: Please do not take any other actions to the sd card before restoration was completed to prevent further data losses.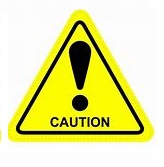 If iCare cannot identify your SD card, please get your SD out of phone/camera and connect the SD via a card reader to PC, run iCare after.
Tips for SD card recovery: if you continue using the memory card on your cellphone/camera/video recorder after deletion, some of lost photo/video would be recovered as corrupted and cannot be accessed. So please stop using the phone/camera and get the SD memory card out of device immediately when problems occurred.
Photos/Videos Were Removed from SD Card
Here are most common problems/errors that often occurred on sd card and we will introduce methods for you to fix sd card problems.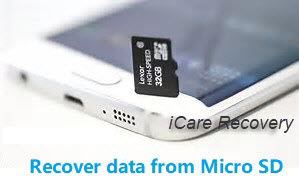 If you ever run into the above scenarios and need sd recovery? Try iCare Data Recovery Pro Free Edition to start sd memory card recovery.
Note: TAKE SD CARD OUT OF YOUR CAMERA/PHONE AND CONNECT IT WITH A CARD READER(Required) TO PC AND START RECOVERING!
STOP USING THE SD MEMORY CARD ONCE IT HAS PROBLEM TO AVOID DATA OVERWRITTEN.

Free SD Memory Card Recovery -100% Safe
Download iCare Data Recovery Pro Free Edition to rescue files from any kind of memory card. It is 100% free of charge if the files are within 1GB.
SD Reports RAW Not Formatted or SD Card Was Formatted by Mistake
There are some frequently asked questions related to memory card, like sd card says not formatted, sd card reformatted, or invisible photo files on SD card, sd card can not be detected by PC, sd card photos were deleted by accident, etc.
Not only sd card encountered some similar problems but also other memory cards like xd card , cf card formatted recovery, recover files formatted flash drive, deleted photo video from microsd by mistake are frequently asked by users etc.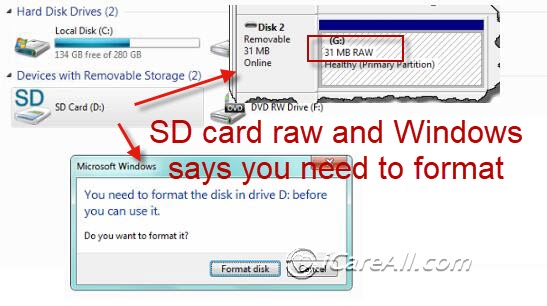 Repair SD card

Quick fix -> Free to fix sd card not formatting error
What we can do is to rely on some reliable program like iCare Data Recovery, which uses its photo recovery power to get your photos, files back and save you from a file loss disaster. The data recovery software allows to recover photos from SD card like Kingston, SanDisk, Samsung, Lexar, Toshiba, PNY, etc.
Video - how to repair raw sd card
Corrupted SD Card Repair with Chkdsk CMD
When an SD card is corrupted, you cannot read or write any data to its memory. You may repair it with cmd chkdsk that is able to help fix possible logical errors on sd card, sdhc/sdxc.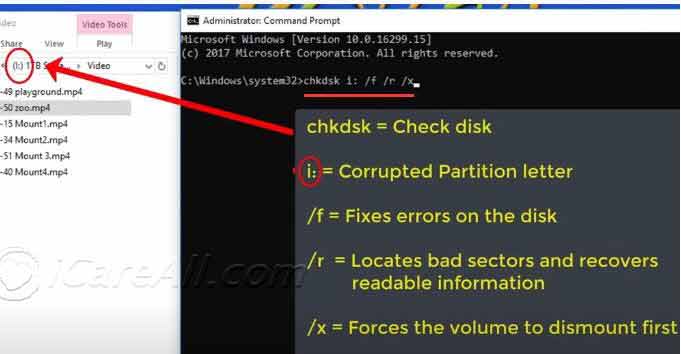 You may use chkdsk /f /r /x to fix logical errors on sd card such as killing its bad sectors.
Video - how to repair damage sd card on computer using cmd
Android phone internal memory recovery?
13 free tools to recover data from android phone internal memory
Android mobile phone users are very well familiar with SD card since SD is a common term for cellphone memories. You can access My Files App on your phone from your SD card, where you can open, delete, copy, or move any files from the SD memory card. You also have the permission to format SD card on Android device to wipe everything out of its memory.
For smartphone SD card, the most common problem is SD card changed to unrecognized format which doesn't function well with the device. For circumstances such as this, you may unplug SD card from the Android phone and connect it to computer for file recovery.
Due to its complicated data recovery process, for instance, your sd memory card is damaged or you have deleted photos on the sd by mistake, or the sd cannot be detected, do not take any further actions for better recovery results.
Why Choose iCare Recovery - by SD Card Recovery User Feedback
More feedback from our users...
How do I open file ///sdcard/camera? SD card and the camera
How do I view files on my sd card?
The route file ///sd card/camera or file ///sdcard/dcim/camera could be the files where photos, videos are stored on an sd card for camera.
How do I access my sd card on my camera?
Here are the steps that you may view your sd card on a computer.
Insert sd card to a computer (card adaptor would be needed if your computer does not host an sd card reader); when you insert camera to computer that the sd card is not detected, you need to pull the sd card out of the camera, and then insert it to a card reader, and then connect it to computer.
Open 'This PC' by double clicking its icon on the desktop, and then your sd card is there displayed as a drive. (If sd card is not detected in the computer, you may change a card reader, and try again.)
If the sd card is not showing up in this pc, check it under device manager or disk management to see whether it could be detected there. (If sd card is not showing in pc but detected in disk management or device manager, you may change its drive letter and path, and everything would trun right.)

Chnage sd card drive letter and path under disk management to make it show up in computer
Also read: sd card is not detected in computer [8 fixes]
Related Resource

sd card cannot be detected - What can we do when sdhc or sdxc may be not identified by your device...

MicroSD Suddenly became inaccessible - Solution for getting data from sd when SanDisk micro SD card is denied...

SD card reports unformat - Can we format sd without losing data...

RAW SD card file system recovery - raw sd card recovery...