RAID 1 File Recovery
Is it possible to restore data from RAID 1 hard drive after deleting, formatting or even when RAID 1 array fails? The answer is yes! Usually, data gets lost from RAID 1 array in three situations, namely data loss due to human error, data loss due to RAID 1 drive failure and data loss due to hard drive physical damage. When files are lost due to human error and RAID 1 array failure, you can get back all lost files as long as the data is not overwritten. However, if hard drive suffers physical damage, you might be unable to restore lost data. Today, this article will share solution for RAID 1 file recovery in different data loss situations except hard drive physical damage.
RAID 1 Data Recovery with Software
Whether files got lost due to human mistake or hard drive failure, you can use iCare Data Recovery Pro , a data recovery program for all Window users, to perform lost file recovery. This data recovery software provides an easy way to restore all lost files such as images, videos, music, etc from any hard drives like Western Digital, Seagate, Samsung, Maxtor, Kingston, Hitachi, etc which was used to create the RAID 1 array. It is a read-only data recovery program, so it does not modifying any previous information or cause any damage to the RAID array by using this software to recover files. This software is easy to handle and risk-from any virus.
Steps to Recover Files off RAID 1 Hard Drive
Preparation: Free download and install iCare Data Recovery on Windows computer. You should not install the software to the drive where data got lost. Then, you can run the data recovery software and follow the steps below to recover files from RAID array:
Step1. You should select a proper scan mode in order to recover files from RAID 1 array.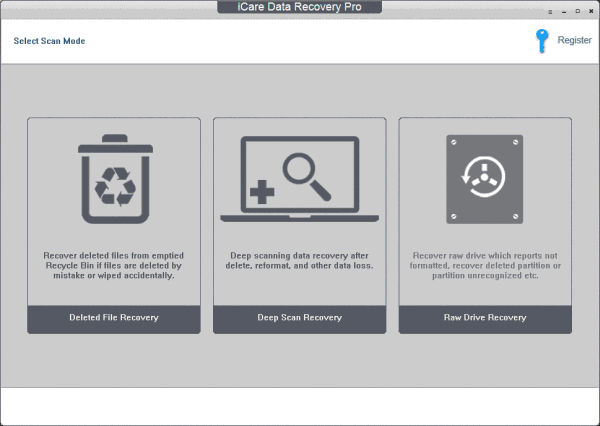 Step2. Choose the RAID 1 drive where data got lost and then the software will scan it to search lost files. You just need to wait patiently when the software is scanning.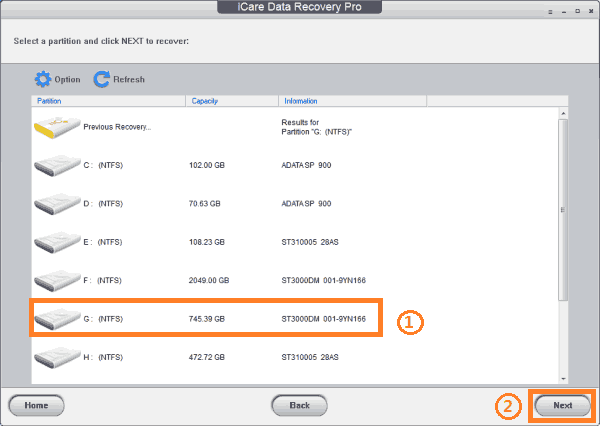 Step3. Preview found files after scanning and then save the lost data to another drive.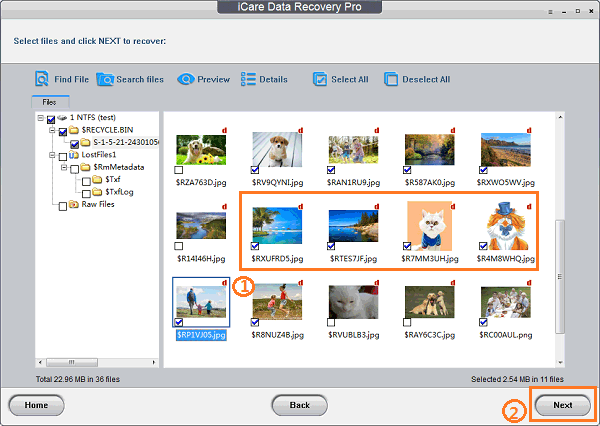 Possible Reasons for RAID 1 Volume Data Loss
As mentioned above, data usually gets lost from a device in 3 situations, as below:
1. Data loss due to human mistake
Everybody makes mistake, so do you. You might make mistake sometimes and lose important data from RAID 1 array. For instance:
2. Data loss due to RAID 1 array failure
RAID 1 array is also created by 2 hard disks at least. And you may run into RAID 1 array failure problem when hard drive is corrupted in the array. Since RAID 1 array provides data redundancy and protect it against from hard drive failure, you can restore data from another hard drive when one hard drive failed. However, if both hard drives are corrupted, and when you are unable to restore data from another hard drive, you need to rely on iCare Data Recovery which enables you to restore corrupted RAID hard drive data. When RAID 1 array fails, you might be unable to access the drive but receive following error message:
…
3. Data loss due to hard drive physical damage
Physical damage refers to the damage that is not able to be restored, such as water damage, fire damage or the hard drive is damaged into several pieces, etc. When hard drive is physically damaged, it is unable to retrieve files from the RAID 1 array because system does not recognize the drive.
Tips for RAID 1 Deleted File Recovery or Format Recovery
When files got lost due to deleting or formatting, you should pay attention to following points in order to get back all lost data from RAID 1 volume:
Common RAID 1 Hard Drive Failures
As a matter of fact, the most common reason for RAID 1 data loss is hard drive failure. Usually, you might face following RAID 1 array failures:
System reports "primary master hard disk fail" message when you boot your computer.
PC says message like "Smart failure predicted on primary master" and "Immediately backup your data and replace your hard disk drive. A failure may be imminent". If you receive such kind of message, you have to change a new hard drive in order to resolve the problem.
You receive message like "Device error" or "Non-system disk or disk error, replace strike any key when ready" after booting computer.
PC shows message "No ROM basic, system halted" after booting. If you get this message, probably the bootstrap is corrupted or infected with virus.
System shows message "Error loading operating system" or "Missing operating system" after starting the computer. When you receive this error message, probably some errors occur on boot record.
You usually cannot access data stored on RAID 1 array when PC shows error message like above, in which situation you will think that the RAID array failed. Since RAID array is created by hard disks, the fact is the hard drive fails that result in RAID array inaccessible.
Information about RAID 1 Array
Similar to RAID 0 array, RAID 1 array is created by 2 hard disks at least A RAID 1 array is also known as mirrored volume, because data is usually stored to one hard drive and it will also mirrored to other hard drives belong to the RAID 1 array. Thus, RAID 1 provides a safe and reliable solution for data storage, but it is expensive. If you add several hard drives which has different capacities to create RAID 1 array, the capacity of RAID 1 array can only be as big as the smallest hard drives because the rest hard drives are regarded as a mirror. Since data stored to RAID 1 array is only stored to one hard drive and mirrored to another hard drives at the same time, you can restore data from mirror volume when one hard drive fails.
---
Last updated on Nov 01, 2022
Related Articles