How to Fix RAW Flash Drive Using CMD (Diskpart CHKDSK) - Video Guide
Background
Some advanced computing users are inclined to cmd for fixing errors and it's probably that non-techie users may have heard that cmd chkdsk is able to repair raw usb drive when flash drive turned to raw file system 0 bytes in used and free space and all files are gone.
Video Guide - How to repair raw drive using cmd

Also read -> how to repair usb drive raw to fat32
3 Ways to Fix Pen Drive RAW File System with Command Prompt
There are three different cmds that can be used for fixing raw usb drive. Here we would list them one by one in the following. Before introducing the cmd steps, there are better options for repairing raw usb stick with usb flash drive repair tools.
Recommend: 8 free usb drive repair tool
CMD 1 - Fix raw pen drive with cmd chkdsk /f
Before starting cmd, open your computer and see what drive letter your pen drive has in your computer, and then start cmd
chkdsk h: /f (h shall be replaced by your own flash drive drive letter)
* f means fix in cmd computing, here Chkdsk is for checking errors of your drive and then fix damaged parts and make corrections on your flash drive. Usually this chkdsk /f would fix most damages on your usb drive especially the raw file system flash drive.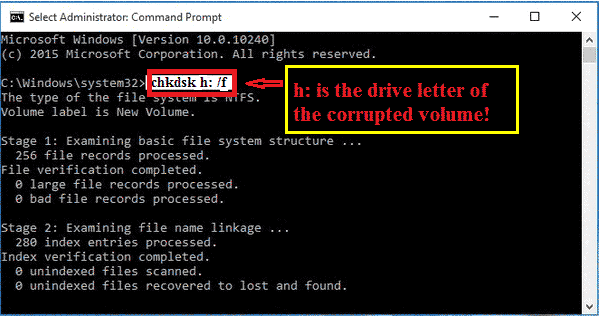 cmd chkdsk to repair raw pen drive
Video Guide - how to repair raw pen drive using chkdsk
CMD 2 - chkdsk /f /r - better than chkdsk /f
This is another advanced chkdsk command line that has been upgraded from chkdsk /f.
What does /r stand for?
In cmd chkdsk, /r stands for locating bad sectors and recovering readable information, the later one is a perfect choice if you want to repair raw flash drive without formatting.
Note: some users feed back that when using chkdsk /r, it takes hours to get the job done if its a usb disk or a large pen drive, compared with chkdsk /f
chkdsk /f/r i: (you need to replace i with your usb stick drive letter)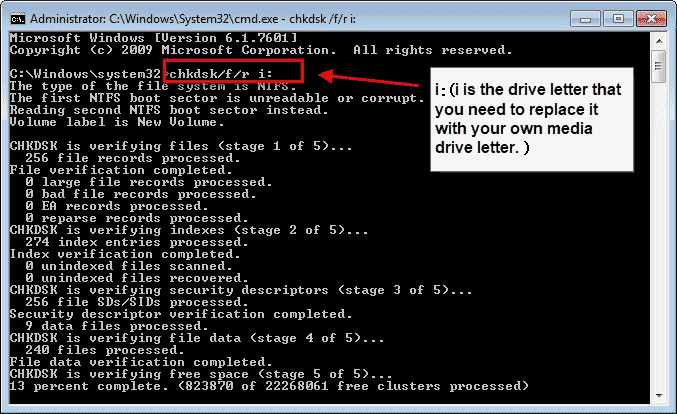 CMD 3 - Fix raw pen drive by format it to ntfs using cmd
Diskpart is another cmd that is able to fix raw usb drive, and you may follow the steps as it shows in the following photo.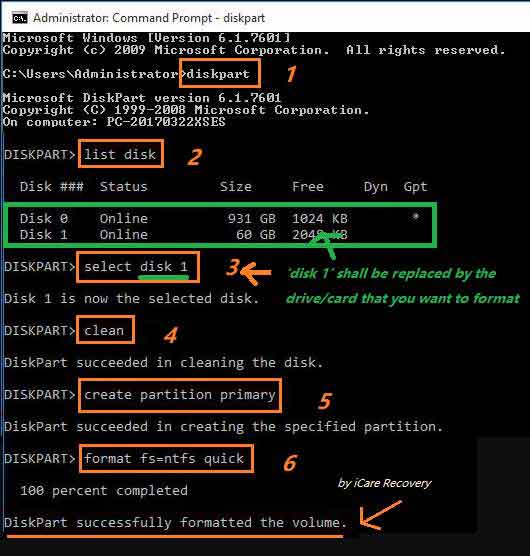 Note: Diskpart format fs=ntfs quick can be replaced by the following per users' need
format fs=ntfs
format fs=fat32
format fs=exfat
format fs=fat32 quick
format fs=exfat quick
*fs means file system
*quick means quick format
*fs=fat32 means format file system to be fat32 from raw usb when raw is not a working file system for flash drive.
Still want more information? Here are some options.
USB Drive That Needs to Be Formatted in RAW File System
USB flash drive or sometimes we call it thumb drive became raw file system if it was not properly used and this raw usb drive would asks to be formatted after a software failure, virus attack, bad blocks... and become inaccessible all of a sudden.
Is it the error coming from the device manufactory?
Mostly its not the fault of the manufactories no matter what brand of thumb stick you have, or you may just blame some faulty operation you did to your thumb drive, for example you have removed the flash drive from computer without its safe removal mode or without the message 'Safe To Remove Hardware. The USB Mass Storage Device can now be safely removed from the computer'; or usb flash drive has been inexpectly infected with virus and its file system was damaged by the virus...
Hot Articles