Unformat Software Free Download Full Version Crack
Where may I download unformat tool full version crack with serial number for unformatting? => You can have a try with 100% freeware iCare Data Recovery Free to unformat.
Unformat Freeware for Data Recovery after Format
If you just want to get an unformat program crack with key for free, a complete freeware may be the nice choice that provides more reliable and safer way to restore files from reformatted drive. iCare Data Recovery Free is 100% freeware for recovering files from reformatted disk drive, flash stick or memory card.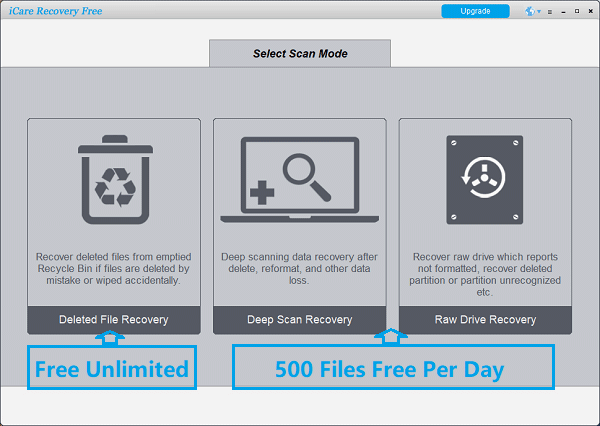 Also read: 3 unformat freeware
How Unformat Software Full Version Crack Work?    
Unformat software full version crack is available in two different types, namely crack unformat tool with a free license code and crack unformat software without any key.
Both kinds of crack unformat program is able to work for data recovery when you mistakenly reformat any media within two simple steps:
Step1. Free download and install the unformat software full version with key on your computer.
Step2. Run the crack software to scan the formatted drive for file recovery.
However, since the software is cracked with some illegal way, it is not safe to use crack software. Please read this page to learn the damage of crack software.
Freeware Unformat SD Memory / USB / HDD on Windows Rather Than Crack
If you do not want to cause any other damage due to using a crack unformat tool, freeware is a better choice which causes no hurt, comparing to unformat tool full version crack. With free unformat software, you are able to unformat SD memory card, USB memory drive, external hard drive, android phone, etc on Windows. Usually, there are two kinds of freeware:
1. Free unformat software which supports to recover limited data
This kind of unformat freeware provides free download solution, but it only allows you to recover limited data such as free to recover 1GB data, free to recover 2GB data, etc. If you want to recover more data, you need to pay to update the freeware to shareware.
2. Free unformat tool to undo format without limitation
The other kind of freeware is able to recover files without any limitation. iCare Data Recovery Free is such an unformat utility as crack software, which can recover all files no matter it is 1GB, 2GB, or even more. You do not need to pay for it. This unformat software works on all Windows OS.
Related Case
"Hello! I accidentally reformatted a drive on my computer. Is there unformat software full version with crack that can unformat the drive to get back erased files?"
Well, when you reformat any drive, it does hot hurt or damage the drive. Then only influence is that all files get wiped after reformatting. If you are attempting to recover data after reformat with an unformat tool full version with key, why don't you use a complete freeware?
Hot Articles
Last updated on May 14, 2023
Related Articles