HFS+ Disk Is Not Recognized on Mac Fixes (Data Recovery and Disk Repair)
"When I open my Mac, one of HFS disk partition is not recognized on Mac. Well, I have divided my hard disk into three partitions on Mac, but one partition which has HFS+ file system is not recognized by Mac OS when I open my computer. I have some important files stored on this partition. What can I do to get back lost data from unreadable HFS+ disk on Mac?"
Mac computer is very popular recent years. HFS+ is a type of file system on Mac OS. Sometimes, HFS+ disk might be unable to be recognized by Mac when you open your computer. Usually, this problem might be caused by many reasons such as:
HFS+ disk is infected with virus or Trojan
HFS+ file system changes to RAW format
HFS+ disk contains bad sectors
HFS+ disk is corrupted due to improper operation
More other reasons that lead HFS+ file system to be corrupted
It is problem to access data when HFS+ disk is not recognized by Mac OS. You cannot perform any operation on the HFS+ disk since it is not readable on Mac. In this situation, the only chance to get back lost data is to rely on a data recovery tool.
Free Data Recovery When HFS+ Hard Drive Is Not Readable on Mac
Free mac data recovery software, for example Lazesoft Data Recovery for Mac, would help restore data from digital devices on MAC for free.

Recovering data from mac free? Try 5 free mac data recovery software
Repair Mac Hard Drive or External HDD on MAC with Free Mac Repair Tool
Repair MAC disk with Disk Utility without formatting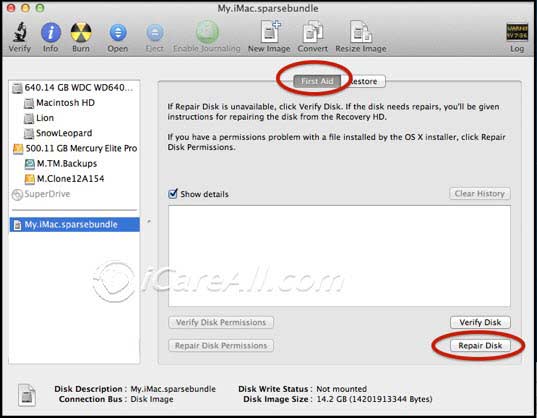 If your mac hfs+ disk is damaged and cannot be detected on MAC, Mac Disk Utility would be the first tool that you use it to repair mac disk that cannot show up in mac.
This repairing would not require a formatting on your mac disk. However we recommend you backup all data to somewhere else if you can still access the data in case of unexpected risks.
Format hfs+ Disk with Disk Utility
Erase mac disk would be another life back option for a corrupted disk when it cannot be recognized in your machine.
The formatting can be done by erase on disk utility for free.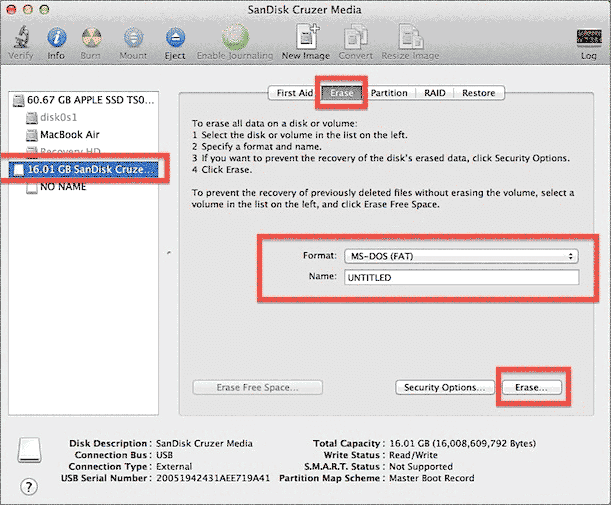 Also read: 5 free ways to repair usb disk on mac
HFS+ Disk Converts to Unrecognized File System
If the disk still has HFS+ file system, the Mac OS will recognize normally. Therefore, if a disk which has HFS+ file system is no longer recognized by Mac OS, the first thing you should check is if the disk has converted to RAW file system. If you are unable to check if the HFS+ disk has changed to RAW since the disk drive does not show up on Mac OS, you can free download iCare Data Recovery on a Windows PC. Then, you can plug the HFS+ disk to this Windows PC and run this data recovery software. iCare Data Recovery will detect the HFS+ disk as an unknown device if it has converted to RAW file system. In this situation, you can select the unknown device and wait the software to scan it to search lost data. This software supports to recover data from HFS+ file system even when it has unrecognized file system.
HFS+ Disk Is Detected on Mac but Shows Blank
Whether it is an internal hard disk or external hard drive, sometimes you may meet the problem that HFS+ disk is able to be detected on Mac OS, but it shows blank and has unsupported file system. Usually, the reason why you meet this kind of problem is that the HFS+ disk is corrupted due to virus infection, bad sectors or improper operation. Compared with the situation above, you have a better chance to get back lost data because the HFS+ disk is still readable on Mac at least. However, you should also more careful to prevent the disk from suffering any possible physical damage or data overwriting.
External HFS+ HDD Is Unreadable on Windows
Some users reflect that their external HFS+ hard drive can work normally on Mac, but it does not show up after connecting to a Windows PC. It is normal that HFS+ file system is not readable on Windows OS because HFS+ is default file system for Mac OS. Therefore, you do not need to worry when external HFS+ HDD is unreadable on Windows. If you want to use this external hard drive on Windows PC, you only need to plug it to Mac OS and transfer all needed data to another media. Then, you can connect the external HDD to Windows PC and format it to NTFS file system.
---
Hot Articles
Last updated on Sept 14, 2023
Related Articles