How to Recover Data from Pen Drive Using CMD - 3 ways

Since CMD is complicated for non-techie users, we would recommend 12 free flash drive recovery software instead of cmd. However if your pen drive files folders were deleted or hidden by virus, then the following cmd in this article would efficiently get files undeleted free.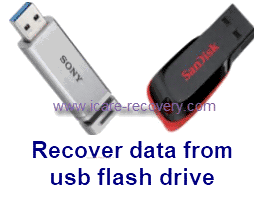 Can you recover lost files from a pen drive using CMD after virus on Windows PC or when you accidentally delete files, mistakenly format pen drive or even worse pen drive not detected in windows 8?
Files stored on a pen drive are easily lost due to many reasons. And in some situation, you can run command prompt to repair a corrupted pen drive, but you are not able to recover any data from a pen drive in any case.
#1 - Recovering files from usb pen drive using CMD attrib
Insert pen drive to a Windows computer since cmd is offered by Windows OS.
Start CMD by 1, Go to Start button and right click; 2, Press win icon + R and type cmd
Type the pen drive letter, for example F: , and press Enter. (You need to see what drive letter was for your pen drive in Windows)
Type attrib -h -r -s /s /d *.*, press Enter. See what shows below.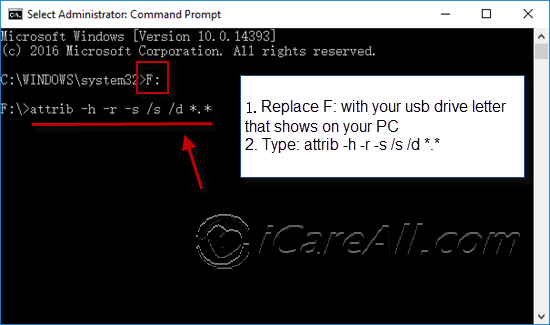 Video guide - recover deleted files from usb using cmd

More cmd? 4 free ways to recover files from usb using cmd.
#2 - Free Tool to Recover Deleted Files from Pen Drive
For any data lost from any pen drive, you are able to get back it using data recovery software like iCare Data Recovery Pro. This data recovery software is able to cope with any problem that related to pen drive data loss, so you can free download and use it to scan your pen stick whenever you encounter any file loss disaster on any brand of pen stick, since CMD is unable to help restore data.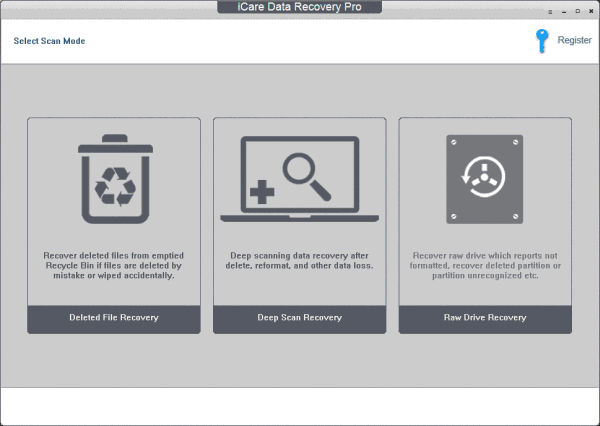 More free tools? check here 12 usb drive recovery free software
#3 - Repair damaged pendrive using cmd chkdsk
Chkdsk is a common way for repairing damaged media in Windows for decades as one of the outstanding magics of Windows for fixing any media that could be used on computer. You could start the repairing by the following ways.
Preparations: start cmd by typing cmd in 'find&search' bar in Windows 10; or you may simple pressing Windows icon+R on your keyboard to get it started.
Note: please remember what drive letter your pendrive shows in your computer since it would be used later.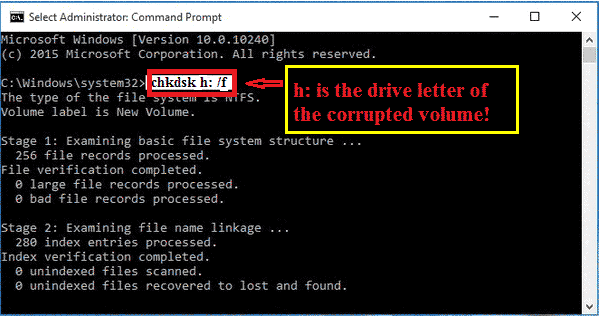 Recover damaged flash drive using cmd
If it reports 'Chkdsk is not available for raw drives', or some other errors when you use chkdsk /f, you may try the following:
chkdsk /f /r i: (you need to replace i with your own flash drive letter)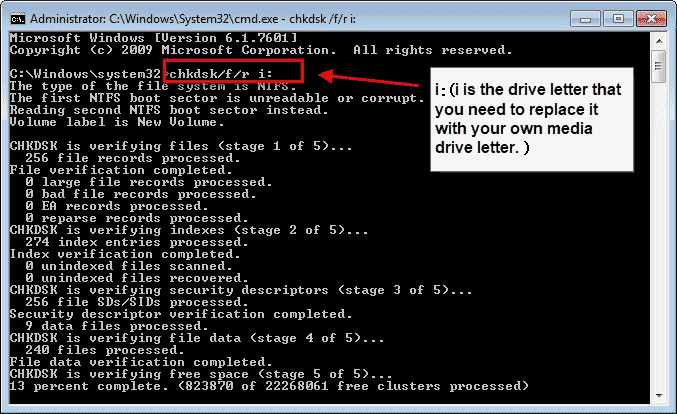 Recover damaged flash drive using cmd
Video - how to repair usb using chkdsk
Command Prompt for Pen Drive Fix & Recovery in Following Situations
"I do not know what kind of problem my pen drive has, but I cannot see any data inside the drive. It shows there is data inside the pen drive when I check its Properties. What can I do to fix this problem for my pen drive?"
This is an FAQ shown on following site:
http://ccm.net/forum/affich-654245-how-to-recover-my-pendrive-data
Although command prompt is not able to cope with any data recovery problem for pen drive, you can use it to repair corrupted pen drive or show hidden files in following situations:
1. Recover files infected by shortcuts virus from pen drive
2. Repair corrupted pen drive using CMD
3. Show hidden files on USB drive

Recommend: This page shares details about CMD for data recovery in different data loss situations: Data recovery with command prompt>>
Note: if your flash drive is damaged, you may also repair usb using cmd.
Last updated on 10/10/2020
---
Hot Articles
Related Articles