Recover Deleted Files with Deleted File Recovery Mode by iCare
iCare Data Recovery Pro - Undelete Tool
How to get the photos back from deleted memory card? How to recover deleted files off pen drive? Or simply deleted your files and folders with SHIFT+DELETE button, or emptied recylce bin?
iCare Data Recovery is an undelete tool for deleted files. Works with most Windows Operating Systems, iCare recovery software is able to recover files that were deleted by accident and emptied from the recycle bin or deleted with the hot keys SHIFT DEl or lost due to other reasons like formatted partition, deleted partition, system cashed and lost files etc.

Steps to Recover Files after Deleting

Step1. Download and install the data recovery software. Launch the software and choose a recovery option.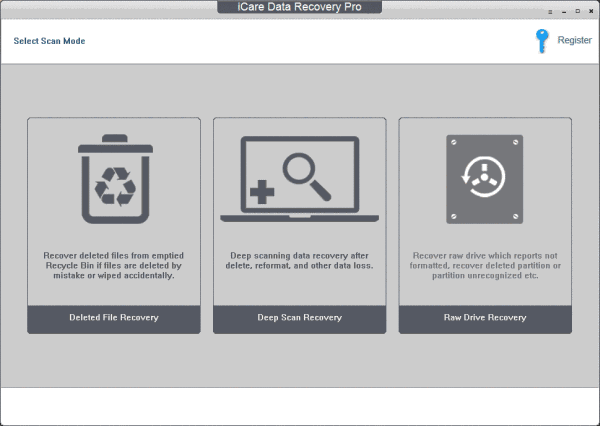 Step2. Choose the device so that the software can scan.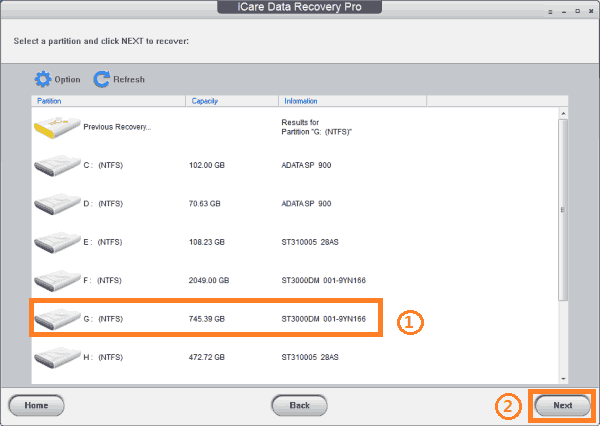 Step3. When scanning is completed, you are allowed to preview the found files. Then, you can select the files you need and save them.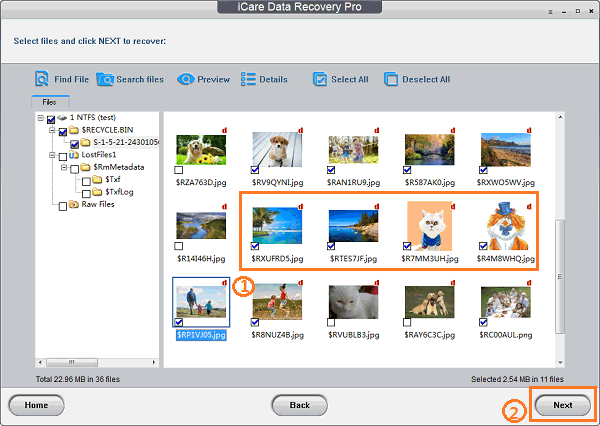 ---
Deleted file recovery
Have you ever feel sorry that you had deleted the important data which took days or even moths of your work or your personal savings? We feel sorry too, but it is not the time to feel sorry but to retrieve or recover these data. How? By some professional data recovery software like iCare Data Recovery. You will not believe this but it is true that by empting the recycle bin or SHIFT DEL, your files are not really gone but were just marked as available room for new data. Once new data was accepted, your old data might start to be overwritten. Do not hesitate to stop using the partition or drive where you lost your data to increase the chance of recovery.
We found that a lot of computer newbies who might delete and lose files and was taken down in sorrow. When you deleted files like family photos accidentally and wanted to recover these data. Do not do anything, and do not rewrite to the hard drives any more.
It is possible to recover deleted photos after format memory card/stick or flash card or any other memory card. Because when a file is deleted it is not completely deleted, the windows just mark the deleted space as available space so that the space can be utilized for storing other files or programs. There are usually two ways: Manual data recovery, and data recovery software. A data recovery professional is able to perform the file recovery manually with some special recovery devices or method, which is never easy for most PC users to understand. What we recommend: a data recovery program that can do all the job by itselft.
What does data recovery software do? Scan data storage devices, search all files including the existing data, lost files; list the data and let you get the chance for recovery.
iCare Data Recovery will start a professional data recovery process immediately once you download and install it. It is a powerful data recovery software to retrieve the deleted data. With its abundant functions, it can also unformat hard drive to recover lost files after reformatting.
You may meet different data loss situations on a memory stick. For instance, you may mistakenly format your CF card, you may accidentally delete photos off SD card, you may meet memory stick RAW not formatted error problem. You can use iCare Data Recovery software to perform memory stick RAW format recovery, formatted memory stick recovery and so on.

Home > Support Center > Howto > Recover DELETED/LOST files with Deleted File Recovery Mode
Support Center