Thumb Drive Shows No Media in Disk Management Fixings
Background
My Sandisk usb flash drive is reporting no media in Disk Management under my computer Windows 10, is there anything I could do to make it work in my pc, the memory stick was not in use for a about 2 months ago and then suddenly it turned out no media in disk management.
32GB Kingston thumb drive said no media found in computer disk management after inserted it in a usb port and no files can be found since the whole flash drive is almost not accessible now. There must be something wrong with my thumb stick but the problem is I got no idea of fixing the damaged stick. Is it dying or could it still be repaired? What am I supposed to do with it? This troublesome stick stored some photos, I am wondering whether these images could still be retrieved from the usb stick no media found error.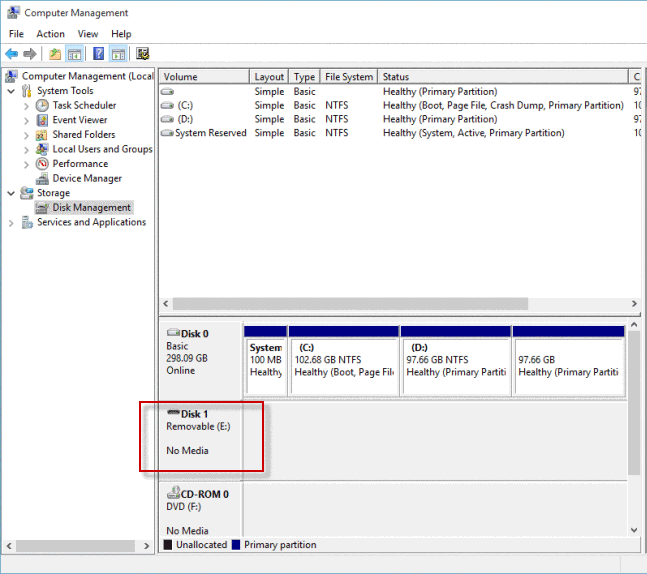 Flash Drive reported No Media in Disk Management
See another message error: Diskpart reported there is no media in the drive
What Should A USB Flash Drive Look Like in Disk Management
Normally a heathy flash drive would look like the following status in computer disk management when it is working good.
Capacity: 57.91GB
File System Information: FAT32 (It would display ntfs/exfat when your flash drive is other filesystem property) (When the usb drive is showing no media, it would be reported as 0 bytes on usb drive with RAW file system)
Status: Healthy
Primary Partition, the only one partition on your flash drive as a whole volume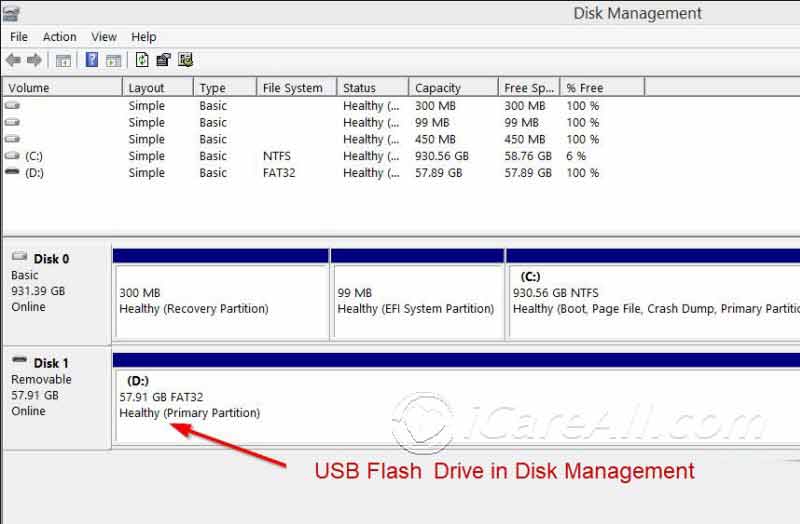 Healthy USB flash drive in disk management
Why the Flash Drive Property is Lost in Disk Management
When there is nothing but just blank and no media error displayed in disk management, your flash drive is corrupted. Then here comes the concern - could it be repaired and restored to the old working one as you had before?
The result varies due to different level of damage on your flash drive.
Non-Repairable Cases
The flash stick is dying due to bad chips out of date.
It could not be repaired no matter what changes you made it and it just keeps the same no media in your computer.
Physical damages in side of your flash drive chips that could not be repaired easily and mostly it would just die.
Can Be Repaired
Some logical damages caused by virus, improper operations, software failures...
More details about what kind of damages could be repaired? SEE: How to fix removable drive no media errors and damages
Flash Drive Not Showing in Disk Management Happened to the Following Brands
Sandisk usb drive no media detected
HP usb drive no media
Kingston usb drive no media found
PNY usb drive no media
Transcend usb flash drive no media, Samsung usb flash drive no media...
It happened to the usb flash drive of almost all flash drive capacities from 1GB or under to 518GB or up capacities and they all turned out to be 'no media'...
How to Fix USB Drive No Media Error
There are at least five methods for you to try repairing the no media error.
Recommend: fix usb drive no media with 5 efficient tricks
Here we would recommend one efficient one that is provided in Windows 11/10/8/7 or almost any edition of Windows operating systems, and it is called 'Error-Checking' that could be accessed when you connect your flash drive to Windows computer.
'This PC' -> Right click usb drive -> Property -> Tools -> Error Checking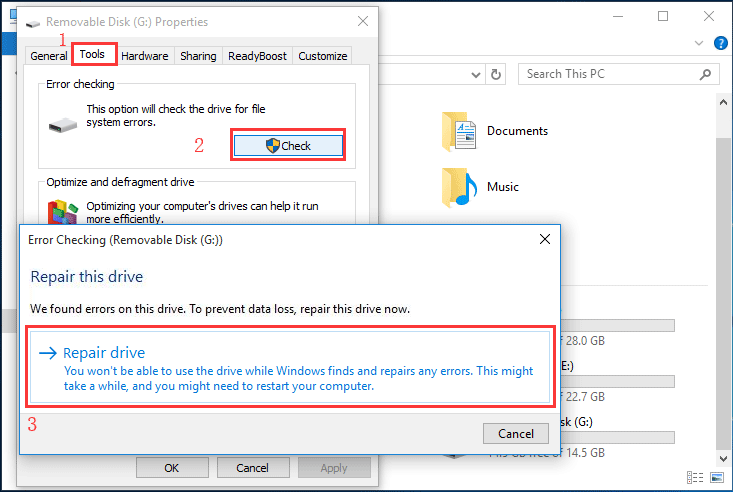 Repair no media usb by error checking in Windows 10
If Not Working
What if the above method did not work for you? Here is another guide that you may follow to repair the damaged flash drive
Or you may format the usb drive with free usb format tools
Note: if there were important files on the usb drive that has no media error, you may recover the data with this tool: best no media data recovery tool download
Last updated on Sept 14, 2023
Related Articles