Samsung SSD Data Recovery
Many people like to use Samsung SSD drive because it provides a safer and faster solution for data storage and transferring, but you may still run into data loss problem on Samsung SSD drive in following situation:
Mistakenly delete files from Samsung SSD drive
Carelessly format Samsung SSD drive on your computer
Samsung SSD is not accessible on PC
Samsung SSD drive needs to be formatted and reports RAW file system
Samsung External SSD drive is not recognized by Windows OS
Are you facing the similar data loss issue on your Samsung SSD drive? If this is the situation, you do not need to worry about data loss because you are able to get back what you need by using iCare Data Recovery.
How to Recover Data from Samsung SSD Drive?
iCare Data Recovery Pro is a data recovery program, which is able to work on Windows computer to recover data from any storage media. You can use this software to restore data from Samsung SSD drive by following the steps below:

Step1. Free download and install iCare Data Recovery on a Windows PC. Run the data recovery software and select a proper scan mode.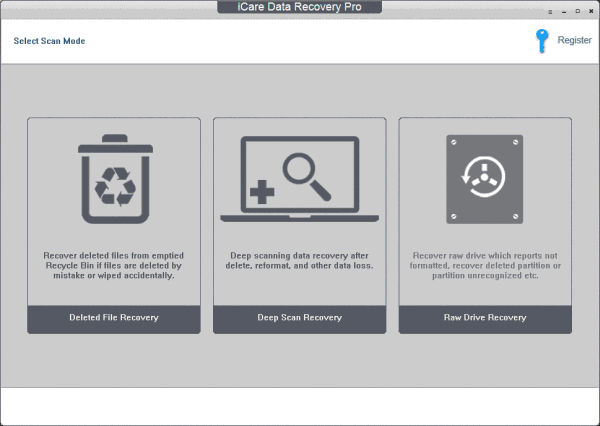 Step2. Choose the Samsung SSD drive as aim disk and then wait the software to scan it to search lost files.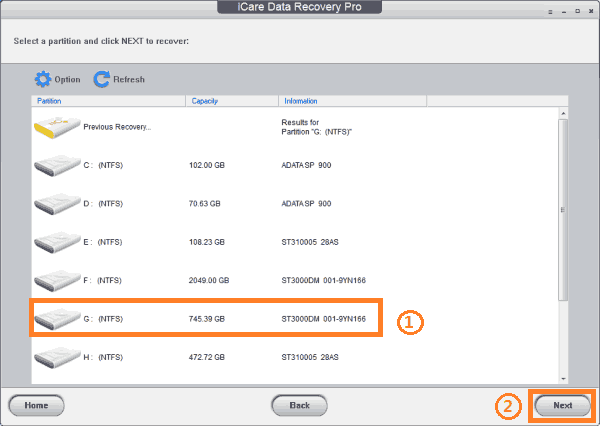 Step3. Preview files after scanning and then save the lost files to another drive.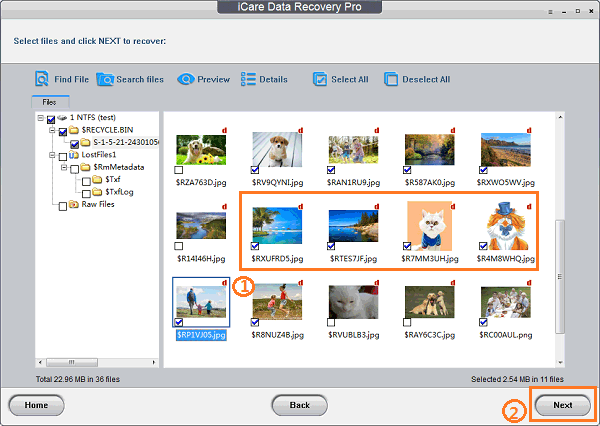 Samsung SSD Drive Deleted File Recovery
Did you delete any data from a Samsung SSD drive and then empty recycle bin without checking if you have mistakenly deleted any file? iCare Data Recovery enables you to restore files deleted from recycle bin after deleting from Samsung SSD drive. The only thing you need to do is to remember not to write new files to the Samsung SSD drive.
Samsung SSD Format Recovery
You may perform format on a Samsung SSD drive and erase all data on it. When you format a Samsung SSD drive, the formatting process only erase the file name and entries so as to mark the disk space as empty. iCare Data Recovery allows you to recover data after full format or quick format Samsung SSD drive on Windows computer.
Samsung SSD Drive Is Not Formatted
Samsung SSD drive usually has a good quality, but it does not mean that you will never meet any problem on this king of drive. Sometimes, you may encounter some problem on the Samsung SSD drive, among which not formatted error is a common problem that many users has ever encountered. If a Samsung SSD drive shows not formatted error, you are unable to read any data on it. In this situation, you need to use iCare Data Recovery to perform Samsung SSD drive data recovery.
Samsung SSD Data Loss due to Data Transfer Interruption
Probably, you want to transfer some data from your Samsung SSD drive to another drive like external hard drive, pen drive, USB flash drive, etc, but the problem is that the data transferring interrupted in the process because your computer shuts down all of a sudden due to power outage or power surge or some other reasons. When you reboot your computer, you find that files got lost or become inaccessible on Samsung SSD drive. What can you do to get back lost files from the Samsung SSD drive when data got lost due to sudden shutdown of your computer? As long as the Samsung SSD drive is not physically damaged, you can also use iCare Data Recovery to recover files on Samsung SSD drive.
Samsung External SSD RAW Asking to Format
You can connect a Samsung external SSD to your computer to save or transfer data. An external SSD drive usually has FAT32 or NTFS file system, but sometimes probably your Samsung external SSD shows RAW file system asking to format. If you cannot read or write data from a Samsung external SSD drive due to RAW not formatted error, you should stop using the external SSD, especially you should not write new files to it. iCare Data Recovery also works on Samsung external SSD drive to recover inaccessible data when it turns to RAW format and needs to be formatted on your computer.
Samsung SSD Drive File System Corruption
Samsung SSD file system corruption might lead the SSD to be inaccessible or even not be recognized by your computer. Usually, a Samsung SSD drive file system might be corrupted due to following reasons:
1. Samsung SSD drive is infected with virus. Virus attack is able to corrupt the file system of your Samsung SSD drive or cause data to be not accessible. If your Samsung SSD is attacked by virus, you can run antivirus software to erase all viruses. However, you had better perform data recovery first before running the software because some antivirus software will erase folders from your Samsung SSD drive.
2. Samsung SSD drive contains bad sectors. Although SSD drive is different from basic hard disk drive, it will also cause file system corruption when there are bad sectors on an SSD drive. Therefore, your Samsung SSD drive might become not readable or accessible when it contains too many bad sectors.
Many factors might result in Samsung SSD drive file system corruption, but you can always use iCare Data Recovery to retrieve lost data like MPEG, MOV, AVI, MP4. 3GP, MP3, WMA, MIDI, PNG, BMP, JPEG, GIF, TIFFS, PSD, PDF, PowerPoint, Excel, Txt, etc.
About Samsung SSD Drive
SSD is short for Solid State drive, which is a type of storage media providing faster data storage and transferring speed. Samsung SSD drive is solid state drive that is developed by Samsung Electronic. Like all other SSD drives, Samsung SSD has following features:
1. Samsung SSD drive provides a quick read / write speed
2. Samsung SSD is reliable. SSD provides a more reliable solution for data storage than that of hard disk drive.
A Samsung SSD is able to be compatible with almost all Windows computer, so you can buy a Samsung SSD drive and use it in any computer that runs Windows operating system.

---
Related Articles