Huawei Phone Not Recognized SD Card - 8 Fixes
SD Card Not Detected on Huawei Mobile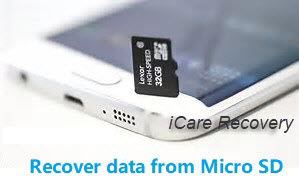 "Hi! My Huawei Android phone does not detect SD card inserted in it, but I need to copy some images from this SD card. I have tried to insert this SD card to another Android phone, but it still cannot be recognized. Probably, my SD card is damaged because of some reasons in my Huawei phone. Is there any way to recover data when SD card is not recognized by Android phone?"
Note: When sd card is not readable on your Huawei phone or tablet, here are some changes you may do a DIY fixing before sending it to a professional for recovery.
Fix Huawei Phone/Tablet Not Detecting SD/MicroSD Card - 8 ways
Fix #1 - Unmount SD card and try it again on Huawei mobile
When the sd card is not detected on Huawei Android mobile, you may go to the storage setting, unmount sd card. And then power off your phone, unplug it, reinsert the sd card back to the slot, try it again.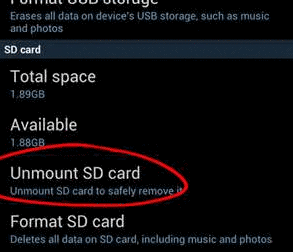 Fix #2 - Insert the sd card with a slice of paper in case the sd card slot is not tight
You may use a A4 paper or some thin hard plastic to stuff the slot tight along with your sd card to see whether it can be detected properly. (Some mobiles do have such problem that can be easily resolved by adding a slice of paper)
Fix #3 - Format sd card if the sd card was not working
It would be an efficient method to format the sd card on the Huawei phone if your sd card was used on somewhere else before.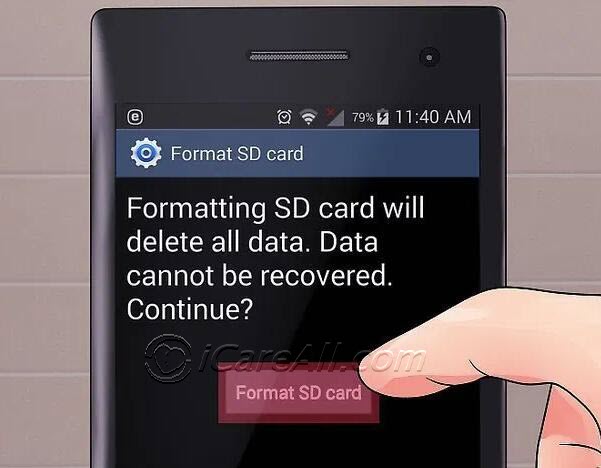 If the phone cannot format the sd card, you may format the sd card on a computer to FAT32, or FAT file system to see which file system would work on the phone.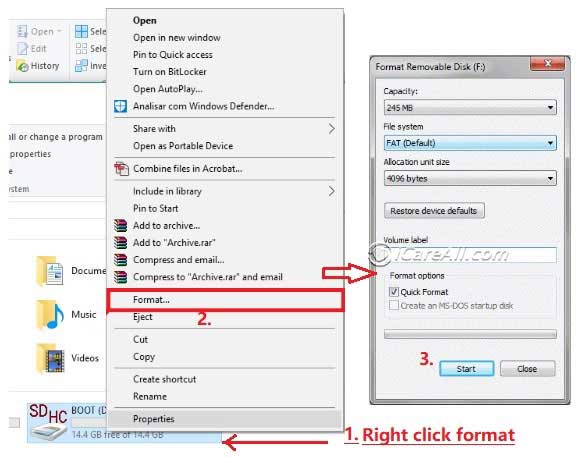 Note: FAT32 would be the primary choice for SD card on Huawei phones.
Fix #4 - Update sd card driver in computer
You may update the sd card driver on a Windows computer.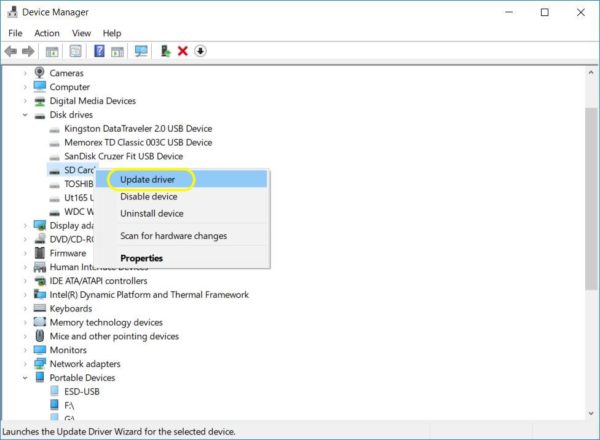 How to come to the Device Manager? Right click THIS PC on desktop -> Manage -> Device Manager
Also read: how to install sd card driver update
Fix #5 - Repair the sd card if it was damaged by virus or bad blocks
There are many ways to fix a corrupted Huawei phone sd card.
The sd card can be repaired by a reformatting on phone/computer or the sd card can be repaired by using chkdsk on a computer.
For example, if your sd card shows drive i in a computer, you may run cmd and type 'chkdsk /f /r i:' to fix possible errors on the sd card.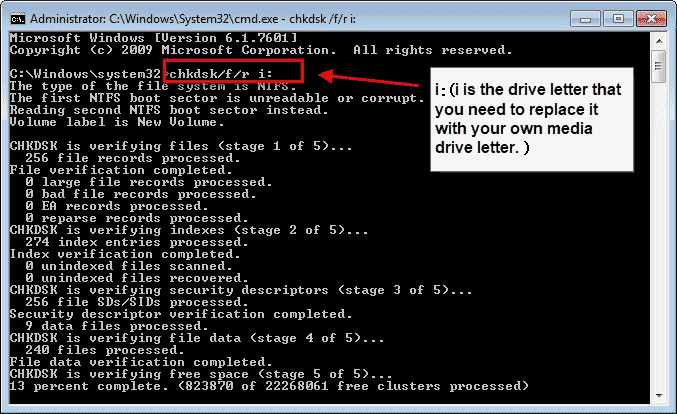 Video - how to repair Huawei sd card using chkdsk
Also read: 8 ways to repair damaged sd card
Fix #6

- Data Recovery When Huawei Phone Cannot Recognize SD Card
Free Memory Card Recovery

Download iCare Data Recovery Pro Free to recover files from mobile phone camera memory card including photos, videos, music...
Preparation: Free download and install the tool on a Windows computer. Insert the SD card to this computer and then run the program to rescue files from Huawei SD card.
Step1. You need to select a scan mode.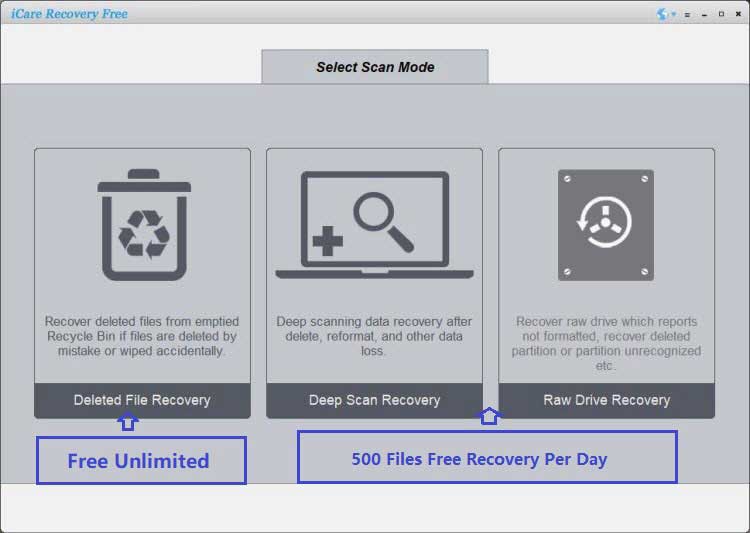 Step2. Choose your memory card and then wait the program to scan.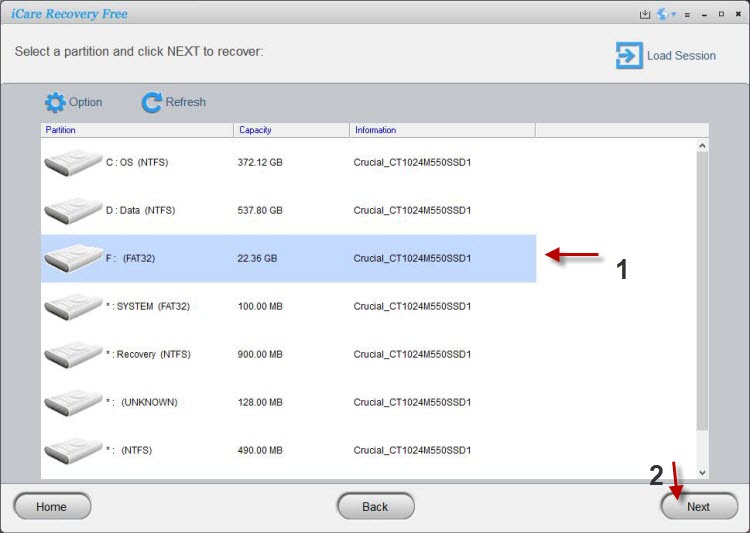 Step3. preview the listed files and save those you need to another drive.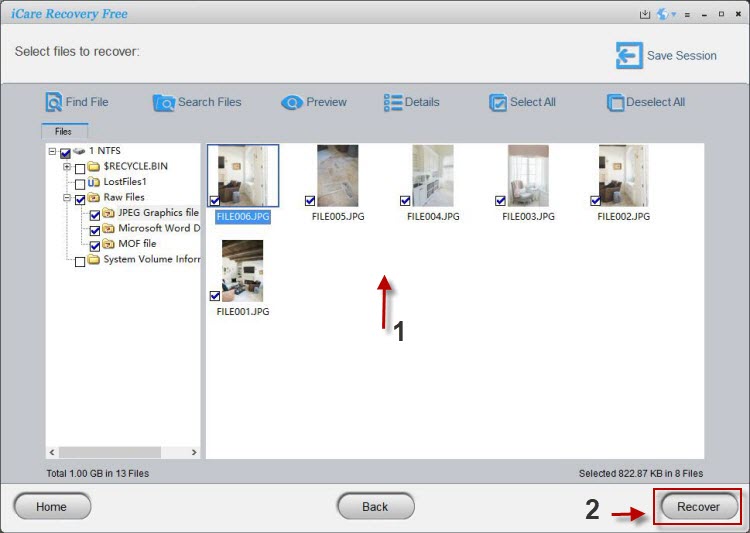 After you recovered the data, you can repair the unrecognized SD card with CMD command prompt or do some extra fixings.
Fix# 7 - Format Huawei SD Card Fat32 in Windows Computer
Repair SD Card for Huawei Phone Has Unsupported Format
As mentioned above, Huawei Android phone only recognizes an SD card which has FAT32 file system. Huawei phone might not detect an SD card or say it is corrupted when the SD card has unsupported format.
You may format it FAT32 in a Windows computer in the following ways.
Right click it after openning THIS PC, and then the format option will show up, it will guide you to a FAT32 formation if you select the file system to be FAT32 in the next format window
Format Huawei SD card fat32 in disk management when you right click the sd card there, and then a fat32 option will show up in the format window
Unable to format sd card? See solution here: unable to format sd card solution
Fix #8

- Fix damaged sd card with cmd format command

Step1: Run CMD.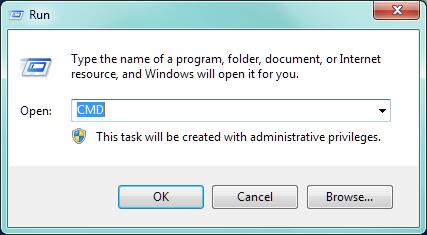 Repair sd card raw file system with CMD
Step2: Type"format l: /fs:ntfs"(l is the drive letter of your raw sd card)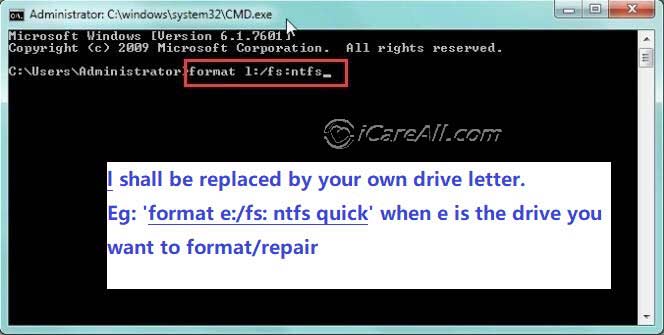 Repair sd card raw file system with CMD
Also read: 7 ways to fix sd card not showing up in mobile phone
FAQs
Question: Huawei y7 sd card not working?
Resolution: According to Huawei Y7 official information, the Y7 phone does support MicroSD card, if the sd card is not detected on the phone, you may try the above fixes.
Solution: 1, Unmount sd card and reload; 2, Format sd card on the phone or format it on a computer to FAT32/FAT/NTFS one by one to see which format is supported by the phone; 3, Upload sd card driver on a Windows computer to see whether it can be detected; 4, Use the sd card on another phone or pc to see wether it's the problem from the sd card or the phone
Question: Huawei tablet sd card not working?
Resolution: When Huawei tablet does not read your sd card, there are many factors including incorrect sd card insert, the sd card file system is incompatible, the sd card was encrypted etc. Here are some changes you can do.
Check whether your product supports external storage microSD card or SDHC/SDXC on the product official page
Whether the sd card was damaged, physically?
Power off the tablet, reinsert the sd card
Unlock the sd card or decrypt the sd card if it has protection
Check whether the sd card is comptible with the tablet/phone, set sd card to FAT32 at first and then see whether it could be read
Reasons Why Huawei Mobile Phone Does Not Recognize SD Card
Huawei mobile phone does not recognize an SD card when it turns to unsupported file system. Then, whey does an SD card shows unsupported file system?
1. One of the most common reasons is that SD card is attacked by malware or virus. Virus will corrupt the file system of an SD card, in which situation the SD card might show RAW file system or unknown file system. To avoid to run in the SD card unrecognized problem due to virus infection, you should use your SD card properly in order to keep it away from being attacked by any virus.
2. Another reason is that SD card for Huawei mobile phone contains bad sectors. When files get stored on the bad sectors of an SD card, the files will become unreadable. If an SD card has too many bad sectors, Huawei mobile phone might fail to recognize the SD memory card normally when you attempt to use the card to save or transfer any data.
An SD card might not be recognized by Huawei phone or computer due to various kinds of reasons. It does not matter why SD card becomes not detected by Huawei phone, what matters is that you can use iCare Data Recovery to get back all lost files before the new files are added to the card.
Huawei phone is a type of smartphone which usually runs Android OS. This type of mobile phone usually recognize FAT32 file system, so you had better check if the file system of SD card is corrupted when your Huawei phone cannot detect it normally. Then, use iCare Data Recovery Free , a safe data restoration program for memory card,to restore any type of files from a memory device even if its file system is corrupted. This data restoration program use read-only method to restore files from unrecognized SD card, so it does not cause any hurt to the previous inaccessible data or the memory card. You can use this software to recover all types of files when they become inaccessible since Huawei phone does not recognize the SD card.
Quick Fix - how to repair damaged sd card with 5 free tools
Last updated on Sept 14, 2023
Related Articles