3 Tricks and 5 Free Tools to delete files permanently from USB pen drive or hard drive
How to delete data permanently from pendrive/USB disk or hard drive without a single chance of data recovery to make it unrecoverable so that data on the disk or usb flash would permanently disappear?
Answer: You can erase your data permanently from a pendrive to make it unrecoverable/prevent usb stick data recovery with the following 3 tricks and 4 free tools.
3 Tricks

to erase files permanently on pendrive without recovery

You can wipe a USB thumb drive permanently/completely with the following methods:
1. Use an erase tool (Partition Resizer Freeware provides erase partition to permanently delete data, HERE WE ALSO MENTIONED OTHER 4 TOOLS AS WELL TO DELETE FILES FROM MEMORY STICK)
2. Overwrite the USB after deleting files (Save 10GB new files to your usb after you deleted some files when the usb is 16GB and most of the deleted data would be overwritten)
3. Make the USB physically damaged
5 Erase Software for Permanently Deleting Files from Flash Drive
One way to erase all data from a flash drive permanently is to use erase software. Below are some free erase tools, which are able to erase data completely and make it unrecoverable from USB:
1. IM-Magic Partition Resizer Free
It is a free partition tool, which has the function of wiping disk. This freeware supports to wipe USB disk so that you can use it to clean USB flash drive and make all data unrecoverable.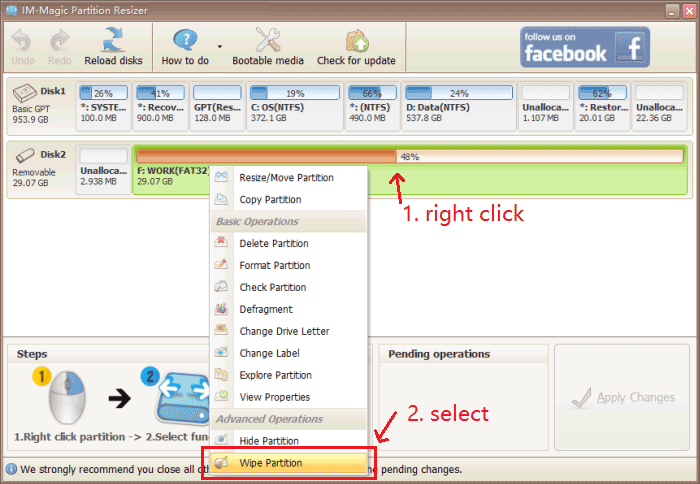 And then assign a level of wiping method.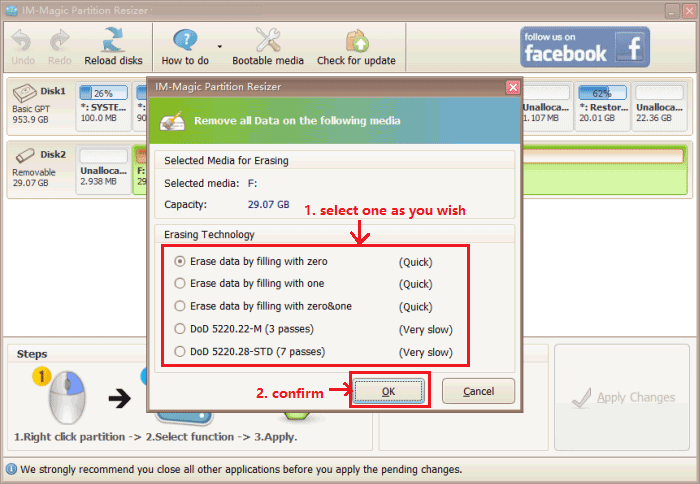 2. CCleaner
You can download and install CCleaner free version on your PC and use it to erase pen drive once it find data form you and you may erase them permanently.
3. Eraser
There is free open source Eraser that is also able to erase a pen drive for free.
4. EraseTools
EraseTools is a free eeraser that can be used in Windows OS for disk erasing. You can use this tool to erase hard disk or USB disk.
5. Easeus Partiton Master Free
Easeus Partiton Master Free edition is free for home users that provides 'erase partition' for file deleting by filling data on the media to get old data overwritten without any chance of recovery. It is working the same as the first tool, IM-Magic Partition Resizer Free, which we mentioned in the front of this article.
Overwrite USB after Deleting Files to Prevent Data Recovery from USB
If the deleted files were overwritten by new data, they will become unrecoverable from USB.
How:
After deleting files, you can add any new data to the USB pen drive. When the space used to save deleted data is overwritten by new added data, it will be erased permanently and cannot be recovered anymore.
Tip:
Although it sound easy to write new data to overwrite the deleted data to make it unrecoverable, it is difficult to handle because you never know which space the new added data will occupy on your pen drive.
For instance,
Let us suppose that the USB drive has various sectors named a, b, c, d, e, f…
If deleted files were saved to a and b sectors, but the new data is written to d and e sectors, the deleted data would not be overwritten.
Solution

:

Write as much data as possible to the USB to make it full so that every sector would be occupied.
Make Pen Drive Physically Damaged So No One Can Recover It
If you do not want to use the pen drive anymore, but you are afraid that somebody gets it would recover deleted private information from it, you can physically damage the pen drive so that nobody can recover any data from it.
How to Make Sure Deleted Files Can't Be Recovered
Do you think that data is permanently deleted when you are unable to see it in your pen drive? How to make sure that the files are deleted permanently and can no longer be restored?
Answer: Data gets erased/deleted permanently only when it is overwritten by new added data.
It only erases the data from table address and makes the data invisible when you simple delete files from a USB, in which situation a data recovery tool like iCare Data Recovery Pro Free Edition is able to restore all deleted files.
Solution

:

With an eraser tool or if you can write as much data as possible to the pen drive or the pen stick is physically damaged, usually the data would be deleted forever and cannot be recovered anymore when pen drive not showing up after physical damage.
Pen Drive Won't Delete Files
There are some chances that the flash drive cannot delete files no matter you delete the folder or erase it or format it, the files just keep restoring to the previous state.
Continue reading the story: why it is unable to delete files from pen drive
---
Hot Articles
Last updated on Nov 28, 2023
Related Articles