6 Best Free Video Repair Software and Shareware
Hello, friends, computer MP4 video files get corrupted due to improper data transformation or conversion operations?
Camera or camcorder memory card videos get corrupted due to too long time use or memory card physical damages, etc? Or important video cannot be opened and used after being recovered with video file recovery software?
Here are a list of tested best video repair software and shareware to help you fix corrupted video files.
3 Best Video Repair Free Tool
Have not applied such video repair software and wanted to firstly try some free ones to check whether they will really work for your cases? No worry! We do have tested a series of the related video repairing programs and choose several completely free ones for you here:
DivFix++ is one of the best free video repair programs and also especially works well for people to fix AVI video files completely for free. With an easy-to-use interface, it also allows you to add, remove or clear video file with ease.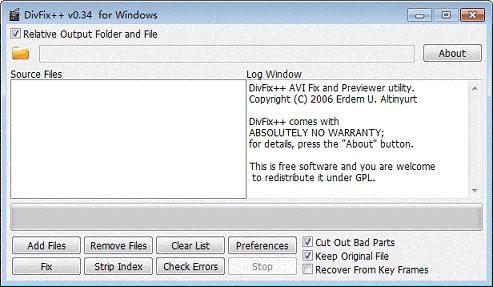 Pros:
*It is completely free, and all hotkeys and options are easy to understand.
*It also offers diversified language services.
*It allows users to fix, strip index and check errors for your added AVI files.
*It also allows users to save the fixed files to replace the original ones or place on another different location.
Cons:
*It support AVI video file only: merely fixing and saving AVI files.
Download url: https://www.divfix.org/
Video - how to use DIVFIX++
DivXRepair is also another free AVI video repairing software and able to effectively repair the selected video files for every user.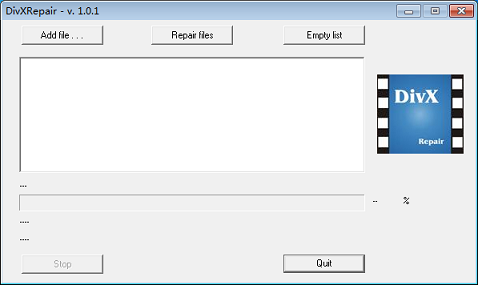 Pros:
*It is 100% freeware.
*Its interface is easy to understand and use.
*It will automatically scan the selected video files and fix the freezing images, pixel discoloration and the lost audio effectively.
Cons:
* It supports AVI format videos only.
These two 100% free video repair utilities are really good choices for you to fix some damaged AVI files effectively. But, if you want to fix more video files with more formats, like RM, RMVB, MP4, WMV, MPEG and far more, not only AVI format, go on reading the below free video repair shareware to take chances.
Download url: http://divxrepair.sourceforge.net/
3) VLC: How to Fix/Repair Corrupt Video files with VLC Media Player
Vcl MEDIA PLAYER is one of most popular video players that is free for all users. If video cannot play by this tool, you may do simple fixes to get it work.
VCL Player download: https://www.videolan.org/vlc/download-windows.html
4 Best Free Video Repair Shareware
No matter which format of videos you are trying to fix now, here are several best free video repair shareware for you:
1). Stellar Phoenix Video Repair
The first tested free video repair shareware illustrated here is Stellar Phoenix Video Repair which allows users to fix MOV/MP4/M4V/F4V/3GP/3G2/WMV/ASF video files with ease. It also allows people to repair several video files at the same time.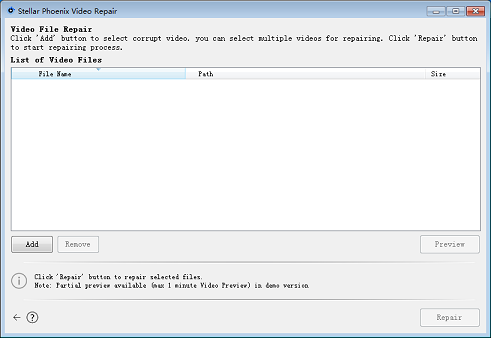 Pros:
*It is simple and easy to use.
*It is fast and efficient (since the video repairing process is completed within seconds in our test.)
*It supports many video file formats, like MOV, MP4, M4V, F4V, 3GP, 3G2, WMV, ASF and more.
*It allows people to add and fix several video files at the same time.
*It allows people to preview one minute of the repaired video before any purchase.
Cons:
*Need purchase a code to save the repaired videos.
*It does not read and show AVI videos in our test.
2). Yodot AVI Repair and Remo Repair AVI
Since the Yodot AVI Repair and Remo Repair AVI have exactly the same video repairing interface and features, we do introduce them together here.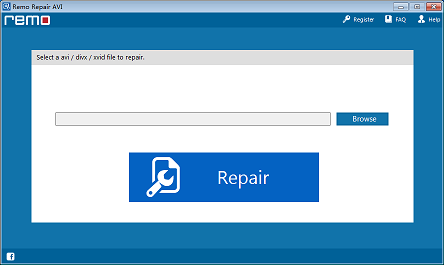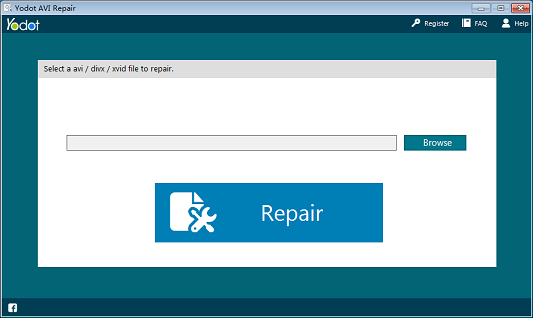 Pros:
*They are both easy to grasp and use.
*They both support AVI, DIVX and XVID file repair.
*They both allow users to preview the repaired video before any purchase.
Cons:
*Pay for a code to extract the repaired videos to your desired storage devices.
Download url: http://www.yodot.com/avi-repair/
As a free video repair video program, Repair Video Master Offers two AVI repair modes, including Fast Mode and Advanced Mode, for users to fix corrupted videos with AVI, Divx, Xvid, MPEG-4, RM, RMVB and more formats.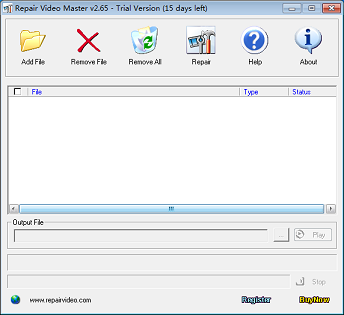 Pros:
*It is user-friendly and free to download.
*It supports many common video formats, like AVI, Divx, Xvid, MPEG-4, RM, RMVB, ASF, WMV, AC3 and more.
*Its Fast Mode helps repair the selected video files with fast speed.
*Its Advanced Mode also helps fix videos that have been corrupted or broken deeply.
*It offers 15-day free trial for everyone.
Cons:
*The Advanced mode often takes longer time to repair the selected videos.
Conclusion:
No matter whether you will choose a completely free video repair software or partially free shareware, hope you can successfully fix your desired video files with ease. Also always save video file backups well on several drives to avoid such file corruption or loss issues in the future.
---
Hot Articles
Last updated on Sept 14, 2023
Related Articles