Adata External Hard Drive Not Detected Fixes, Damaged Adata Fixes
This guide shares information about how to repair Adata removable disk when it is not working on pc or devices for users including the following:
"Hello, why is my Adata external hard drive not showing up in computer Windows 10? How do you fix a undetected Adata hard drive? My Adata hdd is not working, how do you repair damaged Adata external hdd..."
5 Fixes When Adata External Hard Drive Is Not Showing Up
#1 Initialize the Adata external hdd/ssd if it's a new bought storage media in Windows computer. Disk Management is able to help finish this job to get a disk ready to use with the following steps.
Insert disk to pc, right click THIS PC on desktop -> Mange -> Disk Management
Right click the disk in disk management, and an option 'Initialize Disk' will help start the process. Once you finish the Adata initialization, it can be recognized in computer This PC.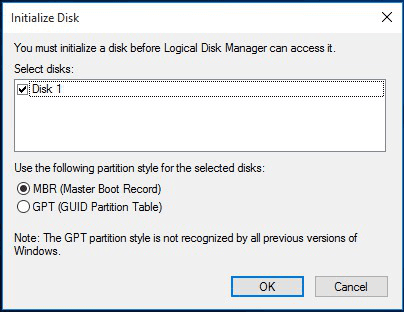 Also read: how to initialize hard drive
Note: Difference between MBR and GPT?
Memory support: mbr supports up to 2T, while gpt is theoretically unlimited.
Partitioning: mbr supports up to four primary partitions, while gpt has no limit. If you want to run multiple systems, mbr has up to 4 while gpt has no limit.
#2 Backup data at first before all the rest fixes (if you don't care about the data, you may jump to the #3 fix)
We strongly recommend you backup data on Adata external hard drive to another disk at first to ensure data safety.
2 Free Ways to backup Adata disk:
Copy and paste files, folder to backup data from Adata to another disk
Clone Adata to another disk with free tool IM-Magic Partition Resizer Free which is able to copy all data and settings from one disk to another with fast speed
If your Adata disk is no longer accessible, or cannot be detected, you may use professional tool iCare Data Recovery Pro which is able to help read data from corrupted Adata disk.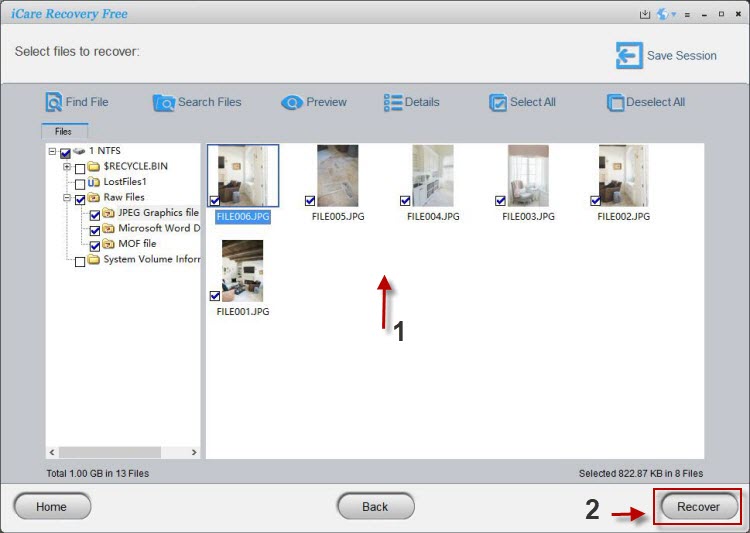 #3 Format Adata disk in disk management
It's likely that a reformatting Adata disk may get it show up again. Here are the steps to get it started.
Insert Adata removable disk into your pc
Right click THIS PC on desktop -> Manage -> Disk Management
Right click the Adata disk when it was loaded, and go to Format... option (see the following image), and then finish the format process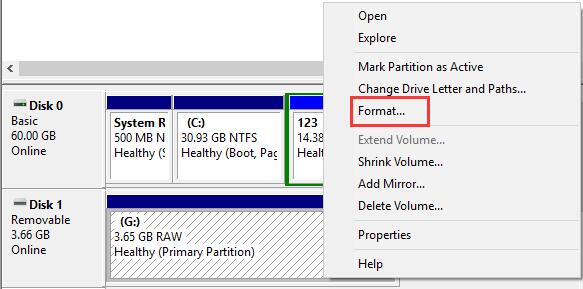 Disk not found in disk management? -> Try the #4 solution
#4 Adata SSD Driver update: update Adata removable hard disk driver in disk management device manager with the following steps
Insert Adata disk into pc, right click THIS PC -> Manage -> Device Manager (not disk management this time)
Open the + tab under Disk Drives which will show you a list of drives and your Adata disk may appear here
Right click the Adata disk, and go to 'Updata Drivers...' and then update the Adata external hard drive driver.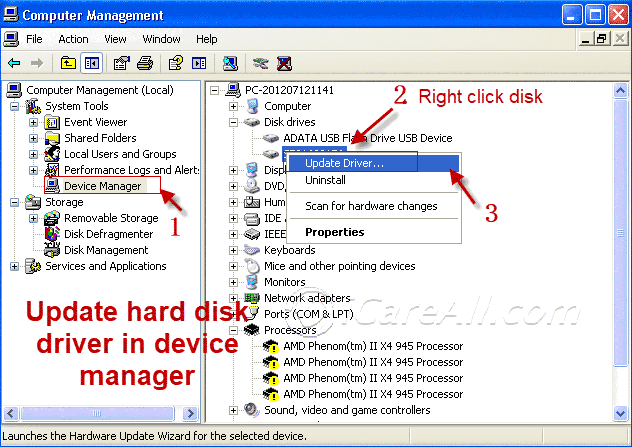 #5 Delete all devices in Universal Serial Bus Controllers in device manager if it's an old Adata drive that is no longer showing up in pc or disk drives or disk management. You may do this by the following steps.
Open Device Manager by right clicking THIS PC on desktop, and then go to option -> Manage -> Device Manager
Click open tab under item 'Universal Serial Bus Controllers'
Right click every item here, and go to opton Uninstall to get everything uninstalled
Restart PC, and reload Adata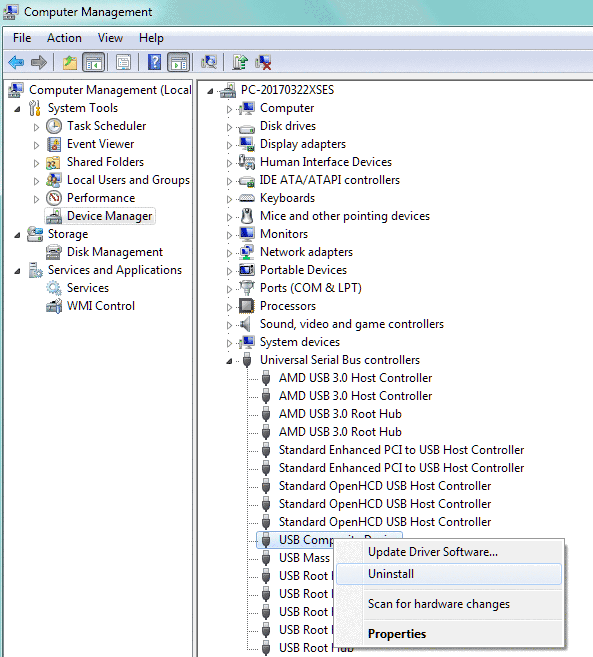 Adata SSD Driver Update
If the above ssd driver update does not work, you may search for Adata SSD driver firmware on the following official website:
Download link: https://dl.dell.com/FOLDER04132220M/2/ADATA_ZPE.exe
If the above link does not work, you may go to this website to check updates.
https://www.dell.com/support/home/en-us/drivers/driversdetails?driverid=mtw9j&lwp=rt
The download link is in the middle of the above page if you open the above link and visit the page for download information.
Still Unable to detect Adata disk/usb?
There are some situations when Adata removable disk/usb can not be recognised:
This disk has physical damages, especially when the disk has dropped on the ground by accident (Only local data recovery center may help restore files from physically damaged disks, or you may ask your disk manufacturer for help)
The disk is burnt (No program is able to help fix the disk when there was physical damage, water damage, burnt)
The chips on the disk is damaged
The sata socket is damaged, you may ask local disk repair center to repplace the disk socket, or you may find someone who can replace the disk socket with a paid service
The external disk usb cable is damaged, you may replace a new one and try it again
Also read: wd external hard drive repair online
Video - how to repair damaged Sata SSD socket
Adata Online Service
https://corp.adata.com/us/support/online/
If your disk is within Warranty garantee, be free to use the above link to find online service to see whether your disk can be repaired.
Related Articles