Table of Contents:
100% Safe Raw to Ntfs Converter Download
Before making changes to your raw digital devices like flash drive or micro sd card, you should make the data safe at first with a raw to ntfs converter that can help you access the data from the raw drive.
Download iCare raw to ntfs converter - iCare Data Recovery Pro
Recover data from raw drive
Guide to use iCare Data Recovery Pro to make sure data safe
Step one, download and install the software onto the drive on your PC, the c drive is ok if it is not the raw drive.
Step two, Select 'RAW Drive Recovery' or 'Deep Scan Recovery' inside of iCare since both can recover raw drive.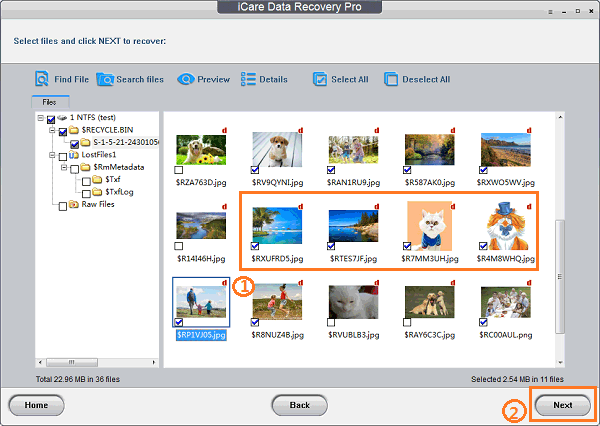 recover data from raw drive before converting with cmd
Step three, save data from your raw drive to a safe place, anywhere not the raw drive is ok.
Convert raw file system to ntfs with cmd diskpart
Here comes the exact steps that you can follow to convert the raw partition/pen drive/sd card to ntfs with cmd diskpart command line smoothly.
1. Navigate to the 'Start' on the very left corner of your Windows
2. Type 'cmd' in search&find bar in Windows Vista/7/8.1/10 to get it open (You may save this step if you directly type 'diskpart' here and direclty go to step 3.)
3. Type 'diskpart' and then hit the 'Enter' button on your keyboard.
4. Type "E:/fs:ntfs" and hit enter (note: E should be replaced by the drive letter of your raw drive that appeared on your Windows. If it is H drive letter, then type H:/fs:ntfs and then hit enter)
Conclusion:
By the above methods, you can safely convert your raw pen drive/mobile micro sd card from raw to ntfs file system without even formatting and totally get the data safe.
In the above video, it introduces full solutions for raw drive recovery when your digital devices most frequently we see flash drive or external hard drive or pc hard drive became raw and for digital mobile and camera users their memory card can became raw too.
Is CMD Diskpart Safe for Converting RAW to NTFS
Condition: Data vital or not?
If there is vital information on your drive that now is raw file system, no matter what kind of digital device, you should stop using it from further damage that may bring to the data inside of the raw drive.
So, do recover the data from the raw drive at first before using the cmd diskpart.
If no data on the raw drive or no important data, just do whatever you want to the raw drive no matter diskpart or other command line you want to operate since you don't care about the data on the raw drive, do you?
Related Articles
Recover photos video from formatted sd card
Recover data after formatting pen drive
The type of file system is raw micro sd card