Can we eject USB Flash/HDD without Safely Ejecting?
Can we remove flash drive without safe ejecting? What happens if you don't eject usb disk drive? Accidentally removed flash drive with ejecting? This article introduces damages and solutions for removing a flash disk safely or not.

How to remove usb pen drive safely on Windows 11/10/8/7/XP(External HDD included)
Method 1 - Eject flash drive from Windows right corner icon
Step 1 - Put your mouse in the right corner and click the upside arrow icon, and the usb icon wil show up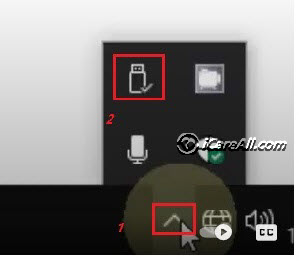 Step 2 - Click the usb icon, and an option Eject cruzer blade will show up (if your usb stick has other names, it will show accordingly)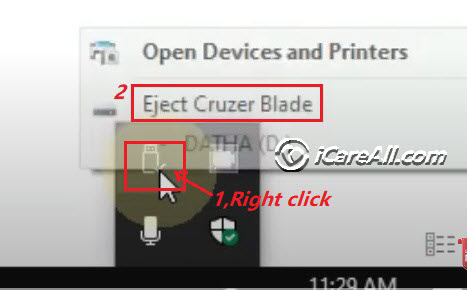 And a window will come up telling it's safe now to unplug the usb.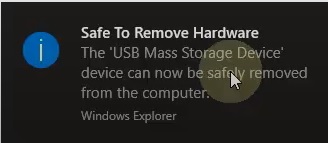 Method 2 - Open 'This PC' on your computer, Right click the flash drive, and eject it in the coming up options.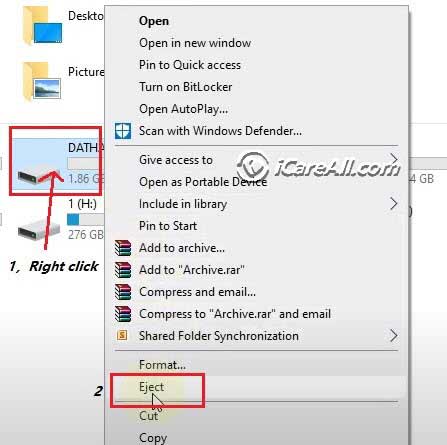 Video - how to remove usb flash drive or external disk safely in Windows
How to remove usb flash drive safely on MAC - 4 ways
1. Do not remove your usb when you are transferring or copying data from your usb
2. Do not unplug your usb pen drive without safe ejection.
3. Do not insert your usb pen drive on a public computer.
4. Do not put any unknown files which may carry virus.
Why won't my computer let me eject my USB?
Why can't I remove my usb safely or my external hard drive is used by other unknown process and cannot stop? There is problem ejecting a usb mass storage device.
There are many causes that a computer won't eject the usb devices with error message "This device is currently in use. Close any programs or windows that might be using the device, and then try again."

#1 - The usb drive/disk is still openning, some files are still open. You need to close all files and folders at first.
#2 - The usb is currently used by unknown programs, you may open the task manager to end it.
Some programs are running without notice? It could be some hidden programs are running in the background that we do not know, at this time, open the Windows tast manager, and close all runnning processes.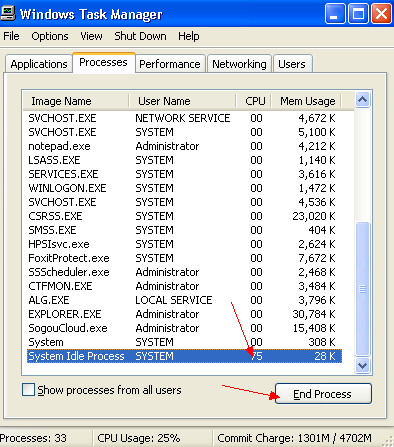 How to open task manager?
Pressing CTRL+ALT+DELETE at the same time to start tast manager, and the above window will show up.
#3 - End the usb drive in device manager (It works for an external hard drive ejecting problem too)
How to start device manager? Right click 'This PC' -> Manage -> Device Manager
And then open Disk drives tab, right click your usb stick/hdd, and then go to option ->Uninstall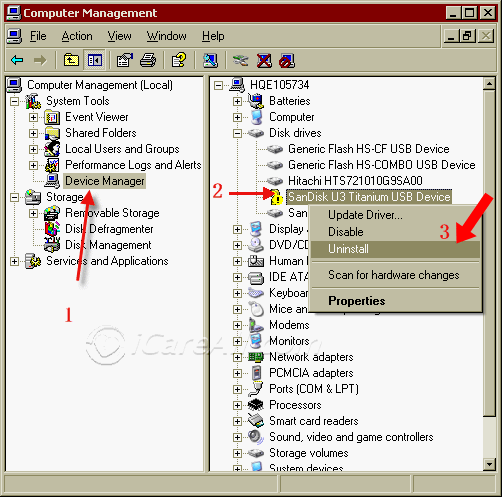 #4 - Uninstall usb stick under Universal Serial Bus Controllers in Device Manager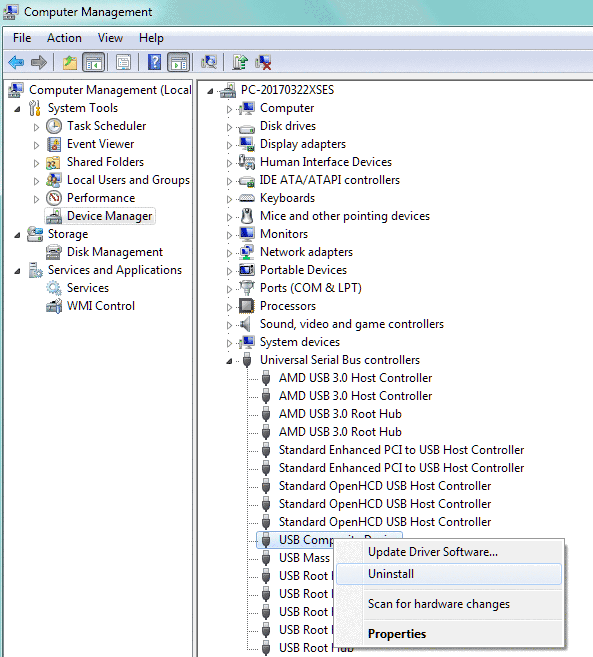 Question: how do I force eject a usb drive on Windows computer?
Answer: 1, Close all programs and files on the usb drive. 2, Eject it under device manager under disk drives or univeral serial bus controllers.
Is it safe to remove usb when computer is off
In Windows XP - NOT SAFE
It's not safe since the shutting down will make damages to the usb flash drive, and some files in your USB drive may disappear.
Cause 1 - Flash Drive Damage During Shutdown by System
Why? If the motherboard's power supply module is unstable, it may even cause the built-in chip of the USB flash drive to be burned.
After receiving the shutdown command, the system will gradually close the process in the processor and then detect if there is still incoming in using the system memory for data transfer, if so, wait for the end of the data transfer in the end process, if not then simply close all processes and end the power supply to the processor.
This is why we occasionally see a prompt box when shutting down the computer, which shows that some programs are still operating, asking whether to close the program directly or wait for the program to complete the operation.
It is best to cancel the shutdown to return to the desktop for saving, close programs, remove the usb flash drive at first and then shut down the computer afterwards.
Cause 2 - Flash drive quality differs
In flash memory manufacturer standards, usb flash drives shall be made with the ability to be removed with/without safe removal.
However, the quality of the previous flash disk is uneven, if your flash disk manufacturer did not follow its rule, in accordance with the protocol at the time of manufacture, which means that USB naturally supports hot-swapping, which allows the user to remove the hardware without shutting down the system and without cutting off the power. Then, the consequences of random plugging and unplugging is easy to damage the flash drive or usb disk, eventually leading to the flash disk scrap ~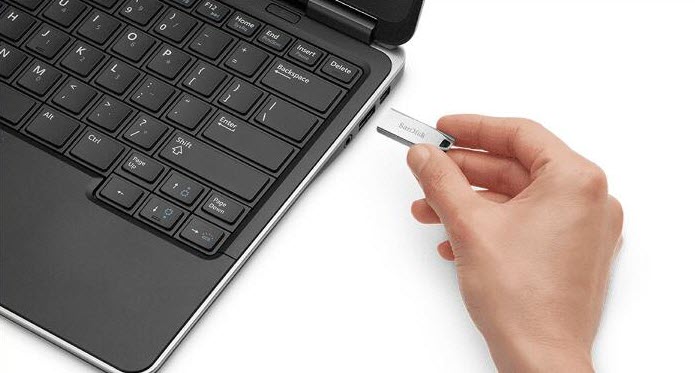 In short, when you copy data to a USB drive, Windows will first write the data to the faster cache and then to the storage, and the computer will often show the copy as "successful" first.

In reality, if your cache is not fully written, if you forcefully unplug the USB drive, you will be pitted by Windows.
The next time you use the USB drive, you will find that the data on the drive is lost, the device cannot be recognized, it must be formatted to use, the sector needs to be repaired, and so on.
So, to avoid the consequences of data suddenly losing its target in the cache, which may lead to Windows slowdown and so on, Microsoft has added the security eject feature.
In Windows 10 - Safe
Microsoft finally realized the need to change, just after the 1809 version of Win10, computer Windows will all default support flash disk hot-plug.
So, that is, in addition to reading and writing operations, other times flash drive, the default can be unplugged at will! And before the cache argument, there will no longer be the same, the data said the transfer is complete, that is, the transfer is complete.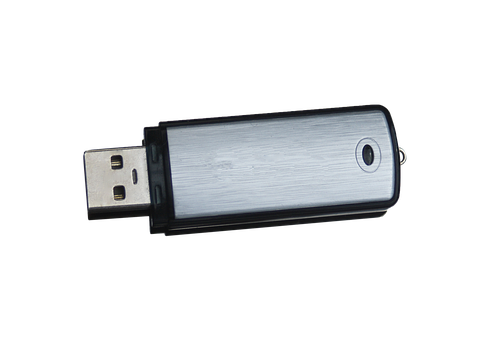 It should be noted that Microsoft's technical improvements is only for the flash disk, so if it's an external mechanical hard drive, "safe exit" remains required (mechanical hard drive structure reasons).
Symptoms of corrupted usb flash drive unplugged without ejecting
Ejecting the USB pen drive while it is transferring or copying stuff, pulling out flash drive without ejecting may cause the following symptoms.
1. Windows pops out message like: "The disk in drive is not formatted, do you want to format it now?"
2. Your usb pen drive shown as an unknown device on your computer
3. Your usb becomes to a raw drive
4. Your usb pen drive detected but not opening.
Well, when you have these problems, how to fix the corrupted USB pen drive?
How to fix: Recover the data first and then format the disk to fix the error
If you see any one of the symptoms mentioned above, your usb pen drive must be corrupted by abrupt ejection. If so, a format is compulsory.
If you have important data needed on the usb pen drive, the first thing you need to do is to restore the data on it. This is the only way to fix corrupted USB pen drive without data loss.
Recover the data:
You need a data recovery tool to help you. The usb flash drive which can not be recognized by computer can be accessible for data recovery program, so the tool can restore your data easily.
Instructions of recovering data
Step 1: Start the data recovery tool and choose Deep Scan Recovery mode.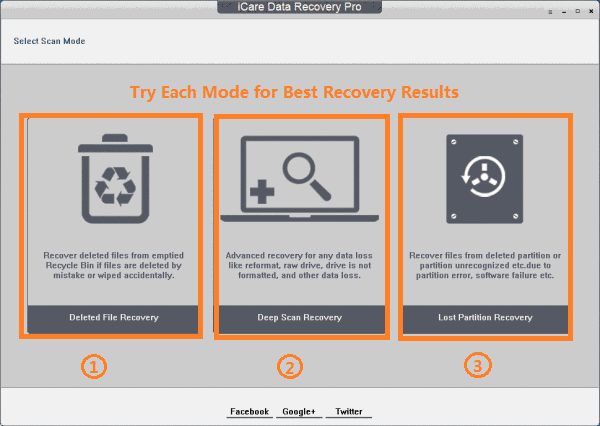 Step 2: Choose your device and scan it for a while.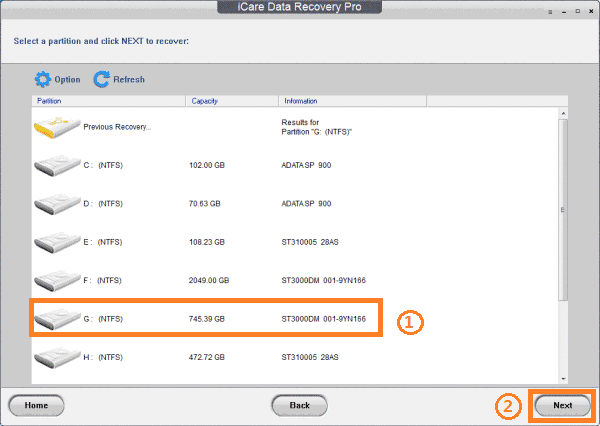 Step 3: Preview the listed data.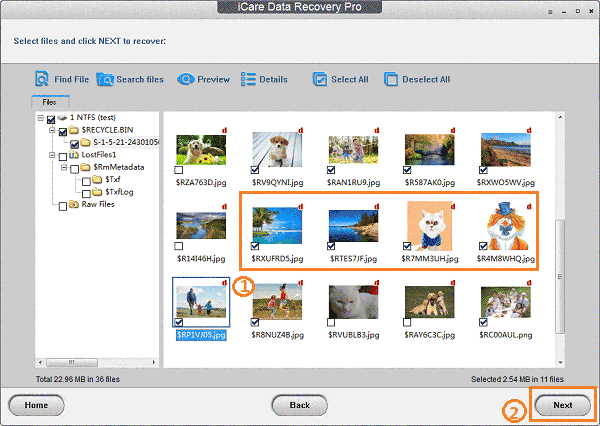 Step 4:choose needed data and save them to another place.
Format the usb pendrive
After data restoration, you can format your usb pen drive to fix the error. There are 2 ways you can try to format your disk.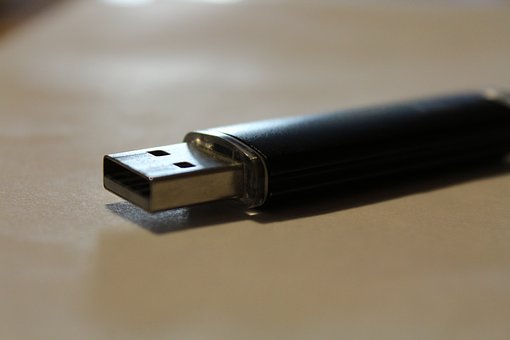 1. Format your usb by right click format option. This is the easiest way, you only need to find your usb pen drive on your computer, right click it, and choose format option, your device will be formatted then.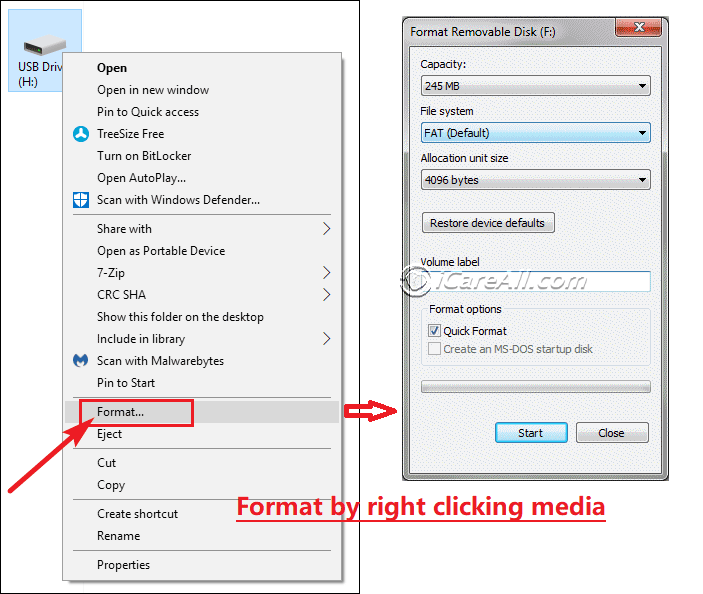 2. Format your usb using CMD command prompt. CMD command line can help you perform some actions on your system effectively, but you need to be careful to use it, sometimes, a little mistake of the command line can cause trouble to your system. You can follow the steps to format your usb flash drive.
Step1: Run CMD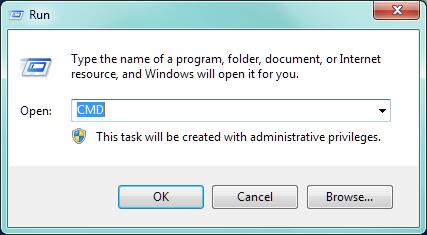 Format the usb pen drive
Step2:Type "format F: /fs:ntfs"(F is the drive letter of your RAW SD memory card)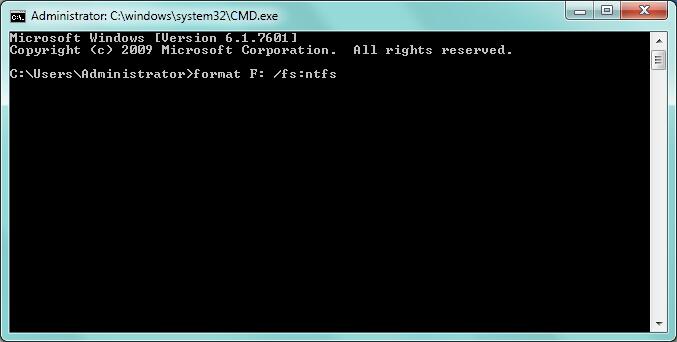 Format the usb pen drive
After these steps, you can repair your usb pen drive without data loss
Also read: 6 ways to format usb stick
How to fix usb which can not be formatted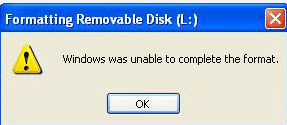 If your usb shown as a raw drive on your computer, your usb may be corrupted sometimes, you can try to format it using CMD command prompt, but it is not a solution 100% work, sometimes, your computer can't format it, then your system will pop out a message like"windows was unable to complete the format".
If you meet problem like this, you will need a format tool to help you, you can download a free formatter to help you to format your usb which can not be formatted by windows system.
Also read: Unable to format usb drive
After format, your usb flash drive can be fixed. Now you know how important it is to unplug your USB with a safely ejection. Besides, there are something else you need to know about how to safely remove your usb pen drive.
Also read: 7 usb repair tools
Related Articles