Sandisk USB/SD Repair Tool Mac Free Download [Freeware]
Background
Is it possible to repair damaged SanDisk usb/sd/ssd on MAC when there is only macbook or macpro you have got? Here is what happened for some sandisk users:
My sandisk cruzer suddenly stopped working and it won't show up in macpro, is there any sandisk repair tool to get the damaged sandisk cruzer fixed?
Before heading to the main part of this article, we have some great tip to help you in an eaiser way if you could find a Windows computer for the help since Sandisk usb/sd are external devices that can be used on any computer. And there are more free repair tools on Windows than MAC.

Have a Windows computer? Recommend: 8 free ways to repair sandisk usb in Windows (It works for sd card too)
Various Sandisk SD/USB Errors
There are many sandisk common errors that were brought by improper operations, software failure, virus damages, power surge, bad blocks... For example, Sandisk io device error, write protected cannot write or delete, raw file system, 0 bytes, incorrect capacities, asks formatting...
Best Free SanDisk Repair Tools for MAC
#1 - Lazesoft Mac Data Recovery Free [Freeware]
Recovering data from sandisk if there are damages on your sandisk would be of the first demand and this could be operated by freeware.
Step 1, Download Lazesoft Mac Data Recovery and then connect your sandisk to Mac machine.
Step 2, Run the freeware and scan sandisk device for file recovery
Step 3, Save data onto another digital media other than sandisk device.
Video - How to recover Sandisk with Lazesoft Mac Data Recovery
#2 - Repair damaged sandisk with Mac disk utilities
This is a Mac os built in tool that can be used for repairing corrupted sandisk disk/usb/sd card.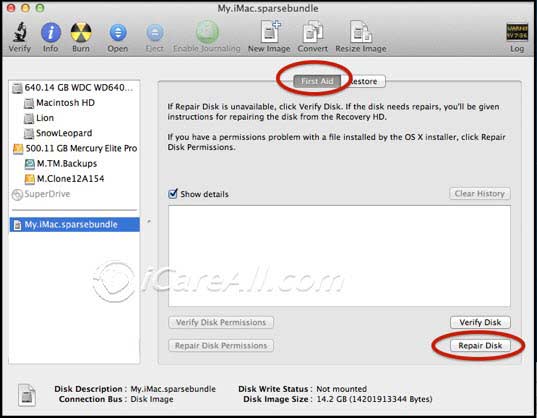 Repair usb mac with first aid without formatting disk
Video guide - how to use Disk Utilities for free sandisk repairing
#3 - Format Sandisk to Get it Repaired
You may use any mac format tools to get it formatted as a new sandisk media or you may even use a Windows format tool to get your sandisk media formatted that would mostly fix the errors on the media.
Attention: this shall be operated only on the condition that you have successfully restored all information from your sandisk sd/usb/disk and then you may perform a safe formatting.
Recommend: 5 free usb format tool on mac
For more sandisk repair tools, you may continue reading this following guide that provides more repair tools tutorials and even a guide how you may repair sandisk usb/disk with mac terminals for free.

More mac usb/sd/ssd repair tools -> How to repair corrupted drive on mac with 5 free tools
Other FAQs
???My sandisk cruzer is corrupted, can I repair the disk without formatting?
When formatting plays an important role in fixing unknown damages on digital devices, most errors on Sandisk could be fixed by a reformatting. If there are important data on your sandisk media, you may try recovering the data from the inaccessible sandisk and then the formatting would be safe.
Last updated on Sept 14, 2023
Related Articles
Unformat freeware - Undo format memory card, USB flash drive or protable hard drive, etc with formatted files recovery.