iCare Data Recovery is dedicated in hard disk data recovery like hard disk failure, formatted hard drive, MBR (Mast Boot Record) corrupted, bad boot sector, drive inaccessible, partition unreadable, partition deleted, software operation failure like Partition Magic caused data loss, Ghost failure, virus attacked, etc.
Supported Storage: hard disk drive, external hard drive, memory card, USB drive, pen drive, flash card etc. (Any drive that can be connected to computer except CD, DVD)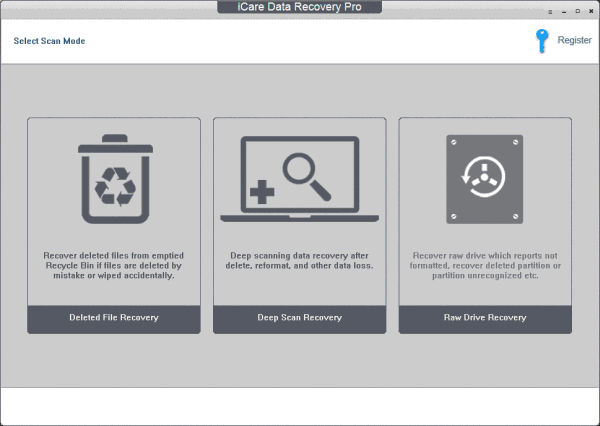 Key Features:
Never lose photos and files again
This data recovery software is an award-winning Windows recovery software, works when other utilities have failed.
Recover files from external drive, usb drive, hard disk drive
Recovering files from a corrupted external drive, reformatted external drive, unreadable external drive, bad external drive (not physically damaged); Recovering files from formatted, deleted, virus attacked usb drive, hard disk drive
Rescues lost/delete photos and files
iCare recovery software helps you to recover digital photo, audio and video files even when they are lost, deleted or the memory card, removable media is formatted.
Support recover files
IDE / ATA / SATA / SCSI hard disk drives, SD Cards, CF Cards, XD Cards, CF cards, Memory Sticks, external Zip drives, FireWire and USB hard drives.
Support RAW files
This software has highly advanced algorithms ever designed to support file recovery from RAW file system when your drive is read 0 byte while you have tons of files in it or usually known as RAW drive.
Very Easy to use
With this file recovery software, you can recover your photo, RAW photos, music, video and audio files with only a few clicks.
Windows 7 compatible data recovery software
Supported Windows Plantform: Windows 2000, XP, Vista, 7, Windows Server 2000, 2003, 2008
Recover deleted or lost files emptied from the Recycle Bin
iCare Data Recovery is able to restore deleted files that has disappeared in your recycle bin if you emptied or you used hot keys SHIFT+DEL. "Advanced File Recovery is the right module to recover your lost files. And what's more, files deleted after format can also be restored."
Support FAT12, FAT16, FAT32, NTFS/NTFS5 file systems
Recover files from most Windows file systems like FAT32, FAT 16, NTFS... And iCare Data Recovery can restore files when your file system becomes RAW or is marked as RAW drive and the drive became 0 byte.
Recover office document, photo, image, video, music, email, etc.
Get back files after a partitioning error.
iCare Data Recovery is able to restore files from a partitioning error when you failed in merging partitions, disk partitioning, resizing partitions, copy partitions etc.
When to use?
Corruptted or missing critical file system structures.
Accidental file deletion.
File loss without reason.
Unexpected system shutdown or application failure.
Computer viruses and worms infection or corruption.
Boot-up problems.
Partition structures are damaged or deleted.
Damage due to a power failure or surge.
Various kinds of file system corruption.
Recover files from devices with unknown file systems including Hard Disk, external ZIP/USB drive, removable SmartMedia, MemoryStick, SD cards, etc.