Windows Was Unable to Format CF Card Fix
CF card is a compact flash memory card, which is used in digital camera, PDAs and desktop / laptop. You may face various problems on your CF card, while Windows unable to complete format is one of the most common error.
Video - how to fix unable to format memory card
Also read: unable to format memory card solution
CF Card Turned RAW File System - Cannot Format
CF card RAW file system is a sign that you have to reformat the card in order to access it. When a CF card has RAW format error, you may meet some other related issue such as:
>> CF card is not formatted do you want to format it now?
>> Windows was unable to complete format the CF card
Simply say, Windows reports that it was unable to format CF card when the compact flash card is corrupted or damaged due to any reason.
==> You can refer to this page to learn reasons that cause Windows unable to format problem – Windows was unable to complete the format

CF Card Recovery When Windows Cannot Format It
Download iCare Data Recovery Pro to recover photos, videos, etc from CF card when it is unable to be formatted by Windows.
Recover Data from CF Card that Won't Format
iCare Data Recovery is a data recovery tool, which is able to recover various kinds of files from any brand of CF card when it has RAW file system and cannot be formatted.
Step1. Run the software and choose a proper scan mode.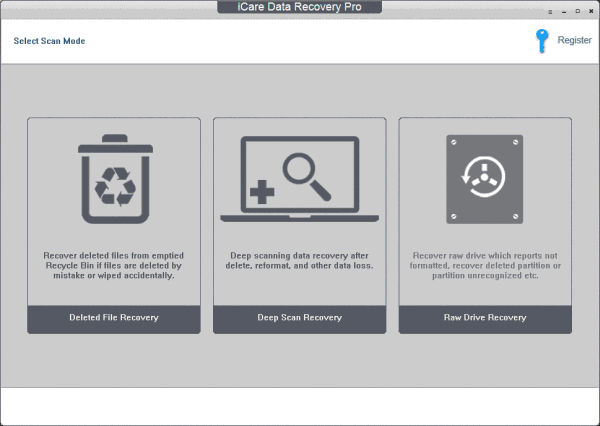 Step2. Choose the CF card and wait the software to scan for lost files.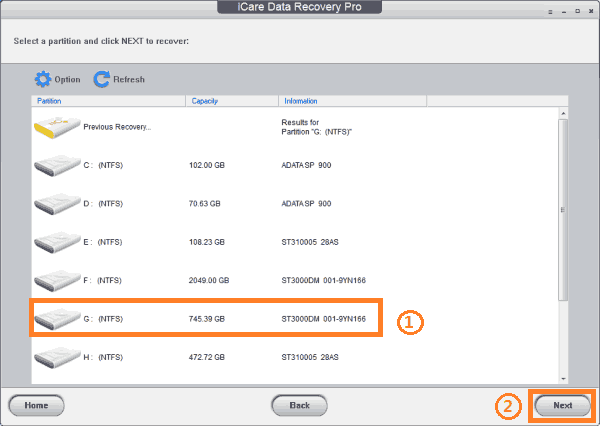 Step3. Preview found pictures and save all lost data to another drive.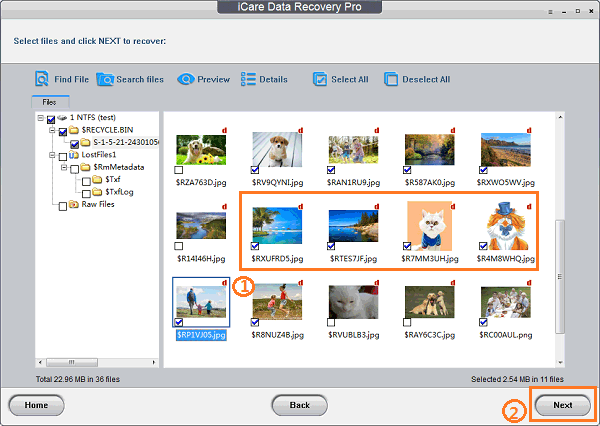 Note:
You may take different measures to fix a CF card which is unable to be formatted by Windows, but the only way to get back all files from the card is to use a data recovery tool without any backup.
Failure to format CF for Windows XPe
"I have some problem to format my CF card for Windows XPe. I have tried to format the CF card as FAT, but shows message unable to write boot after performing format. The same method works on another 2GB card." – A user from Microsoft forum
Windows XPE, namely Windows XP Embedded, is componentized version of Windows XP operating system. CF card is compatible with Windows XPe in normal situation, but it will report format failure on CF card if there is no proper driver that supports CF card being installed on the computer.
==> For more reasons and get solutions, please visit – Solution for Windows unable to format error
You may also encounter the same problem on other Windows operating system, here is a related page – CF card cannot be formatted on Windows 7
Dead CF Card Can't Be Formatted by Windows
A dead CF card usually refers to the situation that the CF card freezes and stops working suddenly. This problem often occurs when you use your digital camera to view pictures, but the CF card has no response. Or it reports invalid storage media when you take photos with your camera. A CF card probably gets dead when you connect it to your computer to read or transfer files.
When you attempt to format a dead CF card, Windows OS may have no response and finally reports it was unable to complete the format.
==> How to recover dead SD card – This page shares useful information for dead SD card recovery and fixing, so you may visit it to get some information for dead CF card solution.
Windows Is Unable to Format Compact Flash Card to NTFS
You find that the format is not available when you want to format a RAW compact flash card to NTFS file system? If so, it is necessary for you to learn some information about the file systems of CF card.
A Compact Flash card is usually available in 3 types of file systems:
FAT12 – A CF card whose capacity is less than 16MB is usually formatted to FAT12 file system.
FAT16 – A CF card whose capacity is from 16MB to 2GB is usually formatted to FAT32 file system.
FAT32 – FAT32 file system is usually available for a CF card whose capacity is larger than 2GB.
Since Windows supports NTFS file system, probably there is option for NTFS file system when you format a CF card on Windows computer. However, finally, the format might fail and Windows reports it was unable to format error. Even if the format is completed finally, the CF card may be not recognized by your digital camera after being reformatted to NTFS file system.
==> To learn how to fix unrecognized CF card, you can visit – CF card is not recognized
Also read: How do I fix memory card unable to format
---
Related Articles