Undelete files from Windows 7
If you write a lot of information to Windows 7 disk every day, you may need to delete some unnecessary files to free disk space. You may delete a file with different method, so results will accordingly different. For example, if you delete a file by select "Delete" option after right clicking the file, the deleted file might be moved to recycle bin. In this situation, you can recover deleted files from recycle bin. If you delete a file by pressing Shift + Delete keys, the deleted file will be erased from your computer immediately. If you delete a disk partition in "Disk Management", the files stored on the partition will also be deleted immediately. If you format a disk partition without moving its files to another storage media, the files stored on the formatted partition will be erased and deleted permanently.
Although you may delete files from your Windows 7 with any of method above, you can undelete Windows 7 with a useful undelete tool so that you can recover permanently deleted files in Windows 7.
Free Download iCare Data Recovery for Windows 7 Deleted File Recovery
If you have ever dealt with any data loss problem, it may be not a strange thing to you to recover files with third-party undelete tool. iCare Data Recovery is one of the undelete tool, which allows you to recover files deleted from Windows hard disk and erased permanently by emptying recycle bin, or deleted with Shift + Delete keys, or deleted by formatting the disk partition, or delete partition and more. This software is capable of retrieving photos, music, videos, office files, emails, documents, audio files and so on with original quality.

Guide on Undelete Files from Windows 7
Step1. Free download and install iCare Data Recovery, run the software and click "Advanced Files Recovery" module.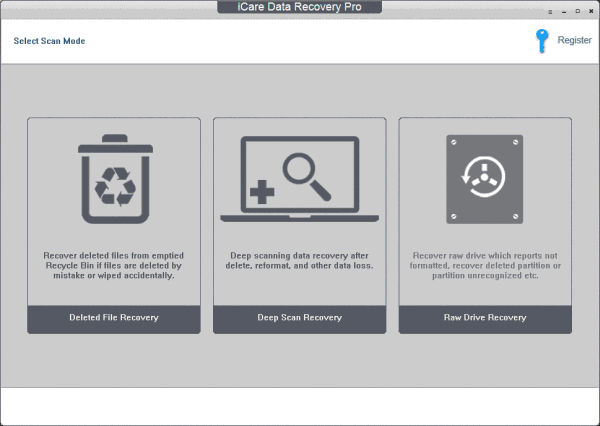 Step2. Choose the partition where data was deleted and click "Recover" button.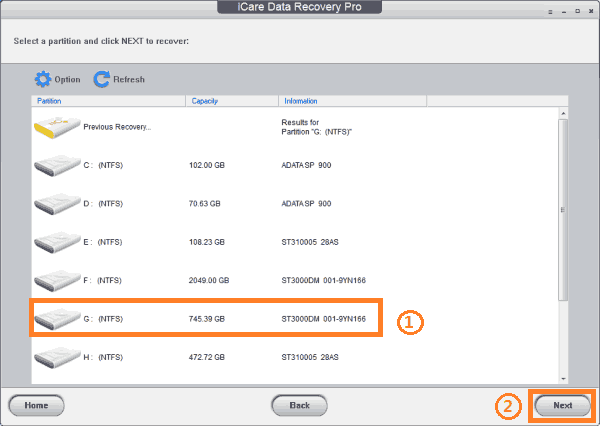 Step3. Wait before scanning is finished.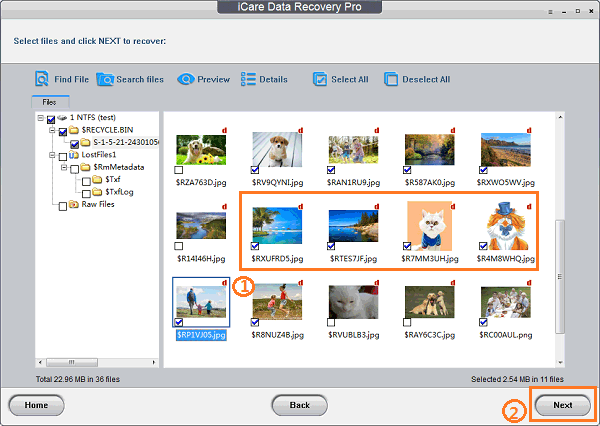 Step4. Preview the found files when scanning is completed. Choose the files you deleted before and click "Save Files" button. You cannot save the recovered files to the partition where data got deleted.
iCare Data Recovery is an undelete tool which is able to work on Windows 7 for deleted file recovery from flash drive, external HDD, internal hard drive, memory card, etc.
Key Points That May Affect the Data Recovery Result
Chances for deleted file recovery from Windows 7 are different in different situations. Sometimes, you may recover almost all deleted files. However sometimes, you may only be able to recover a few files after deleting. Below are two possible key points that may affect the data recovery result.
1. The chance of deleted file recovery depends on whether the deleted files have been overwritten
System will mark the disk space as empty after you delete the files stored on the disk. When you store a file to the disk partition, it will occupy some free disk space. If the new added files right occupy the space where stored the deleted files, the lost data will be unable to be recovered. This is also the reason why we always suggest you not writing new files to the partition where data got deleted.
2. Hard disk is physically damaged
The chance of deleted file recovery might be low to none if the hard disk is physically damaged, so you should avoid your disk from being physically damaged due to unknown reasons or accident.
Another Possible Way to Recover Deleted Files on Windows 7
I don't think there is much easier way to recover deleted files from a backup because you don't need to rely on any tool. However, when you mistakenly files from Windows disk, you may realize that you don't have backup. Therefore, if you don't want to lose important data due to deletion, you had better backup the important files before they get lost. You may use an external device like external hard drive, USB flash drive or memory card to backup your disk data. Of course, you don't need to backup everything stored on your hard disk, you just need to backup the files that are important to you.
You can run iCare Data Recovery to undelete files free after formatting hard disk on Windows 7. This software enables you to undo format Windows 7 for all permanently deleted files recovery easily since iCare Data Recovery also has the feature of format recovery in windows7.

Works for Windows 7, Vista, XP, 2000, Windows 8
---
Resource
iCare Data Recovery Pro : powerful all in one rescue software for Windows All OS
Related Articles
Other Articles