Recover SHIFT DELETED Files or Data Lost not into the Recycle Bin
Last updated on 17/01/2017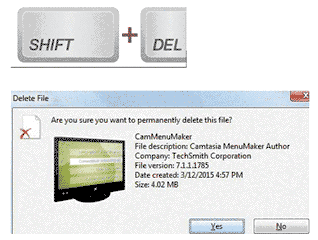 When you shift delete a folder on Windows like 7,8.1,10, Vista/XP, or other common used digital device like sd card, cellphone, usb flash, hdd..., all files stored on the folder will be erased permanently without being moved to recycle bin. If you want to recover permanently deleted folder after shift deleting, you can use iCare Data Recovery Pro for:
Shift deleted folder recovery on Windows hard disk partition
Restore shift deleted files on Windows internal hard drive
Recover any data including MP3 files, wav files, wma files, jpeg files, bmp files, png files, gif files, mp4 files, 3gp files, office files, emails, documents, pdf files, etc on Windows computer
Recover permanently deleted files recovery on any Windows platform

Free download iCare Data Recovery Pro
Regularly when you want to delete a folder from your Windows computer, you can delete the folder with several methods. Most users would like to select the folder they want to delete and then right click the folder and choose "Delete" option. Files deleted with this method will go to Recycle Bin. In addition, some users also would like to select the folder they want to delete and directly drag them to the Recycle Bin. Files deleted by dragging or selecting "Delete" option don't really delete the files from Windows hard drive, but just move the files to Windows Recycle Bin, so users can restore deleted files easily by opening the Recycle Bin. Finally, some PC users like to delete folder by pressing Shift + Delete keys. Files deleted with this method will not be moved to Recycle Bin. If you want to recover shift deleted folder on Windows, iCare Data Recovery Pro is needed.

>>Quick Solution for Shift Deleted Folder Recovery
Download iCare Data Recovery Pro to recover deleted folders or files on Windows disk after pressing Shift+ Delete keys on your computer.
User of iCare Data Recovery Pro Reviewed This Software

More feedback from real users...
Video Tutorial: how to use iCare Data Recovery for file rescue
Steps to Recover Data from Windows
Free download the data recovery program to recover deleted files with Windows file recovery software:
Step1.Free download iCare Data Recovery, install and launch it on Windows. Choose "Deep Scan Recovery" module.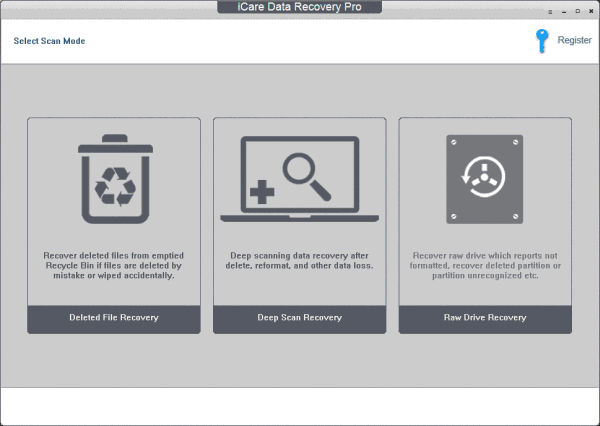 Step2. Select the partition where folder got deleted and click "Recover" button, and then the software will perform a fast scan on the selected partition for deleted files.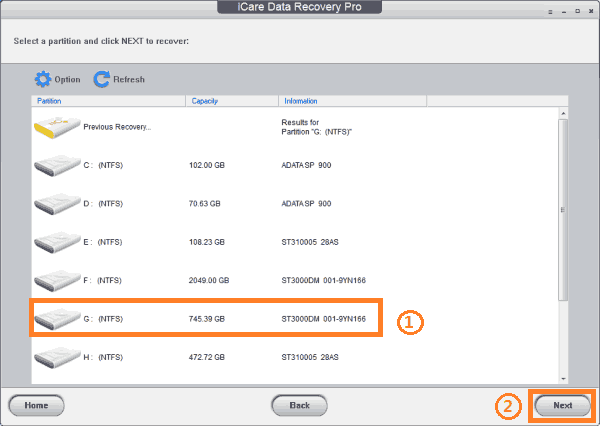 Step3. Click the folder and select the file, you can preview the selected file.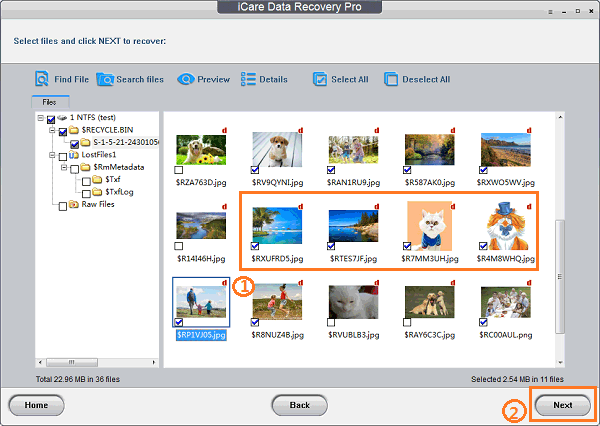 Step4. Select the files you deleted before and click "Save Files" button to save them to any other partition instead of the partition where files got lost.
How to Recover Shift Deleted Files without Software?
Can you recover shift deleted files from your computer without relying on any software? For simply deleted files recovery, you are able to recover deleted files from recycle bin without any software. For shift deleted files recovery from C drive, you can also have a try with system restore. If you have created system restore point on your computer, you can restore system back to previous point when you created the system restore point so as to restore deleted files when cannot find them in recycle bin. However, if there is no backup and you did not make a system restore point, you have to rely on data recovery software for deleted data recovery.
How to Restore Shift Deleted Data Using Command Prompt?
You can run command prompt in any Windows OS to execute some task like format partition, delete partition, etc. However, it is not able to recover deleted files from Windows by using Command Line.
Recover Shift Deleted Photos on Windows XP Vista 7 8 10
When users save files to Windows 7 hard drive partition, they often like to save the same type of files in a folder. A folder often includes a large amount of important data, among which photos are one of the most important one. Every photos store on your partition might an unforgettable moment of your life. When you delete a folder by pressing Shift + Delete keys, all photos stored in the folder will be deleted immediately. But with help of iCare Data Recovery, you are able to recover all types of photos such as JPEG, BMP, GIF, etc. It works for all kinds of memory card like cf card when it is raw.
Recover Permanently Deleted Video Files from USB Flash Drive in Windows
You may delete videos or other files from a USB flash drive on Windows computer. The videos might be a movie which is downloaded from Internet, or it may be an interesting chip on your wedding. Anyway, if you delete a folder which contains many precious videos, you may feel quite frustrated. However, if you use iCare Data Recovery, you won't lose any video file because this software allows you to undelete any type of videos like MP4, 3PG, AVI, and more.
Windows Deleted Music / File Restore from Memory Card
If you like to listen to music, it will be headache when deleting your favorite music by pressing Shift + Delete key. Many music online is not free, so you need to buy it. If you lose the music you like, would you like to spend more money to buy from others again? In fact, you just need to use iCare Data Recovery to get back the deleted music with ease. The software supports to recover MP3 music, WAV music, WMA music, and more other formats of music files.
Recover Other Types of Deleted Files on Windows
No matter what types of files you delete from Windows partition, you are able to recover them with iCare Data Recovery as long as the deleted files are not overwritten by new added data. For example, you are able to recover emails, PDF files, doc files, excel files, and almost all types of files.
How to Recover Windows Shift Deleted Folder
As an advanced and powerful data recovery program, iCare Data Recovery Pro is specially designed for deleted file recovery on Windows. It can quickly scan the partition where folder got deleted and helps search for files with a quite short time. You can also preview the found files after scanning, thus you can evaluate the quality of the files.
Now, free download iCare Data Recovery PRO to recover shift deleted folder step by step.

Works for Windows 7, Vista, XP, 2000, Windows 8
---
Resource
iCare Data Recovery Pro : Recovering files permanently erased by shift + delete keys on Windows OS
Related Articles
Other Articles