Windows 7 Recover Deleted Files from Hard Disk
Background
In an Internet era, almost everybody write and store information on a computer whether at workplace or at home. Suppose, all important files are stored on a hard disk partition on your Windows 7 computer, but unfortunately you accidentally delete those files. What is worse, the files are deleted permanently without removing to the Recycle Bin.
Data security becomes a crucial problem that cannot be ignored. Now what to do?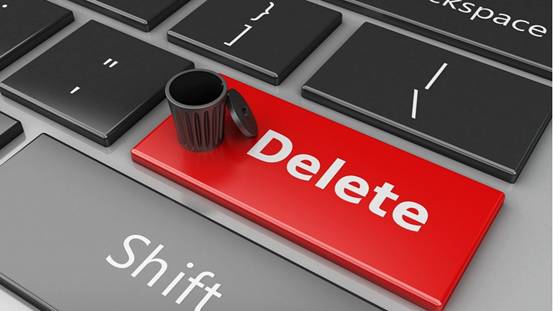 Table of contents
A short brief overview: You may get back the mistakenly deleted files if you had a backup or restore it from previous Windows edition without the use of any software. Otherwise, you may need to rely on a third-party data recovery utility to retrieve the deleted data.
Solution 1: Restore deleted files in Windows 7 from a previous backup
If there are backup copy of your files, you may just go to find your files from the backup. This could be the easiest way for recovering your files, however when users come to look for help on the internet like searching "recover deleted files from hard drive", that probably represented that they do not have the BACKUP! So this could be the useless point at the moment when you see this article.
So, we just jump to the next point to go straight of recovering deleted files in Windows 7/8/10 to get back of your files quickly.
Solution 2: Free Ways to recover deleted files in Windows 7 without software
Part 1: Recover deleted files from the file folder's Restore previous version in Windows 7.
Simply right click the folder of the deleted files, and open its "Restore Previous Version". (Folder deleted? Go to Part 2)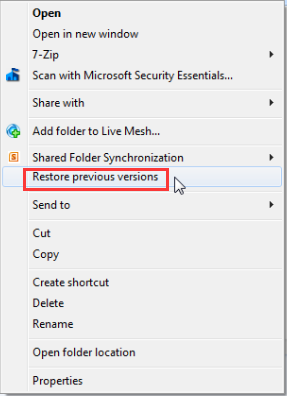 and then you may copy the file to any place you want to save. (As an data recovery expert, I would recommend you not to save your data onto the same volume/drive where it got lost to avoid data recovery failure.)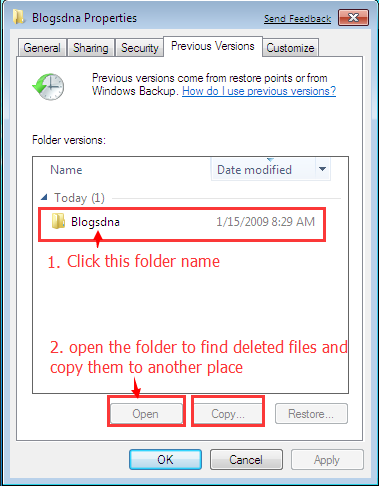 Part 2: Recover deleted files if they were saved without a folder or if the whole folder was deleted.
Step 1: If the whole file folder is gone, then just open My Computer and open the drive where you saved your files.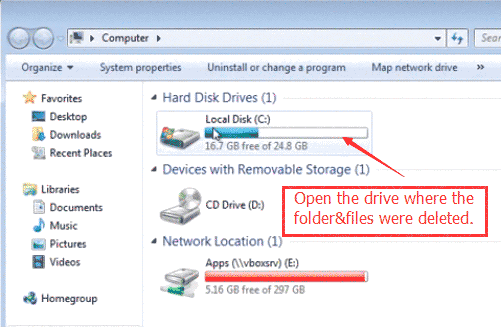 Step 2: Go into the 'Users' folder for example to recover deleted folder removed from desktop. And also open 'User' folder if you see there is another user folder after openning this one.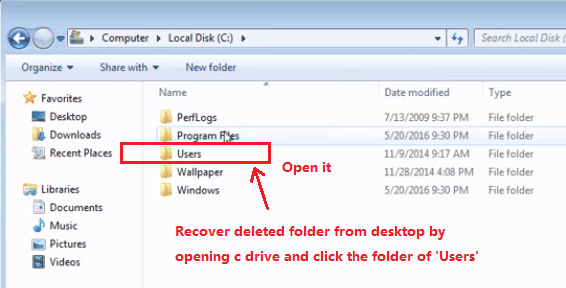 Step 3: Right click the finial folder that saved the removed folder, here it is included inside of the 'Desktop' folder.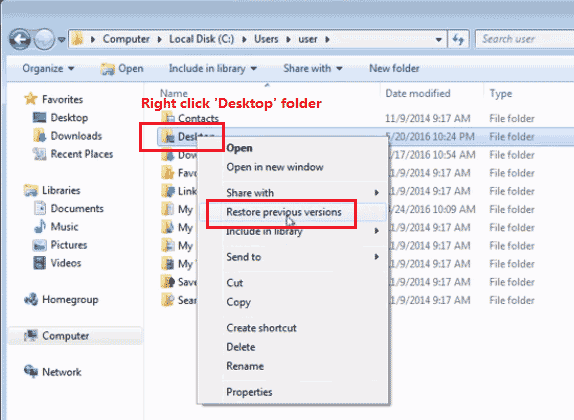 Step 4: See what's versions have been saved in the backup.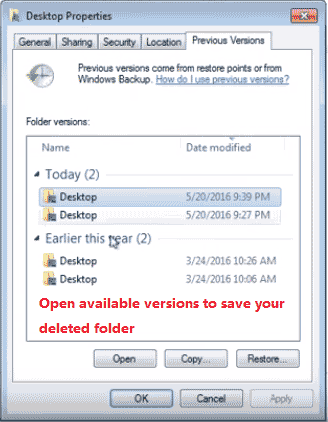 Step 5: Save the found files onto another partition for the best.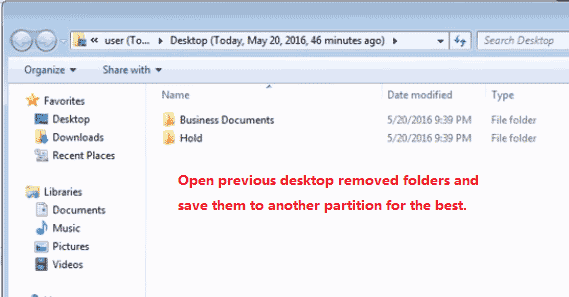 Note: If it is your external hard drive or removable disk/flash drive that files were deleted, then the above methods may does not apply for the recovery and you need to use Solution 3 in the comming session just below.
Solution 3: Recover deleted files from hard drive/usb disk with freeware
iCare Data Recovery Free is a 100% undelete freeware that can recover deleted files for free.
Step 1: Download and install the freeware on your PC not the drive where you deleted files. Select a recovery mode to start recovering deleted files from hard drive.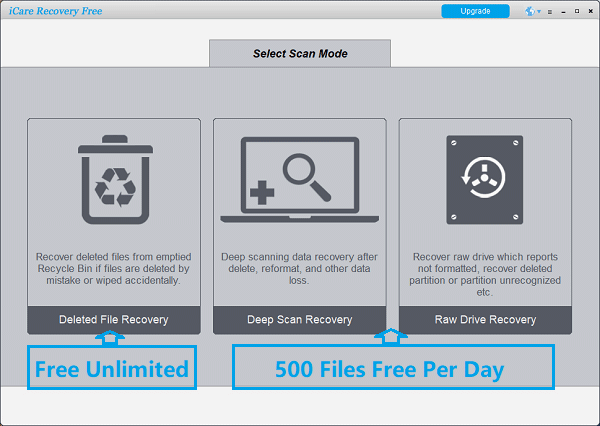 Step 2: Select the partition of your deleted files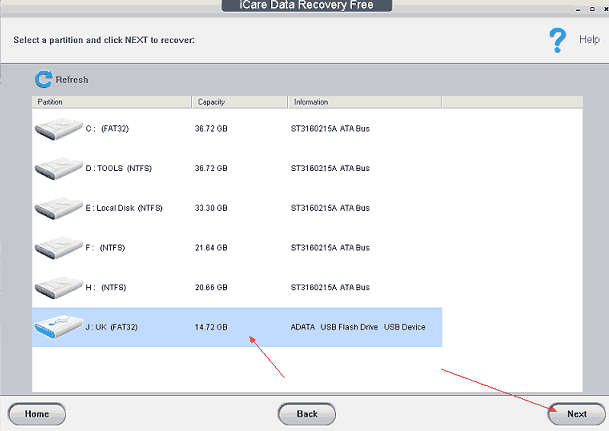 Step 3: Save found data onto another volume instead of the drive that you deleted your files.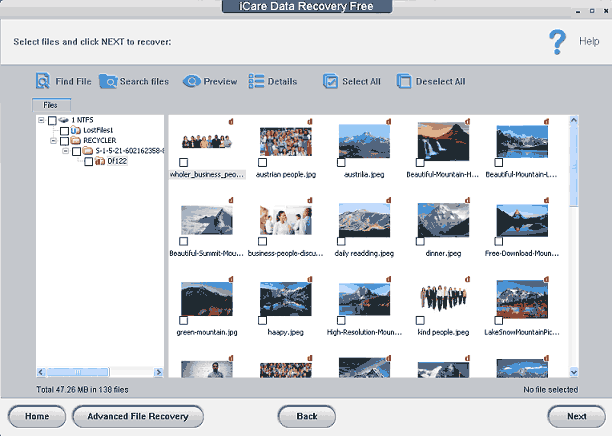 Recover files from hard drive due to other reasons like reformat, raw file system, drive not recognized and more with iCare Data Recovery Pro to fix the problem.
Solution 4: Recover files from hard disk with iCare Data Recovery Pro
If your deleted files were not found in the previous solutions, or your files were lost due to format, not accessible drive, damaged disk, disk went to raw or others, free download the professional disk recovery tool and follow the guide.
Step1. Free download and install iCare Data Recovery on Windows 7 computer. Launch the software and choose "Deep Scan Recovery" module (Avoid installing the software to the partition where data got deleted).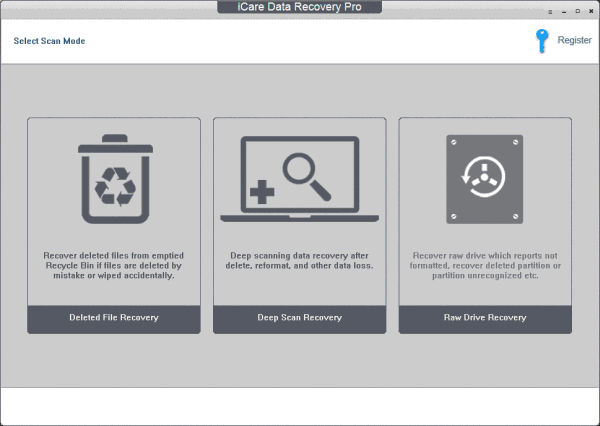 Step2. Choose the partition where files were deleted and click "Recover" module.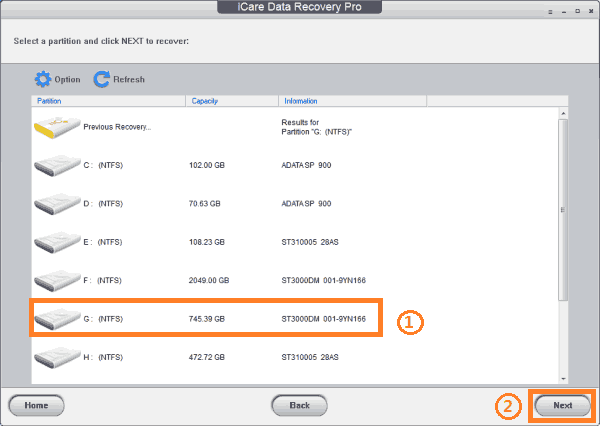 Step3. Wait until the end of the scanning.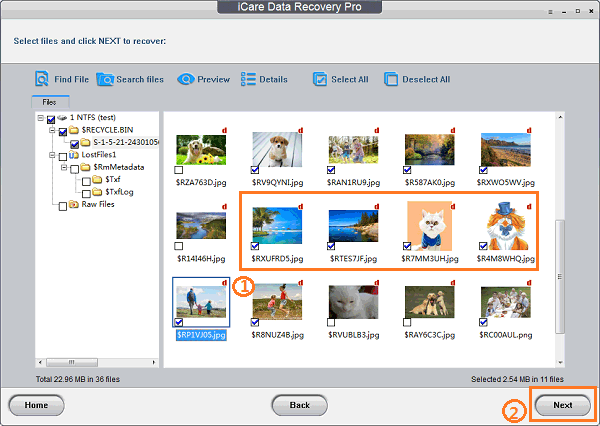 Step4. Preview the files after scanning, and then choose the deleted files and click "Save Files" button to restore them (Save the recovered files to any partition instead of the partition where files got deleted before).
Other Knowledge
Recover Deleted Folder in Windows 7
You may want to delete one file from the folder, but mistakenly you delete the folder with lots of important files? You want to restore the mistakenly deleted folder from Recycle Bin, but unintentionally you empty the Recycle Bin with erasing all disk deleted files? You shift delete a folder from Windows 7 hard disk without thinking that you don't have backup of the deleted data? These can be terrible disaster, while may lead data to be permanently deleted. However, the truth is that iCare Data Recovery is helpful with deleted data recovery on Windows 7 in all situations mentioned above.
Retrieve Deleted Data after Formatting Windows 7
Files can not only be deleted by pressing Delete key, Delete + Shift keys or emptying Recycle Bin. In addition, files can also be deleted due to formatting the whole partition on Windows 7. No matter you full format the partition or quick format the partition on Windows 7, formatting can erase the disk partition quickly and all data will be deleted after formatting. However, formatting only delete files from the address tab but keep the real data intact on the original disk space. Therefore, Windows 7 format recovery utility can help you restore deleted data after formatting or hard disk partition.
Recover Files Deleted by Virus
Sometimes, you may not delete any file from the hard disk, but files are lost. Running anti-virus software, you may find that your computer is infected with virus or malware. Virus can delete files from computer hard disk, and even destroy the files. Files destroyed by virus or malware might be recoverable with Windows 7 undelete utility, but the recovered files might be unreadable or corrupted. Therefore, it is very important to keep your computer work in a safe environment to protect it from suffering any virus or spyware. Besides, it is always necessary to install anti-virus software on your computer.
Retrieve Files after Deleting the Disk Partition
You can manage all disk partitions in "Disk Management" on Windows 7 OS. Probably you want to change the drive letter of your disk partition, but mistakenly you click the "Delete" option to delete the entire disk partition. A deleted partition cannot be moved to recycle bin, so the partition with all files inside will be deleted immediately after you click the "Delete" option. Fortunately, iCare Data Recovery also allows you to restore files from a deleted partition.
---
Related Articles
Other Articles