Recover Files from CF Card That Has RAW File System on Windows 7/XP/Vista
CF card, as a storage media, it can be used in digital camera or cell phone. It can also be recognized as an external device when connected to a PC. However, a CF card may change its file system to RAW in some situations. If you want to recover files from a RAW CF card, you need to use free CF card recovery software.
How to Recover Data from RAW CF Card on Windows 7/XP/Vista
Windows 7 operating system has been used by many PC users, so if you want to recover data from a RAW CF card on Windows 7, you need to use data recovery software which can be compatible with Windows 7. iCare Data Recovery works as a data rescue tool on Windows 7, which is able deep scan the CF card so as to search for every piece of data stored on this card. In the scanning process, you just need to wait patiently. The software won't change or modify any information on your CF card. In another word, you are able to restore files from a RAW CF card with its original quality. As a professional, easy-to-use and reliable RAW drive recovery program, iCare Data Recovery supports all brands of CF card on Windows 7 as well as other Windows OS.

Steps to Recover Data from RAW CF Card
CF card recovery software free download to recover any type of files from a RAW CF card:
Step1. Run iCare Data Recovery and select "Deep Scan Recovery" module.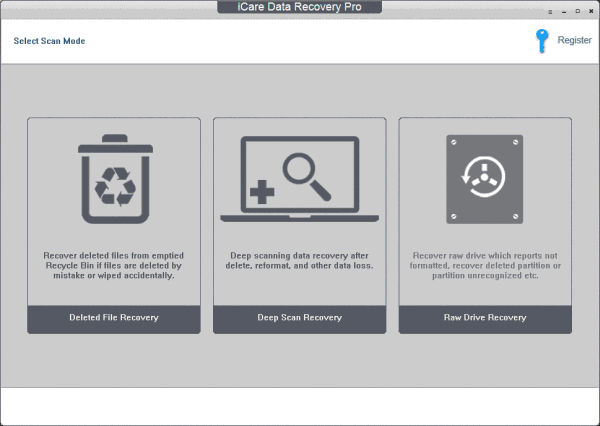 Step2. Choose the CF card and click "Recover" button.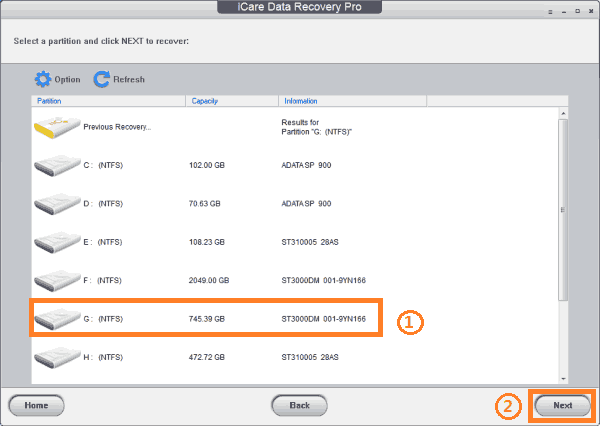 Step3. Select the files and preview them.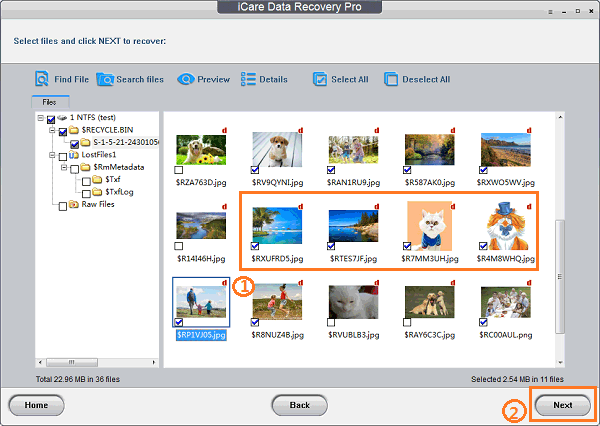 Step4. Choose the files and click "Save Files" button to recover the selected files.
Want to Convert RAW Card to FAT32
Are files are recovered totally with iCare Data Recovery recommended above? Do you want to convert RAW card to FAT32 so that you can use it to store more data?
Possible methods to change RAW card to FAT32.
Method 1: Right click CF card in "My Computer" and select "Format" option. Select the file system as "FAT32" to format the card.
Method 2: Right click "My Computer" => select "Manage" => click "Disk Management" => right click drive letter of CF card and select "Format" option to format the card into FAT32 file system.
Method 3: Right click CF card in "My Computer" => select "Properties" => click "Tools" tab => click "Check Now" button => Tick "Automatically fix file system errors" and "Scan for and attempt recovery of bad sectors" => click "Start". Then, you can format the CF card after error checking.
==>> To get more methods to fix CF card RAW problem to change its file system to FAT32, please refer to this page - Repair RAW drive error
==>> If CF card says it cannot be formatted, you may go to this page - Windows was unable to complete the format
Causes for CF Card RAW & How to Avoid RAW Error on CF Card
Simply say, CF card RAW error can be caused by virus attack, improper operation to the card, and unexpected factors. Therefore, I have concluded some tips to avoid RAW error on your CF card.
1. Install updated anti-virus software on your computer to protect it from being infected with virus. When you connect your CF card to the computer, it won't be attacked by virus if anti-virus software is installed on the computer.
2. Avoid connecting your CF card to stranger's computer. Especially, you had better not to connect your card to a public computer.
3. When you want to remove your CF card from PC, you had better remove it safely.
4. Turn off the camera or cell phone when you want to take out CF card from the device.
Successful Cases by Using iCare Data Recovery
1. iCare Data Recovery can effectively recover files from my CF card that has RAW file system. Firstly, I have no idea what to do, but my friend recommend iCare Data Recovery to me and I found it powerful in lost data recovery. So I like to share this software to anyone who may need it.
2. iCare Data Recovery is the best data recovery software that I have never used before. It helps me recover the lost pictures, videos and music successfully from the RAW drive when CF card is corrupted and unreadable.

Works for Windows 7, Vista, XP, 2000, Windows 8
---
Resource
iCare Data Recovery Pro : powerful all in one rescue software for Windows All OS
Related Articles
Other Articles