Is It Possible to Retrieve Deleted Files in Windows 7
As a Windows PC user, you may be quite familiar with the function of "Delete". No matter you select a file or a folder, you may erase it from its location easily by clicking "Delete" option. In order to avoid unexpected data loss due to mistaken deletion, Windows operating system specially provides a "Recycle Bin", which is able to save the files deleted from your PC hard disk. Therefore, you always have a chance to restore the mistakenly deleted files unless you empty the Recycle Bin. However, you may be in a panic if you cannot restore the deleted files from Recycle Bin, so we will tell some possible way to restore deleted files from Windows 7 OS when you are unable to recover them from Recycle Bin.
The Most Effective Way to Get back Deleted Files in Windows 7
If you want to look for a most effective way to recover deleted files in Windows 7, the best choice is to rely on data recovery software. Here, iCare Data Recovery is strongly recommended since it is risk-free and 100% reliable. You can download iCare Data Recovery to undelete any file that has been deleted permanently from Recycle Bin. You can also recover shift deleted files in Windows 7 hard disk partition and restore files from deleted or lost partition. The software has a user-friendly interface, so you can easily handle it to perform deleted file recovery on Windows 7:

How to Use iCare Data Recovery to Undo Permanent Delete on Windows 7
Step1. Free download iCare Data Recovery to install it on a disk partition. You can launch the software after installing and choose proper recovery module. You may choose "Advanced Files Recovery" module for deleted file recovery.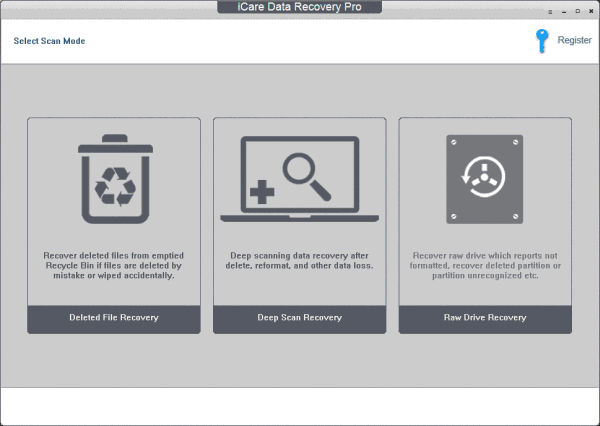 Step2. You can see all partitions listed on the software, you may choose the partition where files got deleted and click "Recover" button to start to scan the selected partition.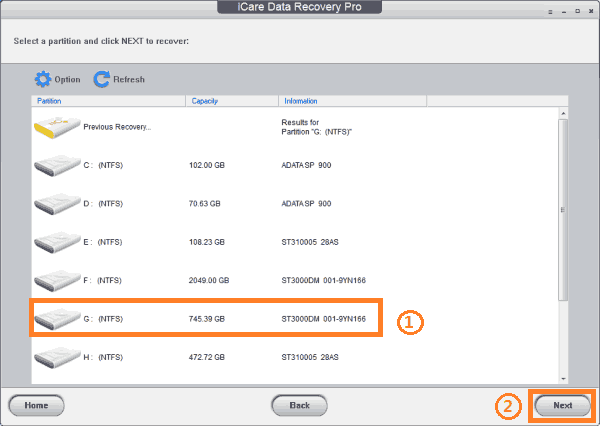 Step3.  It may take a while to scan the partition, so you need to wait patiently before it comes to an end.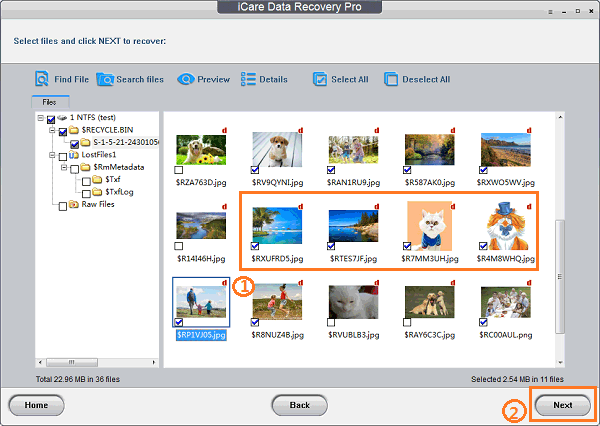 Step4. After scanning, the software will list all found files in different folders. You may click the folder and preview files in it. Then choose the files you need and click "Save Files" button to restore the selected files.
Recover Deleted Files from Lost Partition
A disk partition might contain thousands of files. When you mistakenly deleted a disk partition, the partition will disappear in "My Computer" and the files stored on it will be lost immediately. If you need to restore files from a deleted or lost partition, you may choose the "Lost Partition Recovery" module. iCare Data Recovery supports to recover files deleted from NTFS disk partition, FAT32 disk partition and RAW partition.
Retrieve Deleted Files from External Device in Windows 7
Probably you know, Recycle Bin only save files deleted from computer's hard disk. In another word, Recycle Bin doesn't save files when you accidentally delete them from an external device on Windows 7. If this is the situation, you may also use iCare Data Recovery to undelete Windows 7 for external drive deleted data recovery. Apart from retrieving files deleted from hard disk or Recycle Bin, iCare Data Recovery also helps in recovering files deleted from memory card, external hard drive, mobile phone internal memory, and deleted files recovery from flash drive and so forth.
Restore Deleted Files without Any Software on Windows 7
If all deleted data is in recycle bin, you have chance to resotre deleted data without any software on Windows 7. However, if the reycle bin has been emptied, how to recover deleted files from recycle bin without software?
Few users know that Windows 7 has a new feature named "Restore Previous Versions". It allows users to restore deleted files without relying on any software. You may recover the deleted files only with several mouse clicks. Firstly you need to open "My Computer", and then you can right click the folder from which you deleted some important items and choose "Restore Previous Versions" option. All available previous versions of files are will be listed under "Folder versions". You can select the file you want to restore and click "Open" button to view its contents, click "Copy" button to copy the file and click "Restore" button to restore the selected file.
If it is unable to recover deleted filesfrom previous version, you may still need to recover deleted files Windows 7 with free software iCare Data Recovery.
Files can not only be lost due to deletion. The more terrible situation is that you are unable to access any data when storage media shows not formatted error. For example,
USB flash drive needs to be formatted
Hard disk drive is not formatted and shows RAW file system
…
When you are unable to read any data due to not formatted error, the first thing you should do is Windows 7 recovery software download to extract files off the RAW unformatted drive.


Works for Windows 7, Vista, XP, 2000, Windows 8
---
Resource
iCare Data Recovery Pro : powerful all in one rescue software for Windows All OS
Related Articles
Other Articles