Recover data from 3TB disk Windows 7
Many users encountered the hard disk data loss problem on Windows 7 like data loss due to formatting of hard disk. 3TB disk data loss is a more difficult problem for Windows 7 users, because a 3TB hard disk is a little different from other types of hard disks. However, the data loss causes for a 3TB hard disk is quite similar, which include:
3TB hard disk is formatted by mistake
Delete files from a 3TB hard disk or disk partition got deleted by accident
3 TB hard disk says not formatted error and RAW drive error
3TB disk is inaccessible due to other reasons like virus infection, bad sectors and more
3TB Disk Recovery with iCare Data Recovery
It is true that iCare Data Recovery can help with 3TB disk recovery on a Windows 7 OS. The software has 4 basic recovery modules. You can select a proper recovery module for data recovery from 3TB hard disk. This software is available for shift deleted file recovery, format recovery, lost partition recovery, RAW drive recovery and more other data loss situations.

Steps to Recover Windows 7 Partition Data
Step1. Free download and install iCare Data Recovery on your computer.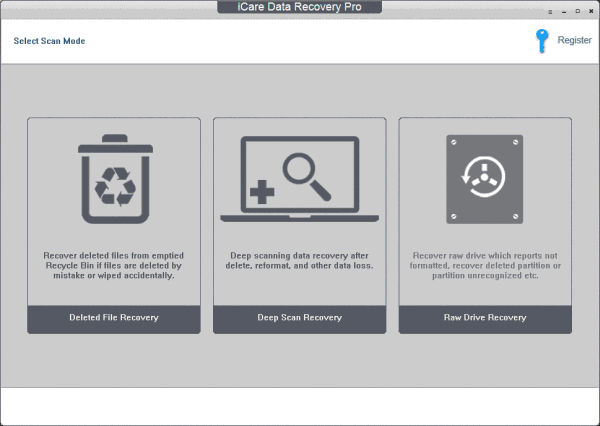 Step2. Choose the partition where data got lost and click "Recover".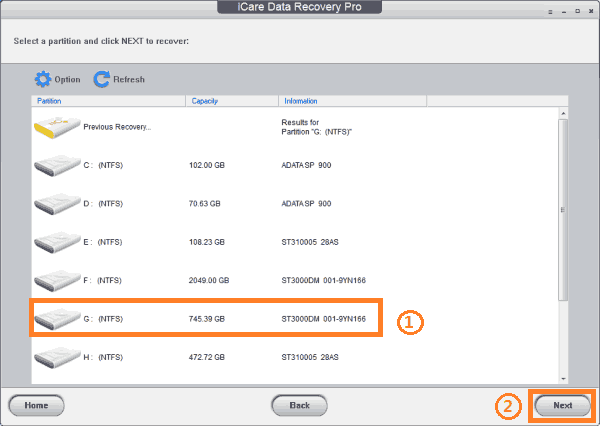 Step3. You need to wait in the scanning process.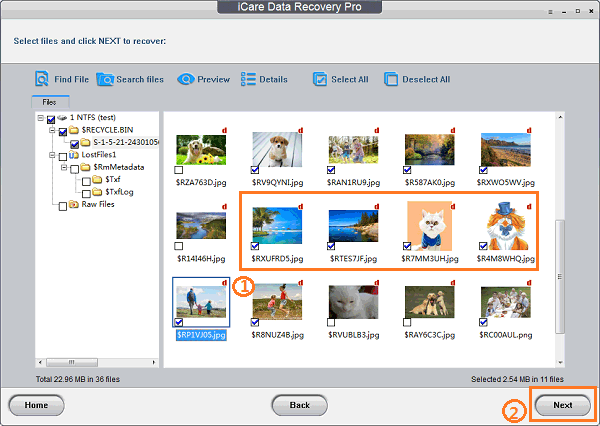 Step4. You can preview the found files after scanning. Then choose the files you need and click "Save Files" button. You cannot save the files to the original partition.
Lost Partition Recovery When 3TB Disk Disappear on Computer
When a 3TB disk partition disappeared on computer due to deleting or other reasons like virus attack, you can choose the "Lost Partition Recovery" module to restore files from the lost partition. No matter how many files you have stored on the 3TB disk, iCare Data Recovery enables you to recover all of them in batch. The software can scan the whole device to search for files on the lost partition and then list them in different folders. You can preview all the found files before deciding to recover them, so you can know clearly if they are the files you want to recover.
Windows 7 3TB Disk Deleted Files Recovery
Wrong delete an important file from 3TB disk and Recycle Bin has been emptied? How to recover deleted files from recycle bin after empty? Delete a folder which contains some important files from 3TB disk by pressing Shift + Delete key? When files got lost due to deletion, you can recover deleted files with Windows 7 free recovery software for 3TB disk iCare Data Recovery. Before you run iCare Data Recovery, you had better stop writing more data to the disk. After you delete files from the 3TB disk, system will mark the space where stored the deleted files as free disk space. If the space where stored the deleted files have been totally overwritten by new data, it might be invalid to use any data recovery software.
Formatted 3TB Disk Recovery Windows 7
When you quick format or complete format a 3TB hard disk, you may select "Format Recovery" module to restore lost files. Formatting is a quick process to erase a hard disk, but the loss is also the greatest once you perform the formatting on a disk. After you click the "Format" option and confirm, it means that you lose all files stored on the disk permanently no matter if the formatting can be completed finally. Windows 7 format recovery software iCare Data Recovery provides an effective way to restore data from the formatted hard disk. In addition to recover data from common hard disk drives, iCare Data Recovery also supports to recover files from a 3TB hard disk. When you want to recover files after formatting in Windows 7, it is also recommended you not to write data to the disk before data recovery.
3TB Disk Recovery in All Situations
When 3TB disk data loss is caused by other reasons such as disk not formatted error, RAW drive error, disk corrupt, I/O error, etc, you can choose "Deep Scan Recovery" module to perform data recovery. This recovery module is also available for 3TB data recovery when the other three recovery muddles fails to recover data from your disk. When a 3TB hard disk shows errors, especially the not formatted error and RAW drive error, you had better not format the disk before recovering data with help of data recovery software.
Why Does a 3TB Disk Only Show 2TB on Windows 7
On Windows 7 operating system, a 3TB disk uses traditional MBR partition. MBR partition only supports disk capacities up to 2TB. Therefore, without help of a professional tool or BIOS, up to 746GB of a 3TB disk is unavailable. If you want a 3TB disk to show normally on Windows 7, you need to convert the MBR to GPT disk.

Works for Windows 7, Vista, XP, 2000, Windows 8
---
Resource
iCare Data Recovery Pro : powerful all in one rescue software for Windows All OS
Related Articles
Other Articles