Undelete RAW Pictures from SD Memory Card
"I have some RAW format pictures stored on my micro SD card, but I mistakenly deleted some of them when I was viewing those pictures on my cell phone. As you know, files deleted on cell phone will not be moved to any other place, but it will be deleted permanently. However, those pictures are really very important to me. Can anybody tell me the way to undo delete SD card for RAW pictures recovery?"
"I mistakenly delete several pictures from my PAD micro SD card 16GB. The pictures are in RAW format and they are quite precious. Please tell me the solution for deleted RAW photo recovery on micro SD card."
RAW Image Reovery from SD Memory Card
SD or Micro SD card is usually used in cell phone, camera or PAD. When you delete a picture from memory card like micro SD, the file will be deleted permanently, but it does not mean the picture is deleted completely even when your sd card is corrupted. In fact, the deleted picture is still stored on original place but becomes invisible. In this situation, you just need to employ the read-only data recovery software - iCare Data Recovery Pro to restore the deleted picture. The data recovery software can work on all brands of micro SD card such as SanDisk, PNY, Lexar, Transcend, Samsung, etc to help recover deleted pictures including RAW format, JPEG, GIF, PNG, and more. By using the software, you can also preview the found pictures before recovering them.
Steps to Recover Deleted RAW Images from Micro SD Card

Step1. Insert the micro SD card to your computer via a card reader. Download and install the data recovery software. Launch the software and choose a recovery module.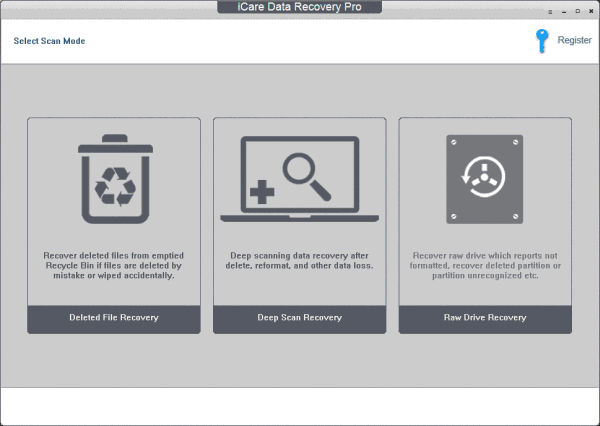 Step2. Choose the micro SD card as target device so that the software can scan for lost files. You only need to wait when the software is scanning.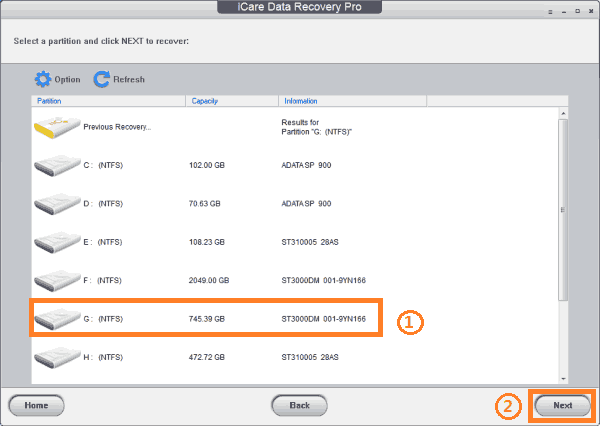 Step3. When the scanning is completed, you can preview the found pictures. Then, you can select the RAW pictures that you want to recover and save them to a different storage media.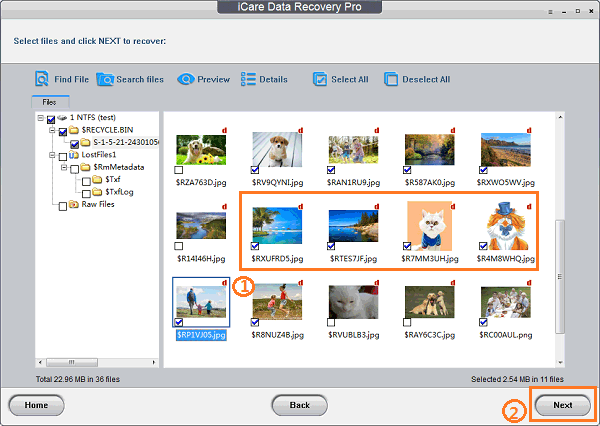 RAW SD Card? -> How to recover raw sd card?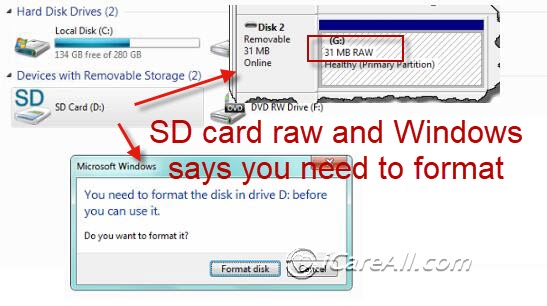 SD card shows raw and you need to format
Video - Raw drive recovery from sd/micro sd

Also read -> how to fix raw sd card without formatting
What Can You Do after Deleting Pictures from Micro SD Card?
When you delete pictures from your micro SD card, system only erases the entries to the pictures but the real data still remain intact on its original place. Therefore, you can rely on data recovery software to undelete the pictures from your micro SD card. In order to recover deleted pictures, here are some things you can do:
1. Do not write any data to the micro SD card
When writing a new file to the micro SD card, it will occupy some space on the card. If the new added data is right saved on the space which was used for deleted file storage, it will overwrite the deleted data and make it pretty bad since the lost data would become damaged and it won't be able to perform a sd card photo recovery.
2. Put the micro SD card in safe place
You had better take the micro SD card out from the PAD or mobile phone after deleting important pictures so as to protect the card from being damaged due to unexpected disaster.
3. Avoid the micro SD card from being infected with virus
Virus may corrupt the data stored on your micro SD card, so you had better avoid connecting the micro SD card to unsafe Internet to prevent it from being attacked by any virus.
Think Carefully When Delete Pictures from Micro SD Card
In most cases, you may delete pictures from your micro SD card due to mistake. But sometimes, you may delete some pictures on purpose because you regard them as unnecessary files. Regularly deleting some unnecessary files can help free up space so that you can save other data. However, you must think careful when deleting files from micro SD card. Once you delete them, they will be deleted permanently. You have no chance to recover them unless you can use photo recovery software for memory card.
Restore Other Types of Pictures after Deleting from Memory Card
In addition to recover RAW pictures from your micro SD card, the data recovery software is also available for other types of image recovery including BMP, PNG, JPEG, GIF, and more. If you mistakenly delete any type of pictures from your micro SD card, you don't need to worry. All you need to do is to stop using the micro SD card and download the data recovery software to your computer. What is more, the data recovery software can not only help recover pictures from micro SD card, but also it allows you to recover deleted data from other types of memory card such as CF card, mini SD card, SDHC card, SDXC card, XD card and SD card, etc.
About RAW Pictures
RAW is a format of images just like JPEG, GIF, PNG, BMP, etc, but RAW format pictures have some differences. Usually, RAW pictures refer to the pictures that are uncompressed and unprocessed.
RAW Format Photos vs. RAW File System
RAW format image usually refers to the images that are not processed, while RAW file system is a damaged file system which cannot be recognized.
==>> To learn more information about RAW file system, please go to this page - File system is RAW>>
Also read: free memory card recovery
---
Resource
iCare Data Recovery Pro : Powerful undelete software for raw image recovery from micro sd card.
Related Articles
Hot Articles
Related External Resource