Toshiba CF Card Is Corrupted in Nikon D70
"My Nikon D70 digital camera reported error message on my Toshiba compact flash card when I attempted to use the card. Today, I inserted a Toshiba CF card to my Nikon D70 and wanted to take some pictures. But when I turned on the camera, it says the memory card is invalid. I have inserted this CF card to this digital camera last months and it can still worked fine at that time. I tried to insert another CF card to the digital camera, and it can work normally. So I sure there is something wrong with my CF card. I think it is corrupted, but I don't know why. Can someone tell me how to solve the problem and get back files when CF card is corrupted and unreadable?"
Data Recovery from Nikon D70 Corrupted CF Card
Recovering files from a corrupted CF card, you need to connect the card to your computer and then download the read-only data recovery software - iCare Data Recovery. This data recovery software is designed for data recovery from compact flash card and other memory card when it is corrupted and unreadable. You can rely on this software to restore pictures, videos, music, office files, etc off Toshiba CF card when it is corrupted and become inaccessible. If the files you need to recover from your CF card are photos, you can also preview them before recovering.
Steps to Recover Data from Corrupted Toshiba CF Card

Step1. Connect the Toshiba CF card to your computer. Download and install the data recovery software. Then, you can run the software and choose a recovery module.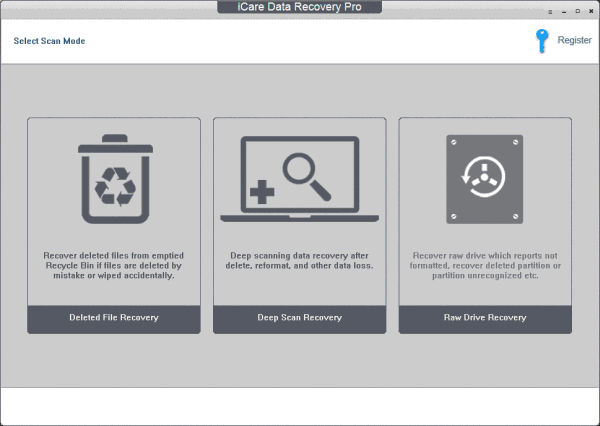 Step2. Choose the CF card and let the software scan. You need to wait patiently before scanning is completed.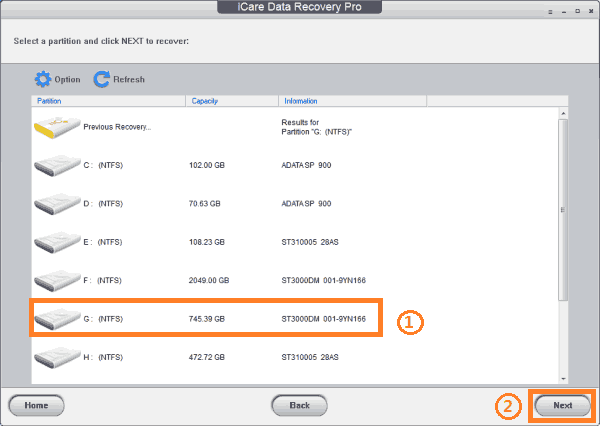 Step3. You can preview found photos and office files after scanning. Then, you can choose the files you need and restore them.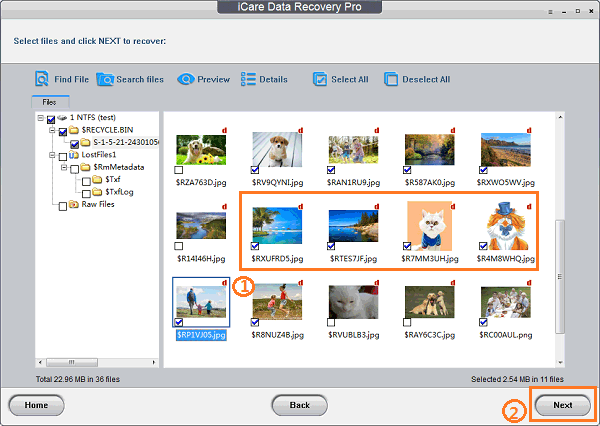 Common Error Messages on a Corrupted Compact Flash Card
CF card is not formatted do you want to format it now?
Cannot access CF card. Access to CF card is denied
Windows system says please insert a disk into drive though CF card is connected with the PC
Digital camera says CF card is full
CF card cannot be recognized on digital camera or computer
More other error messages that disable you to access your CF card
What Should You Pay Attention When Receiving Different Error Messages
If you receive any of error messages mentioned above, probably your CF card is corrupted. As long as the compact flash card can still be recognized by digital camera or computer, there is a good chance to restore lost files from the corrupted card. However, you had better stop performing any operation to the card in order to avoid unexpected hurt to the CF card. Especially, you cannot write new data to the CF card before getting back the files you need because any new added data may overwrite the original data and make it unrecoverable. If unfortunately the CF card is not recognized by your camera or computer, you should make it clear whether the card is physically damaged or logically damaged. If the CF card is physically damaged, you cannot restore any file. If the CF card is just logically damaged, you can use data recovery software for CF card file recovery.
How to Repair a Corrupted Toshiba Compact Flash Card
If the Toshiba CF card is physically damaged, you cannot recover data from the card or repair the card. You need to buy a new card for data storage. If the CF card is corrupted due to other reasons, you can repair a corrupted CF card after data recovery with the following methods:
1. Fix bad sectors on the Toshiba CF card
Connecting the CF card to your computer and right clicking the card to see "Properties" option, you can check and repair possible bad sectors on the CF card by running the Windows built-in Error-checking tool.
2. Format the Toshiba CF card
If you receive message like card not formatted error, you can format the Toshiba CF card on your digital camera or computer. You can perform full format or quick format. If you are not sure whether the card contains bad sectors or virus, you can perform a full format on the CF card.
3. Run anti-virus software
You can run anti-virus software to check and remove possible virus from the Toshiba CF card.
You can also rely on the data recovery software to restore files from SD card when it is corrupted and becomes inaccessible.
Tips to Avoid CF Card Corruption
Safely remove your CF card from your computer instead of removing it directly
Turn off your digital camera when you want to remove your CF card
Do not connect your CF card to a public computer which may contain virus
Do not remove your CF card during data transferring or writing
Use CF card of good brand like SanDisk, Kingston, Transcend, Toshiba, etc

Recover data now!
---
Resource
iCare Data Recovery Pro : powerful all in one rescue software for Windows All OS
Related Articles
Other Articles
Related External Resource