Undelete Memory SD Card to restore accidentally deleted Photos
"Hello! I mistakenly deleted thousands of pictures on my SD card when it is inserted in my mobile phone. Those pictures are very important to me, but the unfortunate thing is that the lost data can find nowhere else after deleting from the card. Can I undelete those pictures from my SD card with data recovery software and how to do it?"
It is a common mistake that many people often make. When mistakenly deleting pictures or other files from an SD card, the first thing you should do is to stop writing new data to the card and then search for a data recovery tool.
Professional SD Card Undelete Software to Recover Pictures
As long as the deleted pictures have not been overwritten, you can recover the deleted pictures with read-only SD card undelete software - iCare Data Recovery. This software enables you to undelete the pictures from the SD card and allows you to save them to another storage media. You can recover all formats of pictures like BMP, JPG, GIF, PNG, RAW, TIFF, GTA, FPX, UFO, etc from all types of SD card such as micro SD, MMC, SDXC, TF card, mini SD card, SDHC and more. Here is the guide on how to use the SD card deleted file recovery software to restore the mistakenly deleted pictures on your corrupted SD card.
Steps to Recover Data from SD Memory Card
Photo recovery software free download for deleted or lost pictures from SD memory card by following the steps below:

Step1. Connect the SD card to your computer. Download, install and run the SD card undelete software and then choose a proper recovery module.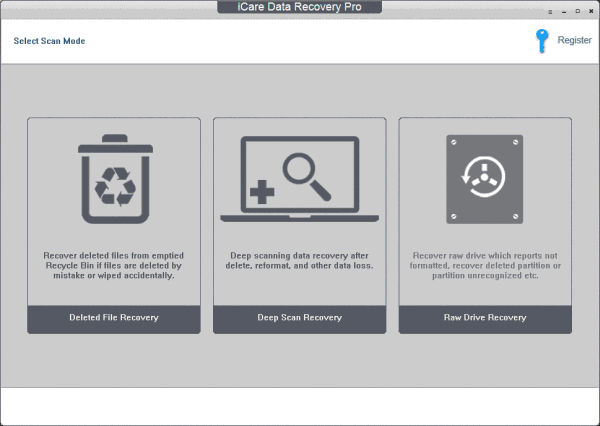 Step2. Choose the SD card and let the software scan for deleted files. You only need to wait when the software is scanning.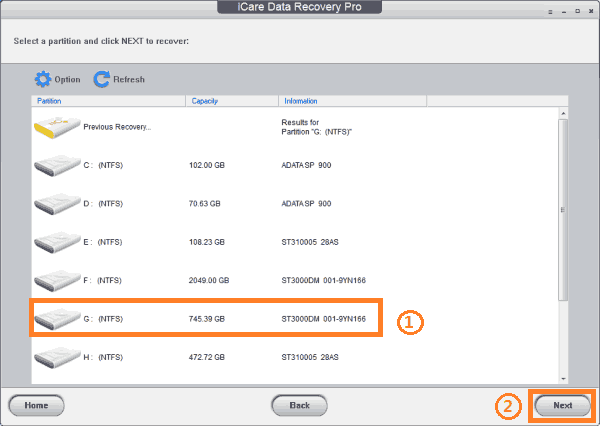 Step3. Preview the found files after scanning. Then, choose the files you need and save them.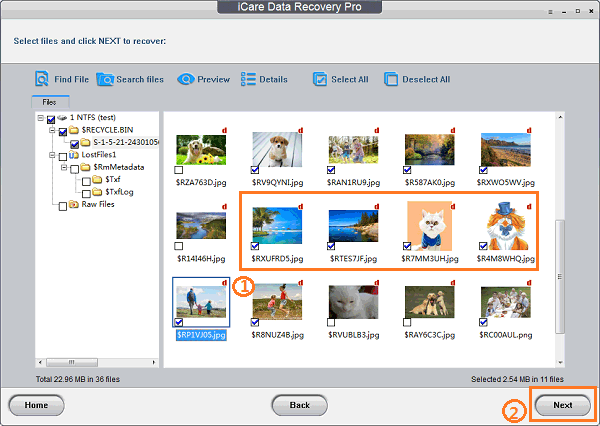 What Should You Do after Deleting Pictures on SD Card
As you know, you cannot restore files from Recycle Bin after deleting mistakenly on SD card. In order to recover all deleted pictures, the most important thing is to prevent the SD card from being physically damaged and overwritten. Therefore, you should pay attention:
1. Put your SD card in safe place and avoid any physical damage to the card.
2. Do not write new data to the SD card after deleting pictures.
3. Do not connect the SD card to public computer to protect it from being infected with virus, Trojan, etc.
4. When you want to save the recovered files, you cannot save them to the SD card. Instead, you can save them to any other storage media.
SD Card Deleted Pictures Recovery in All Situations
Usually, with SD card undelete software, you can recover deleted pictures from your SD card when data got deleted in all situations.
Situation 1: Deleting pictures from SD card on digital camera
SD card is a common storage media that is widely used in all types of digital camera. You may wrongly delete important one or more pictures when you are viewing pictures on the digital camera. In this situation, you can remove the SD card from your digital camera and connect it to your PC. Then, you can run SD card undelete software to retrieve mistakenly deleted pictures from the SD card.
Situation 2: Deleting pictures from SD card on mobile phone
SD card can also be used in different mobile phones. It is quite easy to delete pictures from the SD card on your mobile phone. When you are viewing the pictures, it is quite possible that you will wrong select the "Delete" option and delete them permanently. Fortunately, when you delete the pictures, it doesn't erase the real data completely. Therefore, you have a good chance to undelete the pictures with SD card undelete software.
Situation 3: Deleting pictures from SD card when connecting it to PC
Another situation that you may mistakenly delete pictures on your SD card is when you connect the card to your PC. If you want to transfer data from an SD card to PC's hard disk or other device like USB flash drive, you will need to connect the card to your computer. After connecting the SD card, probably you will press the "Delete" key on the keyboard and mistakenly deleted the important pictures.

Recover data now!
---
Resource
iCare Data Recovery Pro : Free download undelete tool for deleted files recovery off sd memory card.
Related Articles
Hot Articles
Related External Resource