SanDisk Micro SD Card Not Formatted Asked Formatting
"I have a 64GB SanDisk Ultra 64GB micro SD card for my Nokia smartphone, but I run into a problem on the card which requires formatting on the phone. All files on the card are not accessible. Whenever I want to view any file from the micro SD card, the phone will say memory card needs to be formatted. Windows also reports the same error message when I inserted the micro SD card to my computer. The problem is that I don't want to format the card because I cannot afford to lose any data due to formatting. Then, what can I do if I want to get back files from the unformatted micro SD card SanDisk 64GB?"
Ultimate solution for Sandisk MicroSD CARD not formatting
Video - how to fix Sandisk micro sd card raw format
Also read: how to fix phone sd card needs formatting
Solution - Unformatted SanDisk Ultra Micro SD Card Recovery
Whenever micro sd shows raw unformat, first of all, you had better remove the SanDisk Ultra micro SD card from your mobile Nokia phone and stop using it. Then, you can rely on iCare Data Recovery Pro, the professional data recovery software to perform data recovery on the corrupted micro SD card. The data recovery software is read-only tool, which merely deep scan the unformatted card to search for lost files. This software will not modify any data on the card or cause any damage to your memory card. The data recovery software helps scan for all kinds of lost files such as videos, music, images, documents, emails, etc and allows you to preview the found files after scanning. In addition to SanDisk Ultra micro SD card recovery, this data recovery software also enables you to recover data from other brands of card.
Steps to Recover Files When SanDisk Ultra Micro SD Has Unformatted
Format recovery software free download for unformatted SanDisk micro SD card file restore:
Step1. Connect the SanDisk Ultra micro SD card to your PC. Then, download and install the data recovery software on your PC. Finally, you can launch the software and select a recovery module.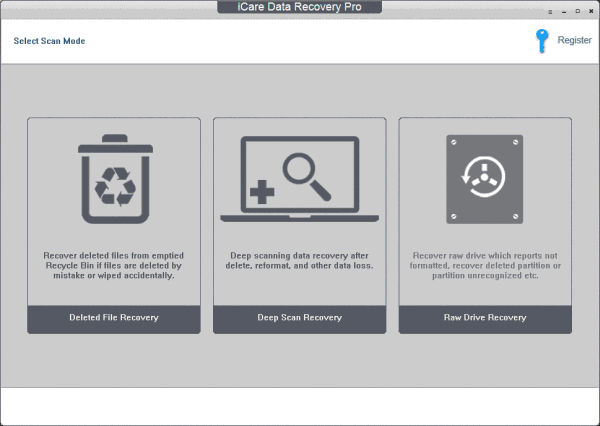 Step2. You need to select the unformatted micro SD card and enable the software to perform scan. You just need to wait patiently before the scanning is finished.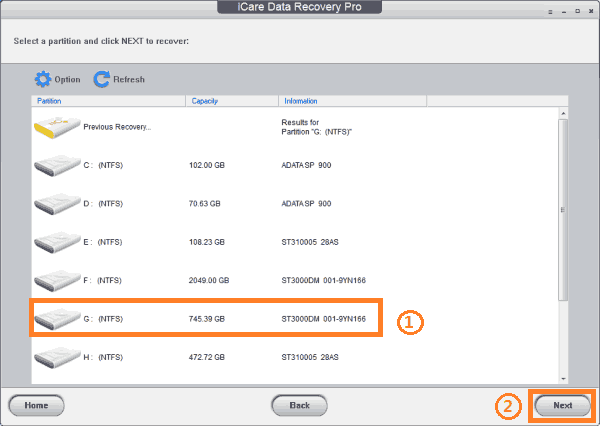 Step3. When the scanning is completed, you can preview files. Then, you only need to select the files you need and recover them.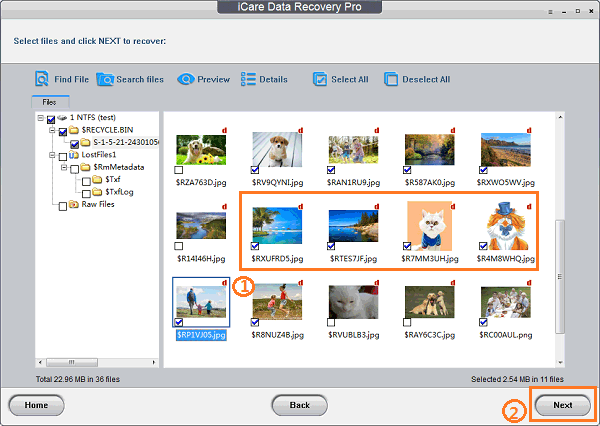 1. Please do not format the micro SD card before recovering the files you need. Formatting will make the data recovery much more difficult. If the files are corrupted after you format the micro SD card, you will even lose the chance to get them back. Therefore, think it carefully before formatting the card.
2. You cannot save the recovered files to the unformatted micro SD card. On the one hand, if you save the recovered files to the micro SD card, it may overwrite the original data and make it unrecoverable. And on the other hand, you still need to format the micro SD card to fix not formatted error after data recovery.
3. If possible, you can save the important files to more than one place. Thus, you will not be worried when the data get lost again.
Problem You May Encounter during Data Recovery
Usually, the data recovery software can quickly scan a micro SD card to search for lost files. However, some people may encounter the problem that it takes a long time to perform a scan on an unformatted memory card. Why? Well, the data recovery software often scans every sector on the card in order to search for lost files, so it may take more time to scan a 64GB card. If it takes a few hours to perform scan on a 64GB micro SD card, probably the card contains bad sectors. In this situation, you do not need to wait the scanning to be finished. Instead, you can stop in the scanning process and see what have been found.
Similar RAW Sandisk Micro SD Card Requires Reformatting
The most common symptom of micro SD card not formatted error is that it prevents you from accessing the card to read any file. For a micro SD card which requires formatting, its file system usually shows as RAW. When a micro SD card asks to be formatted and shows RAW file system, it means that the file system cannot be recognized. So you cannot access the card. In addition, the space of an unformatted micro SD card often shows 0 byte. In this situation, you can open Disk Management to see if the status of the micro SD card is healthy.
Format Micro SD Card after Data Recovery
An unformatted micro SD card is still available for data storage after formatting, so you can format the SanDisk Ultra 64GB micro SD card to fix the not formatted error when data is recovered. You can format the microSD card by inserted it to your Nokia mobile phone, but it will be better if you format it on your computer. You can perform a complete format on the unformatted micro SD card, which can check and mark bad sectors on your micro SD card if it contains. If you accidentally format microSD card before data recovery, you can also run the data recovery software to restore lost pictures data from the formatted micro SD card.
Also read: how to recover formatted sd card
---
Last updated on July 28, 2022
Related Articles
Other Articles
Related External Resource