SanDisk SDHC Card Is Not Detected by Windows 7
"I have a 32GB SanDisk SDHC card for my Canon digital camera. There are many pictures on this corrupted sd card, but my camera was broken. So I connected my SDHC card to my computer and wanted to transfer some pictures. However, when I connected the card to my computer, it cannot be recognized. My computer runs Windows 7 operating system. What is wrong? Can anyone recommend SanDisk SDHC card recovery software to access the pictures stored on this card and get them back?"
"My SanDisk SDHC card is not detected by Windows 7 system when I connected it to my PC, but the card still contains lots of important files. This card has been used for a few years in my Android phone, it still worked fine yesterday. However, today when I connected it to my PC, it cannot be recognized. Reinserting the card to my phone, it says no memory card inserted. Please help me restore files off the unrecognizable SanDisk SDHC card with free recovery software for Windows 7."
Solution - Undetectable SanDisk SDHC Recovery on Windows 7
Windows 7 operating system is quite widely used by many PC users, so lots of Windows 7 users have met the problem that their memory card is not recognized by system. If you run into the problem that SanDisk SDHC card is not detected by Windows 7 system, you need to use a software that can be compatible with Windows 7 to perform data recovery. The read-only data recovery software - iCare Data Recovery Pro enables you to restore files from SanDisk SDHC memory card on almost all Windows systems including Windows 7, so you can use it to restore any lost file when your memory card cannot be recognized or detected normally.
Steps to Restore Data When Windows 7 Cannot Detect SanDisk SDHC

Step1. Connect the SanDisk SDHC card to your computer. Download and install the data recovery software on Windows 7 PC. Launch the software and choose a recovery module.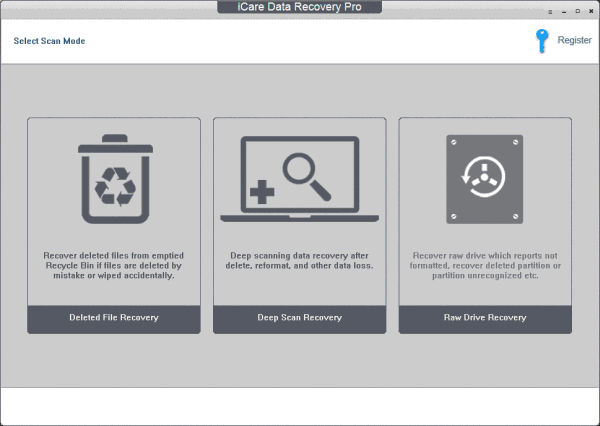 Step2. Choose the SanDisk SDHC card to let the software scan. Then, you just need to wait when the software is scanning.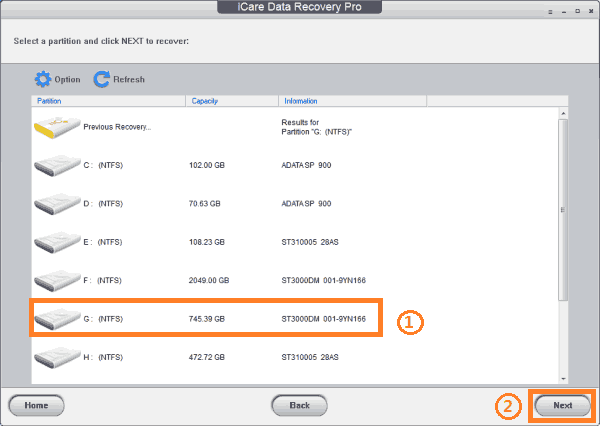 Step3. You are allowed to preview the found pictures after scanning. Then, you can select all needed files and save them. Please remember not to save the recovered files to the original SanDisk SDHC card.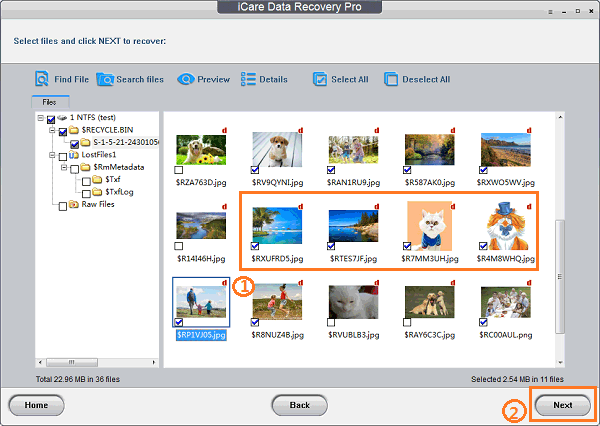 SanDisk SDHC Cannot Be Recognized due to Logical Damage
If SanDisk SDHC card failed to be recognized by Windows 7 due to logical damage, only data recovery software can help you restore lost files. Usually, a card might be logically damaged in following situations:
1. SanDisk SDHC is infected with virus
Has your SanDisk SDHC card been attacked by any virus? Virus can corrupt files inside your card and make your card unrecognizable. Once memory card is damaged, the file system would show raw drive while it was fat32, or exfat.
2. SDHC card has bad sectors
Although it is quite easy and convenient to use an SDHC card for data storage, no memory card can be used for a life-long. An SDHC card might be corrupted when it contains lots of bad sectors after a long time usage.
3. SDHC card is corrupted due to improper operation
Every time you unplug your SDHC card to your computer, you should safely remove it and you had better not disconnect a card to your computer during data transferring. If you want to remove your SDHC card from your digital camera or mobile phone, the first thing you need to do is to switch off the device. Improper operation to a card might lead it to be corrupted and finally it may be unrecognized.
Other Similar Error on SDHC due to Logical Damage
Do you feel frustrated when your SanDisk SDHC card is not recognized by Windows 7? The most terrible problem is that you cannot access the card when your computer fails to recognize it. However, there are some other situations that you cannot access your SDHC card even if it can be detected:
1. Receiving unformatted error message when trying to access the SDHC card
2. SDHC card is not accessible
3. Windows system says SDHC card is write-protected
4. Windows was unable to complete the format when you format an unformatted RAW card
When you receive such kind of error message on your SDHC card, you can run the data recovery software to get back pictures from SDHC card.
Windows Cannot Recognize SDHC due to Incompatibility
SDHC card is a type of SD card. The capacity of an SDHC card is larger than that of an SD card. Because of this, the file system of SDHC card has updated to FAT32, while the file system of an SD card is usually FAT or FAT16. Sometimes, your SDHC card might be unrecognized by Windows PC because of incompatibility. For example, if you insert your SDHC card to a card reader which was used for an SD card, Windows system may stop recognizing the SDHC card when you connect it to your computer via the card reader. In this situation, you just need to change a card reader that can be compatible with the SDHC card and solve the problem.

Recover data now!
---
Resource
iCare Data Recovery Pro : Free download software for sdhc recovery when it cannot be readable on Windows 7.
Related Articles
Hot Articles
Hot Tags
Related External Resource