Retrieving Pictures from Unformatted CF Card
"I cannot access pictures stored on my CF (compact flash) card because both digital camera and computer say the memory card is not formatted. This CF card has been used for a long time in my Nikon digital camera. This is the first time I face the not formatted error on this card. I tried to connect the card to my computer and another digital camera, both of them said that I need to format the CF card. Is the card broken? Can I recover photos from CF card without formatting?"
"I have Canon PowerShot SX170 IS with a 4GB CF card inserted, but today my camera keeps saying that CF card is not formatted, format card with this camera. What will happen if I format the card? Will I lose everything inside the card if I format it with this camera? I cannot imagine it all pictures get lost. Can you tell me how to restore pictures on memory card before formatting?"
Solution - Not Formatted Compact Flash Card Photo Recovery
You may receive not formatted error message on your CF card in digital camera or on your computer. Whatever, the first thing you should do when receiving the message is to stop using the card. Remember not try to do anything to fix the error if you still want to get back files inside the unformatted card. Then, you can use the read-only memory card recovery software - iCare Data Recovery Pro to restore files on the card. The data recovery software enables you to scan the unformatted CF card so as to search for and extract those inaccessible files off the card. By using this software, you can recover all kinds of lost files including photos without formatting the card.
Steps to Recover Pictures off Unformatted CF Card
Here is the guide for unformatted CF card deleted photos recovery:

Step1. Plug the unformatted CF card to your computer and download the data recovery software. Install and run the software and then choose a recovery module.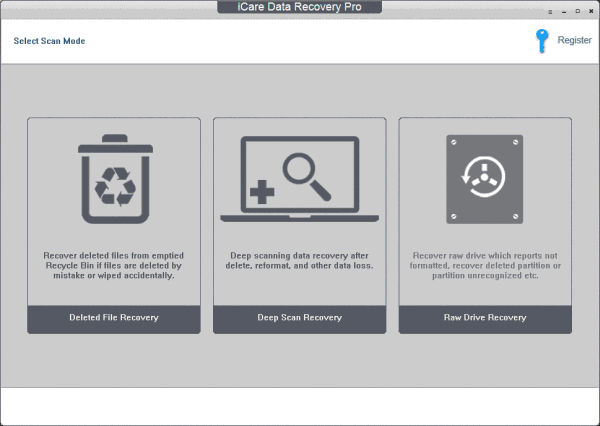 Step2. Select the unformatted CF card as scanning device and then you only need to wait patiently before scanning is completed.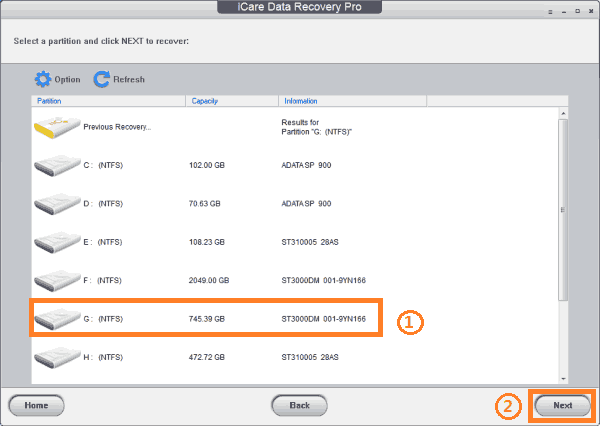 Step3. When the scanning is completed, the software will generate a list that contains all found files. You can preview found photos, word files and excel files. Then, you can choose the files lost from your CF card and save them.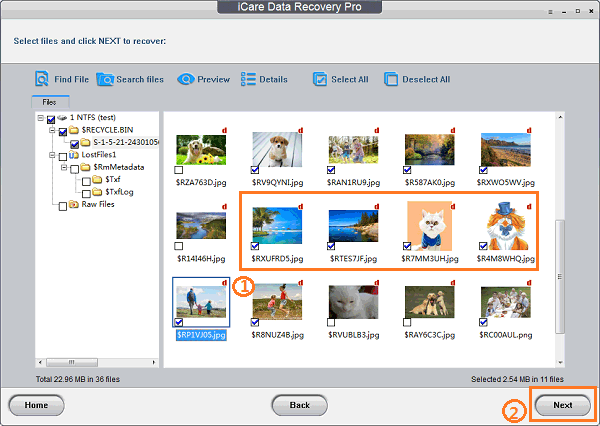 Restore Different Formats of Photos from Unformatted CF Card
There are different formats of photos such as PNG, JPEG, GIF, BMP, PCX, TGA, FPX, PCD, EPS, RAW, etc. When an unformatted CF card is corrupted and unreadable, you may want to recover different formats of photos which are quite important to you. The read-only data recovery software has the ability to restore all formats of photos from unformatted compact flash CF card when it is inaccessible due to raw file system on cf card which reports unformatted error. The data recovery software will scan the unformatted CF card and then generate a list which contains all found files in different folders. You only need to select the folder which contains your lost photos and save them to a different storage media.
Preview Photos before Recovering
When the software generates a list which contains all found files, you can select the photos and preview them one by one. On the one hand, you can check if they are the photos you want to recover from your unformatted CF card by previewing them. And on the other hand, you can see if all needed photos have been found. If some important photos are still not found, you can select the found photos to recover them and then go back to rescan the unformatted CF card to see if it can find more needed data. Usually, as long as the files inside the card are not overwritten by new added data, they can be restored by using this read-only data recovery software.
All Kinds of CF Cards Are Supported
You can find different brands of CF card such as SanDisk, Samsung, Lexar, Toshiba, Transcend, Kingston, Kingmax, PNG, Sony, etc in market which has various capacities from 1GB to 128GB. This CF card recovery free software is compatible with all kinds of compact flash CF card to help recover data when the card is not formatted and cannot be accessed. Usually, it only takes a little time to scan an unformatted card for lost data.
Format Unformatted Compact Flash Card
You need to format the compact flash memory card to fix the unformatted error when files have restored. You can format the card in your digital camera. Or you can also format the card by connecting it to your computer. When formatting the card on computer, the Windows system may ask you to choose a file system like FAT32 or NTFS. You had better format it back to its original file system in order to make sure it can still work normally in your digital camera.
The data recovery software is also helpful when you run into data loss problem after formatting SD card by mistake or when SD card is not formatting error.

Recover data now!
---
Resource
iCare Data Recovery Pro : powerful all in one rescue software for Windows All OS
Related Articles
Other Articles
Related External Resource