FujiFilm Camera Cannot Read My TF Card
"I have a 2GB TF card inserted in my new FujiFilm digital camera. My camera turned off all of a sudden when I was taking pictures. When I turned on the camera again, the TF card does not show as being mounted. I have saved thousands of pictures inside the TF card, and now all of them become inaccessible since the camera cannot read the card. How can I get back those lost pictures from an unreadable TF card for FujiFilm digital camera?"
"When I insert my TF card into my FujiFilm digital camera, it shows as a storage media. However, when I click the card to access any data, system will pop up a message to say cannot read data on this card. Why does the camera say such a message? And how can I read the files stored on the TF card?"
Solution - TF Card Data Recovery When Camera Cannot Read It
Whether the TF card can show up as being mounted in camera or not, please stop perform any operation on this card right now. As long as the TF card is not physically damaged, data is recoverable. The read-only data recovery software - iCare Data Recovery can scan the card and search for every piece of file stored on the card even if your digital camera cannot read this card anymore. This data recovery software is available for any type of data recovery off TF card for FujiFilm digital camera and other brands of cameras. This data recovery software supports TF card from SanDisk, Toshiba, Samsung, Lexar, Transcend, Kingmax, PNY, and more.
Steps to Recover Data from Unreadable TF Card

Step1. Connect the TF card to your computer. Download and install the data recovery software on the same computer. Then, run the software and choose a recovery module.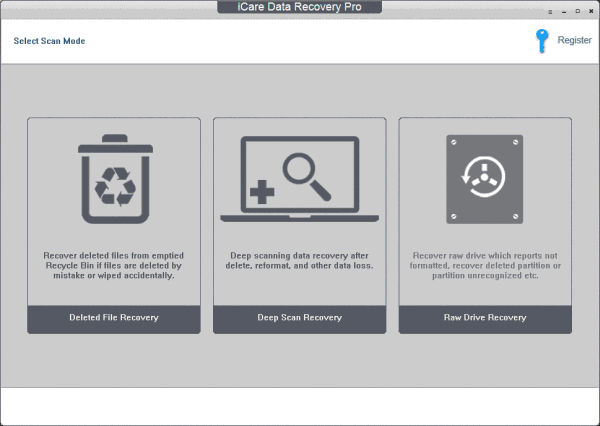 Step2. Choose the TF card for scanning and you only need to wait patiently before scanning is completed.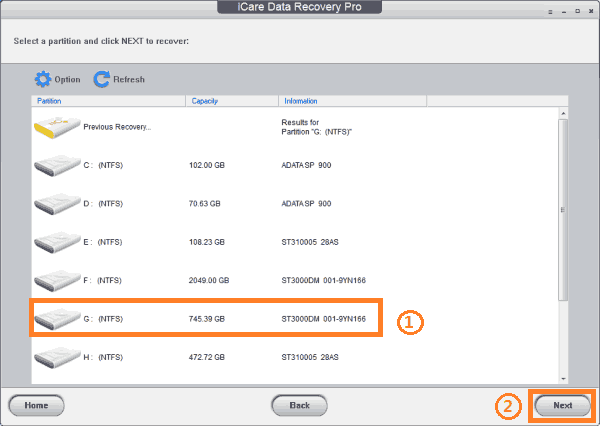 Step3. You are allowed to preview the found files like images, excel files, word files, etc. Then, you can select all files lost from the TF card and save them to a different storage media.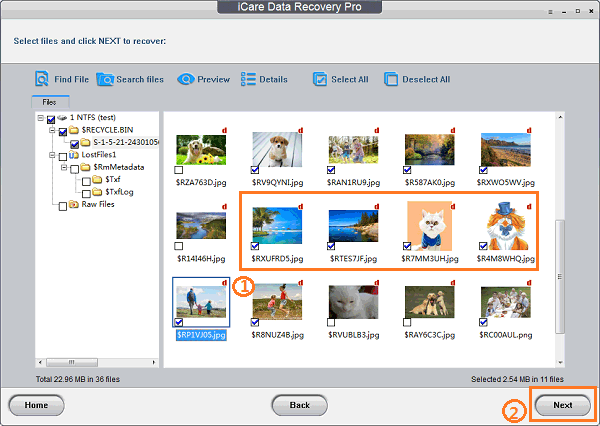 Cannot Read Files on TF Card in FujiFilm Camera
If your TF card can still show up as a storage media in FujiFilm digital camera but you cannot access any data stored on the card, the first thing you need to do is to stop using the card. Then, you can connect the card to your computer and run iCare Data recovery software to restore files lost on the card.
Pay attention:
Digital camera or PC may report some message when you are unable to read file on the TF card. For example, you may get message like "disk drive is not formatted do you want to format it now", "TF card is not accessible", "cannot access memory card", etc. It does not matter what kind of message you receive, but you should remember never to perform any operation on the TF card before all needed files are restored.
TF Card Cannot Be Recognized by Camera or PC
It will be even worse if digital camera or computer stops recognizing your TF card when you insert the card in. Here are two situations that TF card is not recognized:
1. TF card is corrupted
One possible reason that can cause a TF card to be corrupted is that the card is infected with virus. Another possible reason might be that the card contains lots of bad sectors. When TF card is not recognizable due to such kind of reasons, you can get back lost files by using the read-only data recovery software. However, you should always remember to stop performing any operation on the card before data recovery.
2. TF card is physically damaged
Another situation that your TF card will become unrecognizable is that the card is physically damaged. No data recovery software is available for data recovery from a memory card that is physically damaged.
Solution to Fix TF Card That Is Infected with Virus
In today's information era, every computer user knows virus. Virus can spread on internet and infect hard disk, external hard disk and memory card, etc. Although people have installed anti-virus software on their computer, it cannot 100% guarantee that your computer will never be attacked by virus. If your computer is infected with virus, your TF card might be infected with virus too after connecting to the computer. If your TF card becomes unreadable or even unrecognizable due to virus infection, you can run anti-virus software to check and remove virus once all needed data is restored.
Repair Bad Sectors on TF Card
As mentioned above, another possible reason that causes your TF card to be unreadable might be bad sectors. However, you are not recommended to do any operation on your memory card before data restore even the repairing bad blocks. Wehn your data were restored successfully with iCare Data Recovery, then you can connect the card to your computer and run Windows built-in Error-checking tool to scan and repair bad sectors on the card. You should still remember to recover data first before repairing the bad sectors.

Recover data now! You may meet other data loss problems on other memory card, in which situations you can also use the data recovery software. With help of this data recovery software, you are able to:
>> Recover deleted pictures from SD / micro SD
>> Recover data after formatting XD, CF or memory stick
>> Restore files from unformatted SD card
---
Resource
iCare Data Recovery Pro : powerful all in one rescue software for Windows All OS
Related Articles
Other Articles
Related External Resource